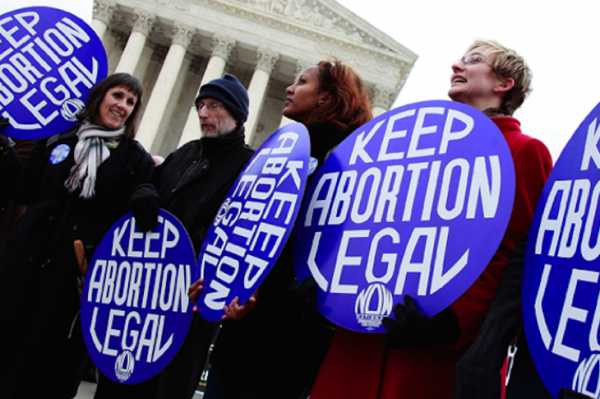 by Brianna Acuesta, True Activist
Abortion rates have always been on the minds of Americans, but with a Republican-controlled government the issue is at the forefront of the conversation regarding women's rights. With controversies involving Planned Parenthood in recent years (that wound up being false) and an increasing number of states passing abortion restriction laws, the conversation surrounding abortions is only growing in America.
Since the topic has become such an important one that is dividing the nation, the findings by Guttmacher Institute, a leading source of information on abortions, contraception, STDs, and pregnancy, in a recent study are surprising.
According to a study called "Abortion Incidence and Service Availability In the United States, 2014," the number of abortions decreased by 12% from 2011 to 2014 and has now reached a point even lower than it was immediately following the Roe v. Wade decision.
After the decision was announced in 1973, there were approximately 16 abortions per every 1,000 women aged 15-44 during that time. As of 2014, there were only 14.6 abortions per ever 1,000 women in that age category.
While the study did not explicitly search for reasons for the decline, researchers Rachel K. Jones and Jenna Jerman from the Guttmacher Institute speculated what the major causes might be based on other data they collected throughout the survey. According to the researchers, the two likely causes are an increase and improvement in contraceptive use and increasing abortion restrictions in several states. 
Since improved use of contraceptives means fewer unintended pregnancies and, therefore, fewer abortions, this shift in abortion rates could be a positive reminder that access to contraception is vital. However, conservatives are quick to take credit for the fewer abortions because conservative states have restricted access by closing clinics and imposing stricter laws.
While researchers concede that this could be a major factor, what's peculiar is that research showed that clinic closures did not necessarily coincide with fewer abortions. Nevertheless, the author of the study, Rachel Jones, said, 
"The majority of abortion patients — 75% — are poor or low-income, and nearly two-thirds are already parents. It can be very difficult for them to arrange for time off from work, transportation and child care." She added, "While many find ways to access care despite these obstacles, some of the abortion rate decline is likely attributable to women who were prevented from accessing needed services."
Credit: Women's Health
Though this may be a victory in the eyes of those against abortion, this study doesn't include information on those women that were forced to carry their child to term. For example, if they gave birth to the baby but still didn't want it, it's possible that there was an increase in abandoned babies or perhaps the women fell deeper into poverty because they don't have the resources or money to care for the child. These are important factors to take into account when restricting abortions and forcing women to give birth to unwanted children.
President Donald Trump has vowed to defund Planned Parenthood, an important resource for men and women throughout the country, and enforce abortion restrictions nationwide. Considering the swiftness with which he is attacking serious issues that were important to his platform, such as withdrawing from the TPP, it's crucial for women and men to make their voices heard if they want the defunding and restrictions to be stopped.
---
This article (Abortion Rates Reach Lowest Point In American History Since Before Roe V. Wade) is free and open source. You have permission to republish this article under a Creative Commons license with attribution to the author and TrueActivist.com
---
Original source:http://www.trueactivist.com/abortion-rates-reach-lowest-point-in-american-history-since-before-roe-v-wade/