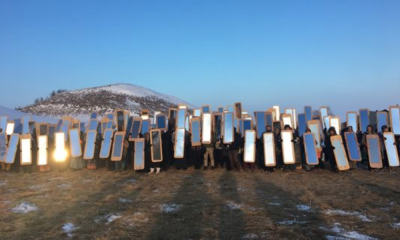 by Amanda Froelich, True Activist [2]
"Water protectors" wielded mirrors at Standing Rock to create a connection with police and to empower protestors.
In case you missed it, over 20,000 people gathered at the Standing Rock camp near Cannon Ball, North Dakota, last weekend to protest the development of the four-state Dakota Access Pipeline [3] (DAPL). Sunday, especially, was a  monumental day for numerous reasons: first, over 2,000 veterans from all around the country offered their support and services to the Standing Rock Sioux tribe who are fighting to protect the Missouri river and burial ground deemed to be sacred. Second, the US Army Corps of Engineers denied an easement to Energy Transfer Partners [4], the parent company responsible for the construction of the DAPL. When the news was announced, cheers erupted in the camp. However, a statement by the company later revealed [5] that construction will continue, regardless.
Now, "water protectors" remain camped out in below-zero temperatures on the plains and are insistent that they will not leave until the DAPL is re-routed or halted completely. One of the tactics used last weekend to inspire humility among the police officers who face off against the protestors involved using mirrors.
Though the art project isn't new and has been used before in other protests, it was powerful nonetheless. According to TheArtNewspaper [6], Cannupa Hanska Luger transported the mirrors to Standing Rock to "empower demonstrators and create a connection with police."
Luger, who is of mixed Native American and European descent, was born on the Standing Rock reservation. Having been raised on the Fort Berthold reservation where Energy Transfer Partners has installed pipelines and drilled for oil using fracking, the artist knows first-hand how detrimental hydraulic fracturing can be to the environment. He explained:
"I've already watched this company tear through sacred sites [4]and geological landforms, some that are bound to our creation stories. It happened so quickly and completely devastated the landscape. The well at my grandparents' house contained water that turned a silver and orange colour—you can't drink it."
Reportedly, Luger has been teaching students at the Institute of American Indian Arts (IAIA) in Santa Fe, New Mexico, how to create the mirrors which also serve as shields. In the video below, in which he teaches others how to construct their own, he says:
"Art can be an incredible tool when you're fighting aggression [7] since it's a language that transcends barriers".
Luger transported a number of mirror/shields to the camp which have been used several times. In one instance, activists were seen walking around camp with the mirrors above their heads, reportedly sending a message to those who were viewing footage captured from a helicopter.
In the video below, activists can be seen practicing with the instruments:
What are your thoughts? Please comment below and share this news!
---
This article (Standing Rock Protestors Use Mirrors To Inspire Humility Among Police Officers [Watch] [2]) is free and open source. You have permission to republish this article under a Creative Commons [8] license with attribution to the author and TrueActivist.com [9]
---
http://www.trueactivist.com/standing-rock-protestors-use-mirrors-to-inspire-humility-among-police-officers-watch/ [2]