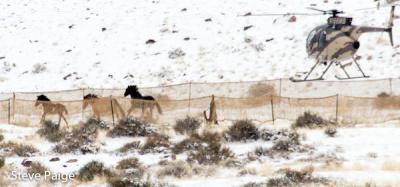 by Whitney Webb, True Activist [2]
Just days ago, fifty more wild horses were removed from public lands by the Bureau of Land Management in order to expand the lucrative leasing of these lands to ranchers and fossil fuel interests.
Last September, the US Bureau of Land Management (BLM) – the federal agency tasked with managing public lands – came under fire for a widely criticized plan to slaughter 44,000 wild horses [3], more than 65% of the national wild horse population. Though popular anger over the plan ultimately led to its retraction [4], the Bureau of Land Management's misguided approaches to management of public lands, and the wildlife which inhabits them, continue to persist.
Less than a week ago, the BLM rounded up another fifty wild horses, placing them in overcrowded and poorly maintained corrals. Helicopters were used to herd the animals into a holding pen, a controversial method that has resulted in the BLM being taken to court four times [5] due to accusations of animal cruelty. Though the amount of horses targeted in the recent round-up pales in comparison to those once slated for slaughter, the controversy regarding this round-up in particular revolves around the fact that this is just the first of many set to take place this year. The BLM plans to capture 1,575 horses [6] just within January and February of this year alone. These horses will join tens of thousands of other once-wild horses as the BLM – despite being committed to removing the horses from public lands – continues to remain clueless as to what to do with the horses once they have been captured.
Oftentimes such round-ups occur with little visibility as public lands, particularly in the Western United States, are vast and the surrounding areas are often sparsely populated. However, this latest round-up, which took place at the Frisco Horse Management Area in Utah, was observed by a group of "humane observers" working with Return to Freedom [7], an advocacy group dedicated to protecting the wild horses and their freedom. These volunteers documented the round-ups in order to pressure the government into overhauling its ineffective, costly, and cruel horse management program. Following the round-up, the group wrote [8] that "Documenting roundups also provides a key way to help policymakers and the public understand how tax dollars are often being misused to fund an inhumane, costly and ineffective system of removing wild horses and burros from the range and placing them in off-range facilities when on-range management alternatives may be viable."
Indeed, the ineffective and costly nature of the program is only one of its many downsides. The BLM's horse adoption program, where corralled horses are sold to ranches, was found to be funneling wild horses to slaughterhouses [9] in Mexico according to recent investigative reports. In addition, the BLM's justification for removing the horses has also been proven to be an outright lie. Though the agency asserts that the horses must be removed due to overpopulation concerns, the real issue is habitat removal as the BLM has reduced the horses' natural range by nearly 40% [10] since its founding. Between 2005 and 2009, the horses lost 2.4 million acres of habitat. Most that land was leased to publicly-subsidized cattle ranchers, which lines the BLM's pockets and cost taxpayers $122 million annually. Yet, these cattle herds represent a mere 3% of the national beef supply. In addition, land that was one wild horse habitat has been leased to oil and gas companies who have drilled an estimated 63,000 hydraulic fracturing wells [11] in the area. The fossil fuel leasing alone generates $1.27 million [12] in income for the BLM annually. This latest round-up, along with the activism of Return to Freedom, serves as a stark reminder that those who are concerned for the US wild horse population, as well as the fate of the nation's public and protected lands, must stay vigilant.
You can donate to Return to Freedom by clicking here [13].
---
This article (Federal Government To Round-Up Thousands More Wild Horses In 2017) is free and open source. You have permission to republish this article under a Creative Commons [14] license with attribution to the author and True Activist [15].
---
http://www.trueactivist.com/federal-government-to-round-up-thousands-more-wild-horses-in-2017/ [2]