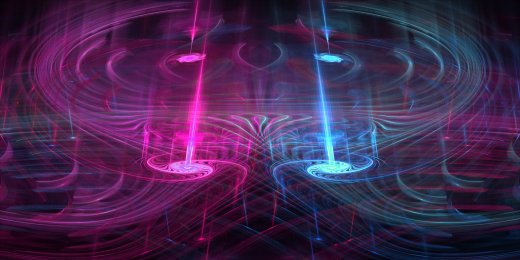 [2]
WHAT I SEE HAPPENING IN 3D IS IGNORANCE WEAVING AN ILLUSION AND BACKING IT UP WITH A BELIEF SYSTEM TO "PROVE" THE ILLUSION IS REAL. LOL
IF ONE THINKS "BELIEVING IN SELF" IS ALL THERE IS, ONE HAS YET TO BE THE SELF, PRESENTLY.
3D IS CONFUSION PERSONIFIED AS THE ILLUSION, WHILE LIFE IS SIMPLY THE PRESENT MOMENT BEING EXPERIENCED AS NOW.
I've noticed that when I look to the "future" my life starts to lose "meaning", when my focus is simply on the Present, I am my Life.
IT SEEMS WHEN THE MOMENT IS ALIVE, THE SELF EXPERIENCES "AWARENESS". IMAGINE THAT? LOL. AS AWARENESS IS ALL CONSCIOUSNESS IS.
AWARENESS CREATES THE EXPERIENCE OF LIFE AS BEING, UNCEASINGLY. BEING IS IMMERSED IN CONSCIOUSNESS AS LIFE, AWAKE AND AWARE AS REALITY.
FUNNY HOW WHEN THE ONE CHOOSES TO EXPERIENCE THE ALL, THE ALL EXPERIENCES THROUGH THE ONE EXACTLY WHAT THE ALL IS. LOL
YEP, REALITY IS FUNNY.
I'm sure there's some kind of connection there twixt the One and the All
DID I MENTION THE ALL'S TWIN, EVERYTHING?
Big Universe
IMMENSE AND AS VAST AS UNLIMITED THOUGHT SET FREE TO EXPLORE CREATION AS LIFE EVOLVING UNCEASINGLY.
DID I MENTION MULTI-DIMENSIONALLY, TOO?
I get that thought, I'm wondering if it can be shared.
I WONDER TOO, I JUST SHARE IT AND LET CREATION CELEBRATE THE WAVE OF THOUGHT.
5D IS AWARENESS' PLAYGROUND, GARDEN OF UNLIMITED THOUGHT, TO THE MAX EXPERIENCE.
3D IS TRULY JUST A BUNCH OF BS BELIEVING THE ILLUSION OF IGNORANCE IS BEING GOD. LOL
THE MASS OF ZERO STILL = ZERO, GARBAGE IN GARBAGE OUT, STILL GARBAGE.
YA CAN'T HELP STUPID BY GIVING STUPID A GUN. ALTHOUGH IT'S A GREAT WAY TO END STUPID'S CAREER. LOL
The self-destructive nature of ignorance, just get out of the way...
I KNOW, CONSCIOUSNESS IS AN ELECTROMAGNETIC FIELD OF ENERGY AND AWARENESS IS THE DIRECTION WE'RE ALL A' FLOWIN'.
QUANTUMLY SPEAKIN', THAT IS.
I've wondered why scientists don't consider the quantum realm to be "reality" when they know the world they live in is just a product of perception.
IT'S BIGGER THAN THEY CAN COMPREHEND SO THEY DON'T CHOOSE TO GO THERE. THE "FEAR" FACTOR OF EXPLORATION.
THEY MAY FIND THEY DON'T EXIST AS THEY "THINK" THEY DO.
Seems people don't understand how cheap and common egos are, certainly not something worth holding on to.
I KNOW, BUT A "SPIRITUAL" EGO IS BETTER THAN A REGULAR EGO, LOL
Polishing a turd until it shines...
AND THEN TELLING EVERYONE IT SMELLS LIKE A ROSE, TO BOOT.
There must be something "wrong" with my nose.
YEP, MINE TOO. BULL SHIT IS BULL SHIT EVEN IN A SUIT AND TIE.