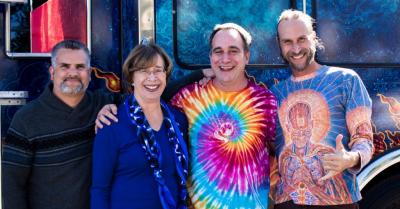 by Alanna Ketler, Collective Evolution [2]
In recent years there have been some very promising studies conducted on the efficacy of using MDMA, more commonly referred to as ecstasy, to treat post-traumatic stress disorder (PTSD). The results have been truly astounding, and it seems using this substance to treat PTSD is becoming a very real possibility. Unfortunately, MDMA is currently classified as a Schedule 1 substance under the Controlled Substances Act, meaning it is still highly illegal in North America. This makes acquiring funding and permissions to conduct studies on the substance difficult.
Just prior to the Psychedelic Science 2017 Conference, which was held in Oakland, California, last week, Dr. Bronner's — the family owned maker of North America's popular natural soap brand — announced it will donate $1 million per year over the course of the next five years to the non-profit organization Multidisciplinary Association for Psychedelic Studies (MAPS). This generous donation was gifted after the U.S. Food and Drug Administration (FDA) gave MAPS permission to begin Phase 3 drug trials using MDMA-assisted psychotherapy for people with treatment-resistant posttraumatic stress disorder. Good news all around!
This five-year pledge represents one fifth of a $25 million drug development budget that was set forth by MAPS to hopefully make MDMA an FDA-approved medicine.
CEO of Dr. Bronner's, David Bronner, had this to say [3]:
There is tremendous suffering and pain that the responsible integration of MDMA for treatment-resistant PTSD will alleviate and heal. To help inspire our allies to close the funding gap, my family has pledged $1 million a year for five years—$5 million total—by far our largest gift to an NGO partner to date. In part, we were inspired by the incredible example of Ashawna Hailey, former MAPS Board member, who gave MAPS $5 million when she died in 2011.
What Has MAPS Accomplished Using MDMA So Far?
MAPS has concluded a series of Phase 2 pilot studies involving MDMA assisted psychotherapy for PTSD, which will ultimately enable them to conduct two larger, multi-site Phase 3 trials — required to prove to the FDA that MDMA is a safe and effective substance, when combined with psychotherapy, for patients with treatment-resistant PTSD.
The $5 million donation from Dr. Bronner's combined with the other $5 million gifted from Ashawana Hailey brings MAPS significantly closer to their goal of raising the estimated $25 million needed to develop MDMA into an FDA-approved prescription treatment. It's incredible to see how far we've come when it comes to using psychedelics legally to treat psychological disorders.
"MAPS intends to use the income generated from selling MDMA once it's an FDA-approved medicine to train therapists and set up treatment clinics around the world," explains [3] founder and Executive Director of MAPS, Rick Doblin, Ph.D. "Investment into making MDMA a legal medicine will turn MAPS into a self-sustaining organism, exponentially increasing our ability to heal suffering in the world."
Why Did Dr. Bronner's Decide to Support This Cause in Such a Big Way?
Dr. Bronner's has long been known for donating a portion of their profits to various social and environmental causes as part of their mission to put forth the social and ecological principles from which the company was founded upon and to uphold Dr. Bronner's original philosophy, which can be found on their iconic soap labels. If you are unfamiliar with this company or would simply like to know more, check out "15 Things You Didn't Know About Dr. Bronner & His Magic Soap. [4]" This will give you a glimpse into the incredible morals that guide this company. This is truly a company that is worth supporting, especially if voting with your dollar is important to you.
As Dublin explains, "Our larger goal is to see psychedelic medicine responsibly integrated into American and global culture, readily available to those who need it most, while helping the rest of us open our hearts and minds to each other and to the miraculous living world we live within."
Much More Psychedelic Research Underway
Many promising studies have been conducted on an array of psychedelic substances like psilocybin, iboga, and ayahuasca to treat a variety of different ailments, including depression, anxiety, addiction, PTSD, and many other psychological disorders. If you are interested in learning more about using psychedelics to treat issues like these, check out the documentary Neurons To Nirvana. CE has also covered many of these studies before. (See links below.)
New Study Finds Psilocybin To Be A Therapeutic Powerhouse For Advanced Cancer Patients [5]
Research Proves Psilocybin's Ability To Effectively Treat Alcoholism [6]
Meditation & The Psychedelic Drug Ayahuasca Appear To Change The Brian In The Same Ways [7]
How I Quit My 20 Year Smoking Addiction [8]
This Is What An MDMA Assisted Therapy Session Looks Like [9]
Magic Mushrooms Erase 'Deep Depression' In first Clinical Human Trial [10]
Study: Single Session Of Ayahuasca Can Defeat Depression [11]
There are many more available. Just search "psychedelics," "MDMA," "ayahuasca," or "iboga" to find them.
Much Love
---
http://www.collective-evolution.com/2017/04/26/dr-bronners-to-donate-5-million-to-maps-to-make-mdma-into-an-fda-approved-medicine/ [2]