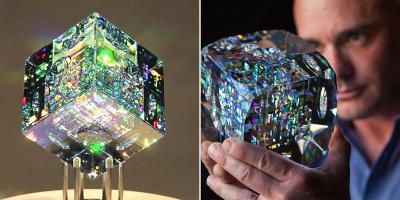 By Jess Murray Truth Theory [2]
An artist based in Los Angeles, California, creates masterpieces so rare and unique that the number of people that carry out this specific artwork can be attributed to just five individuals. The artist, named Jack Storms, creates his art by combining lead crystal and dichroic glass using a cold-glass process. He explained what separates him from other artists by stating [3], "What I do is I don't use any heat at all, I grind and grind and grind and then I polish, that's what separates me from everybody else. It's much more difficult and it takes a lot more time. But for me the effects are just brilliant."
Each piece of his specific artwork can take anywhere by 8 to 18 weeks to fully complete, but Storms explains that this is the effort and dedication that is required to create such masterpieces. An additional factor that sets Storms's work apart from others is that, despite working with glass and crystal, he honours the natural world with each design by using the golden ratio, otherwise known as the Fibonacci sequence. This special ratio has been used in many famous creative designs, from the Mona Lisa to famous architectural structures.
Watch the video to see Storm's process:

I am Jess Murray, wildlife conservationist, photographer and writer. I like to document the natural world and create awareness through my writing so that your future can be sustainable and positive. Follow my Facebook page [4] and Instagram account [5] to be part of the journey.
THIS ARTICLE IS OFFERED UNDER CREATIVE COMMONS LICENSE. IT'S OKAY TO REPUBLISH IT ANYWHERE AS LONG AS ATTRIBUTION BIO IS INCLUDED AND ALL LINKS REMAIN INTACT.
[6]
---
https://truththeory.com/2017/08/30/artist-creates-truly-unique-art-using-golden-ratio/ [7]