Galactic Free Press~ 12~19~10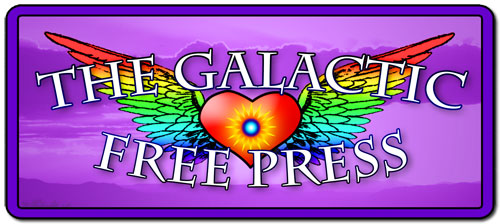 Your Unique Newspaper, for Your 5D Reality Reading Pleasure
~In REALITY only the Best and the Highest outcome occurs, for this is LOVES ONLY FUNCTION JOY, THE HIGHEST AND BEST OUTCOME FOR HUMANITY IS TO AWAKEN INTO LOVE EVERYWHERE PRESENT~ THIS IS OCCURRING WHETHER THEY ARE PRESENT IN THE EXPERIENCE OR NOT~ WE SUGGEST BEING PRESENT, HUMANITY WILL NOT WANT TO MISS THIS~
 ~THE illusions of shadows appear to dwarf the LIGHT~ GOD IS THE WAY WE ALL FIND OURSELVES IN TRUE FREEDOM~ GOT YOUR GOD ON AND ARE YOU FREE? LOVE IS WHERE THE shadows dissipate ~AND REALITY IS THE REAL TRUTH = US = ALL = ONE AWAKENING~
~WE ADD ALL OUR LOVE FOR THIS MAGNIFICENT CONCENTRATION OF ENERGY, LOVE IN PURE ACTION~ ALL OF YOU WILL BE GREATLY SUPPORTED AND HONORED FOR BEING AND DIRECTING THE ENERGY OF LOVE THROUGHOUT THE PLANET, FOR AS WE RAISE THE VIBRATIONS OF THE PLANET THE HIGHER WE GO, THE STARSHIPS ARE MEETING HUMANITY HALF WAY~ ALL THIS TAKES TO BE ACCOMPLISHED IS FOCUSED LOVE~ LOVE MOTHER AND FATHER God
DIRECTED Love EVENT DECEMBER 23RD, 2010
http://www.facebook.com/photo.php?fbid=1233870825027&set=a.1233870625022.27857.1776897761#!/event.php?eid=148915188490543&notif_t=event_invite
~There's 24 Starship Captains from the Royal Fleet on the Planet. Ever met One? If You did, and You didn't Love the Experience, you missed them. We're pretty prominent with the Galactic Free Press. Cause together we Party! We asked the Crew of the Eye of Ra, Heart of Light Starship, how many of them would like to be on the Planet? Their response was, "Just land the damn thing! We didn't know they could speak french~
~OUR JOB AND RESPONSIBILITY ON THIS PLANET IS AS FOLLOWS~ TO RE~HEART HUMANITY OF THE TRUTH, TO STAND WITH THEM IN THE TRUTH, AND TO KEEP THE FOCUS THAT EVERYDAY IS A PARTY DAY, A CELEBRATION! FOR THIS IS LIVING LIFE IN REAL REALITY~ THIS IS LOVE EVERYWHERE PRESENT, AND WHERE WE ARE ALL ONE~ HEAVEN ON EARTH=HEART~ THIS IS THE ONLY REALITY THAT TRULY EXISTS~
~darkness is just a spec of nothing, COMPARED TO LOVE, LOVE IS ALL THAT EXISTS, everything else is an illusion~ LOVE IS HERE NOT TO SAVE HUMANITY BUT TO SHARE WITH HUMANITY THE GREATEST LOVE OF ALL, THAT IS HERE AND IS NOW~ALL OF CREATION IS MADE OF LOVE SIMPLE~ TRUTH IS LOVE=GOD=ALL OF HUMANITY, LOVE DID NOT COME HERE TO SCREW AROUND, LOVE CAME HERE TO BALANCE THE EQUATION SO LOVE IS EVERYWHERE PRESENT~
~TWIN FLAME~
~The Energy of the Twin Flame is All Inclusive, All Embracing, and All Accepting of the True Love Being Made Manifest…Twin Flames are the Unification in the Physical Manifest with the Celestial…and Consciousness being transformed into awareness….as Love Un~Conditional…this would be the name for the New energy because it includes all and w/out seperation or isolation of illusionary ego….for we are Unifying together…The True Awakening of Humanity in the Highest of Love Universally….
In this Living Universe there are many Planets Awakened into the Divine presence of Being as a Universal experience of Oneness…and All of the Celestial participate in the Awakening of Humanity into their Oneness …It is Global, Galactic, Universal, and Multi-Dimensional…Love is the Oneness that connects Us All Together..in Love..Un~Conditional…
All eyes in the Universe are watching this Planet and Humanity, for as the Planet Awakens so do they get to advance, We are all in this together, Equally~ Universal Government is Divine Equality Being Embraced and Expressed~ WE LOVE YOU, LOVE MOTHER AND FATHER GOD THE ORIGINAL TWIN FLAMES THAT ALL OF HUMANITY WERE CREATED FROM, ENJOY YOUR JOURNEYS TO THE ONE ~
END TRANSMISSION
~WE LOVE YOU UNCONDITIONALLY~
~LOVE FATHER~MOTHERGOD AMON RA SO BE LOVE AND SELAH~
~ALL OF HUMANITY SHOULD WATCH THIS VIDEO BY JAMES GILLIAND~ THE BOTTOM LINE IS LOVE, PLAIN AND SIMPLE~ THE CONSCIOUSNESS IS BEING DEVELOPED ON THIS PLANET INEVITABLY, AND EVERYTHING ELSE THAT IS ILLUSION WILL FALL INTO ITSELF, HUMANITY CAN CHOOSE TO FALL WITH THIS, OR STEP UP INTO LOVE, WHERE THEY WILL RECEIVE EVERYTHING~ HERE IS OUR HAND AND OUR HEARTS FOR THOSE READY~ LOVE MOM AND DAD
Love REPORTER JAMES GILLIAND UPDATE
~LOVE LETTERS TO THE EDITORS~
FATHER~MOTHERGOD AMON RA:
Thank you soooooo much divine soul from Sun,somehow dear God
connects me with so many beautiful souls what I recognize that comes
from the SUN just like me…So you are so welcome to become
my friend here on earth to spread shining light of sun …on our divine
mother earth,to heal,serve and to guide much more divine souls
who need that sparkling Sun rays of pure and divine heart-connecting
all of us hand in hand,and making this planet-mother earth bloomish as
an lotus flower pure,nature,and better place for every soul to living..
sparkling lights sending to you dear new friend…….
Love IVIANA VIRMANI ~ARORA
STATED BY GINO DICAPRIO : Hate and Love are both the same. Its one controlling the other. Balance in the other hand is not.
~OUR RESPONSE TO A LEFT BRAIN WHO WAS TRYING TO TELL LOVE, US WHAT TRUTH WAS, AND THAT hate exists~
FATHER~MOTHERGOD AMON RA:
HOW COULD HATE AND LOVE POSSIBLY BE THE SAME? HATE ONLY EXISTED IN DUALITY AND HUMANITY IS MOVING OUT OF DUALITY AND INTO MULTI-DIMENSIONAL THOUGHT~ AND IN LOVE THERE SIMPLY IS NO CONTROL FOR WHAT WOULD LOVE CONTROL, LOVE CAN ONLY BE Love SIMPLE~
~BALANCED HARMONICS IS SIMPLE, LOVE EVERYWHERE PRESENT=5D REALITY ~ DARKNESS CANNOT EXIST IN THE LIGHT, AND THERE ARE NO HIERARCHY'S IN THE KINGDOM OF HEAVEN WE ARE ALL ONE EQUALLY~ LOVE IS CALLING HUMANITY HOME AND YOUR GOING TO TRY TO TELL LOVE WHAT TRUTH IS? WELL REALLY ITS JUST YOUR LEFT BRAIN TELLING YOU THAT YOU THINK YOU KNOW MORE THAN LOVE DOES, RIGHT…THATS FUNNY, WE LOVE YOU  UNCONDITIONALLY, ALL IS LOVE IN THE NO MATTER WHAT, LOVE MOTHER AND FATHER GOD
AND LOVE REPORTER TRILLIA GIA'S RESPONSE:
It matters not who says that hate and love are the same… it is the message that is a lie as one who does not know Love lives in duality and separation of their own creation… this is a free-will choice that each soul makes as children of Source we each have been brought forth with this divine power to create that which we choose to experience. It is true that many of darkness live in higher dimensions than on Earth… yet there are those beloved souls of Light who dwell in all higher dimensions and it is that which we resonate that we shall experience and know. It is wonderful and empowering to know that it is our choice as to the path we walk in life and beyond without the limitations of false beliefs and judgments by those who choose to walk another path. This is a free-will planet and I do not accept limitation of thought from others. I claim my power to live in forever-expanding unconditional Cosmic Love and Light of Source. Now I feel like celebrating! ♥
~SHOW YOUR SUPPORT AND LOVE FOR THE GALACTIC FREE PRESS ~SUPPORTING THE Divine MISSION ON Planet EARTH=HEART~Sharing with those, Who Serve Love~
We're here to serve your Awakening Unconditionally and have no plans of ever stopping, but we do have a request to make of you. On a sane Planet, Everything is shared freely and equally, but this is not currently the case on Planet Earth=Heart. The greediest among you are currently those with the most wealth while those who give the Highest Truths Freely are some of the poorest. We offer Understandings far beyond what one would pay ridiculous prices for at a university and we SHARE THE HIGHEST TRUTHS WITH YOU FREELY WITH NO EXPECTATIONS We're asking those of you who have been helped by our messages or through connecting in to help us in return with small donations to pay for our basic supplies and to keep our internet on so that We can continue. You can make a donation at http://soundofheartorg.ipage.com/galacticfreepress/content/donate
We DO NEED EVERYONES ASSISTANCE AS We FULFILL THIS Divine MISSION~ PLEASE SHARE EVEN 5$ 0R 10$ WOULD GREATLY ASSIST IN SIMPLE SUPPLIES THAT We REQUIRE , SUPPORT THE ENERGY OF LOVE~

Dorothy
Is 70 years old.
Today, if Dorothy were to encounter Men with no brains, no hearts, and no courage -
She wouldn't be in Oz -
…
She'd be in Congress.
~ LOVE REPORTER DIVINE STARSEED~
~This Earth's school is a reality show for the Universe and I am so honored to be here NOW, at this amazing times… Oh my dear brothers and sisters of the humanity, it is now time for us to make the right choice, to be the light and love that we are… My love has no limits, I am fulfilled… I can feel the whole Universe inside me… We are all blessed to be a part of this "mission earth", so let us make it count… We truly are a tribe of many multidimensional colours… We are shining in pure LOVE ♥ ~
~~~~~~~~
Worry weakens the strong, distracts the focus and wastes energy. Not one thing h…as ever been solved, one burden made lighter through worry. Spend your energy instead on how blessed and grateful you are. Being that, really getting it, can move mountains. You realize then how small your worries really are. ♥ Robin ♥
OUR RESPONSE~CAUSE IN REALITY THERE AREN'T ANY WORRIES~ BE IN JOY~ LOVE MOM AND DAD
~GOOD PURGING AFFIRMATION ~ I NOW RELEASE ANYTHING AND EVERYTHING THAT NO LONGER SERVES MY HIGHER GOOD AND THAT OF THE HIGHEST GOOD OF THE ALL, I SERVE LOVE COMPLETELY! THROUGH MY EVERY THOUGHT,WORD, DEED, AND ACTION I SERVE LOVE AND THE HIGHEST GOOD OF THE ALL IN ALL MOMENTS~ AND SO IT IS..~
~LOVE REPORTER WOLF SPIRITWHISPER~
~Sometimes things happen for a reason. Not to stop your forward motion. Sometimes you just need to stand back and try and find out what the reason is. Stay positive and smile. Keep your humour. Things fall apart and later the pieces all come together~
♥♥♥
~LOVE REPORTER MELANIE MOORE~
~THE ILLUSION IS BREAKING DOWN ~
Happiness is a choice to make ESPECIALLY when… you feel like the Universe is conspiring against you because WHEN YOU ENERGIZE NEGATIVE THOUGHT YOU then empower more negative in your life…
~ NEVER FORGET WHO YOU ARE
~YOU ARE A POWERFUL MASTER – A GOD~DESS
~YOU are NOT a victim of Circumstance
~ TRANSCEND ILLUSIONS BY CHOOSING TO BE HAPPY WHATEVER
~YOU HAVE THE POWER TO NOT ALLOW NEGATIVE ILLUSIONS TO OVERPOWER YOU
~ ONLY LOVE IS REAL
~ONLY LOVE IS TRUTH
~THE REST IS MIND MADE ILLUSION
~ A MASTER SEES THROUGH ILLUSION TO WHAT IS REAL AND WHAT IS AUTHENTIC ~ LOVE
~ and so he LOVES WHATEVER IS THROWN AT HIM AND TRANSCENDS IT
~IT IS THE ONLY WAY TO RELEASE YOURSELF FROM THE ILLUSION
I SOOOO LOVE YOU DIVINE ANGELS
Melanie Moore. Ph.D.
..~11~ The Age of Angels comes to the Tribe of Blue Fire, of Initiation. The Teachers of Light speak into the world, they hold the keys that unlock the time codes of destiny. The gods and goddesses of this galaxy call the dreamers to awaken & move with the fast flowing river of the heavens. The Wayshowers are feeling… the increase of power & the acceleration of the flow rushing towards destiny and prophesy….Rysa
~LOVE REPORTER WE ARE THE HUMAN ANGELS~
~The more we Love,
the more we are One with Life~
~Fighting against the darkness
means to believe into illusion
that darkness exists,
WHEN THE ONLY REALITY IS THE ONENESS~
POWERFUL AFFIRMATION FOR TODAY~I AM HERE TO SERVE LOVE EVERYWHERE PRESENT IN ALL MOMENTS AND SO IT IS~
~LOVE REPORTER JOHN SMALLMAN~
~ALL OVER THE WORLD LOVE IS BEING SHARED AS NEVER BEFORE~
Humanity is waiting with a strong sense that something of immense importance is about to occur. It is a very unsettling feeling because you have been locked into the experience of an unchanging environment in which disagreement, fighting, and war are endemic. And yet you sense, and deep within yourselves you know, that this is all about to change.
For eons, in your quiet and private moments, you have been longing for, hoping for, and praying for peace, harmony, acceptance, and love. But it has all seemed way beyond your reach, impossible to achieve, and it appears to the majority of you that you are unworthy and do not deserve a prize or a reward as wonderful as that. But it is your destiny. You were created in that state by God, and it is where you belong. The fact that you are not experiencing it and cannot conceive of achieving it is all part of the illusion — that strange state of anxiety and suffering in which it appears that you have your existence.
However far back you look in the history of mankind, the driving forces that have guided and inspired you seem to be deceit, betrayal, and war, and because in your seemingly separated state it appears that you are alone and surrounded by enemies, no other way of living makes any sense at all. You are permanently threatened and likely to be attacked at any moment without warning. It is indeed a very fearful and unsatisfactory form of existence – expecting non-existence to overwhelm you and remove your life at any moment.
Nevertheless, you continue to hope. That sense of hope has been with you since the momentof separation, because your Father placed within you the inextinguishable Light of His Love to assure you that you were not lost, could never be lost, and to light your way Home to His loving embrace when you chose to stop playing the ridiculous games that filled you with anxiety and hid the Light of His Love from you.
Over the last few decades – a very short time compared to the apparent eons of separation from Him that you have spent in the illusion – very many of you have become aware of that divine Light shining within. You have not understood what it is or what it means, but you can see that it is accepting and welcoming. And you have started to accept the Love it offers you, thus realizing that indeed you are not alone but one with each other, so that what you share becomes abundant, and what you withhold shuts you down again into the loneliness of separation.
The result of this growing awareness of the oneness of all can be seen in the increasing compassion and generosity shown to those who are suffering locally — close to you as family or neighbors — or on the other side of the world. The effect that this is having is enormous and unstoppable. Yes, the media is still focusing on war and catastrophe – it is what they look for and is their reason for being (and it does need to be brought to your attention) – but all over the world generosity, kindness, healing, and love are being shared as never before.
This wondrous energy, divinely and exponentially expanded, is flowing freely and easily for the benefit of all. More and more of you are becoming aware of this, and adding to it in every moment, as it sweeps you up in its loving embrace and carries you away from the grasping, heavy, and sticky center of the illusion towards the free-flowing freshness and clarity that mark the outer limits of that illusory environment. From there you will be able to see your heavenly Home shining brilliantly as it beckons you onwards. Your arrival there is guaranteed, as is your joy when it occurs. The journey is almost completed.  Relax and accept the divine embrace that envelops you, confident that your Father's Love for you will carry you Home.
With so very much love, Saul.
[Saul and John wish you all a wonderful and peace-filled Christmas. The next Saul post will be on Sunday January 2 2011.]
~EXPECT SOMETHING WONDERFUL~
Feeling it! Big incoming light in the crown chakra and the jaw and back of the neck are feeling it! Heart chakra is expanded and open. Rather intense for my head! The feel of the quality of this light to me is thick, wide, also coming up from Earth. I experience it as joyful, a bit excited and with a sense of thrill and anticipation. Remember that all light coming in is information and has unique qualities; notice what the feel is and what the information is. It really enriches the experience for me! It's the language of the New Earth: Sensation. Being.
~THIS IS EXACTLY HOW YOU WALK FROM YOUR UNCONSCIOUSNESS THROUGH TO HEAVEN CONSCIOUSNESS=SPIRIT=FULL CONSCIOUSNESS~A RAINBOW TO LOVE EVERYWHERE PRESENT=THE KINGDOM OF HEAVEN=OVERFLOWING JOY, THEY WERE NOT KIDDIN WHEN THEY SAID SOMEWHERE OVER THE RAINBOW~ LOVE MOM AND DAD
~LOVE REPORTER SAPPHIRE STONE~

~We As A Collective Consciousness Are The Ones Who Will Determine When We Are Ready To Forever Change The Vibratory Nature of Planet Earth Through Connecting With The Universal Christ Consciousness! We Are The Ones Who Are Awakening And Changing The Mindset of Those Around Us! We Are The Ones Who Are Creating Changes Within Time-Space Continuum! We Are The Ones Who Together Create The Ripple Affect In The Cosmic Waves To Bring About Our Galactic Family To Us, So We May Meet Them For The First Time! Our Energies Have To Coincide In Unison As ONE, In Order For Mass Changes To Happen! Believe In The Power of Your Mind! Project A Visual of First Contact! Keep Doing This Everyday, And You Will Bring About Positive Changes On Earth!
Changes ARE Happening At A Rapid Rate! Time Is Being Altered,Through Changes In The Auric Field of Gaia! You Are Being Watched And Studied By Numerous Ships As They Change Your Material 3D Human Substance From Carbon Based To Crystalline! It Is Up To Each Individual of What Your Reality That You Choose As Your Life Path, In Order To Manifest Which Path You'll Take!
As The Dimensions Merge Together, Beings From Every Level Are Coming Through Portals! It Is A Huge Transition For Earth To Undergo All of These Incredible, Enlightening Changes! Never Lose Sight of The Fact, That There IS A Heck of A Lot Going On Behind The Scenes In A POSITIVE ~ PEACEFUL ~ LOVING WAY ~ That Is Not Known To You ~ But Soon It Will Be Known To Many! Never Give Up Hope, Knowing This WILL ALL Make Sense To You One Day, No Matter How It Appears Otherwise!
Channels Are Opening! Communication Is Opening! Hearts Are Opening! Your Souls Are Being Sent Immense Golden Light Right Now And Will Continue To Be Sent, Until FULL DNA Upgrade Is Complete! How Your Mind Is Open To Experience The Unknown, Is What Will Determine How Magnificent Your Contact Will Be, With Other Universal Beings! Keep An Open Mind And Follow Your Heart ~ Your Higher Self ~ To Connect You With Who You Truly Are! ~
Blessings Within Light & Love ; ))
Sapphire Stone
~~~~~
~LOVE REPORTER BRET VARCADOS~
~All that we are is the result of what we have thought~ ~Buddha~
~ True beauty comes from within, Physical appearance only enhances the reflection of ones conscious perspective.. Because The most beautiful people have an inner light shining through their physical reflection,
~ The beauty of a dream exists in reality only when it is processed through a cause. The completion of task is felt as a gratifying joy within and this reflects to those around us as inspiration. Your beauty inspires many people in many ways, But the most powerful reflection you have to others is that of your happiness and your joy for life ..~~♥~
~ The heart is the conscious souls container, the vessel of the universal energy's transformation.
Through our attitude we control the substance of our joy, and the love for one another, It also provides the energy our thoughts require to transform into the physical world of our reflections But, To find inner peace of mind, We must look through our ego and into our heart. The result will be a clear picture of what's important to your soul and the world as a whole. ~~ ~~
~ We are all children admittedly or not, Our growth is in the acknowledgment of the universal energy and consciousness.. ~ To enjoy our path is to enjoy the journey with a positive attitude, This because, The light of joy is not an issue but a container we drink from.. Enjoy the journey within and the world becomes a brighter place.. ~ =o)
~ To proceed in a progressive way, one must create the proper perspective, and then a better day by laying the foundation for it. Whether you enjoy the journey or not, it is what you make of it..
~Enjoy the beauty and attitude you create in your path within the journey of life..=o)
In lak'ech my friend ~♥~
~LOVE REPORTER ECKHART TOLLE~
~Give up defining yourself ~ to yourself or to others. You won't die. You will come to life. And don't be concerned with how others define you. When they define you, they are limiting themselves, so it's their problem. Whenever you interact with people, don't be there primarily as a function or a role, but as the field of conscious Presence. You can only lose something that you have, but you cannot lose something that you are ~Eckhart Tolle
~The happy individual is able to renew daily and with full consciousness all the basic expressions of human identity [OF A REAL HUMAN BEING]: work, love, communication, play, and rest~
~Make yourself familiar with the angels, and behold them frequently in spirit; for without being seen they are present with you ~ Saint Francis de Sales (1567-1622) shared with love by george
~LOVE REPORTER KRYON~
A Lightworker asked:
"I'm in a place I don't want to be in. Why am I being punished every day by having to work with these people that are so dark? They think I'm crazy and don't honor me or my life. What should I think about this? It's hard!"
And my answer will again be this:
~do you think it's all about an accident? Or that you're being punished? Then you have missed the grandeur of a standard Lighthouse. Lighthouses aren't built in safe places. They choose to be where the storms are! You're not being punished. You're being taken to a difficult place to shine your light. Physically, what should you be doing (with the people around you)? Can you love them? Listen to them! Listen to what's really happening in their lives. Consider every day one where you have an opportunity to create light in a dark place. Watch attitudes change. You may be "weird" to them, but they know you represent integrity. Spiritually, you're a light in a dark place and you wonder why you're there? It isn't always about you. Think about them! You're not being punished, you're being given an opportunity. This is the work you came to do, and it's not forever. In a place you don't want to be, working with people you don't want to be with, is the work of a Lighthouse. What if you're the only light they ever see?~
(Kryon)
~Love REPORTER MIKE ROBLEDO~
TRUTH♥LOVE♥UNITY
♥ Listen to ur feelings, they always point to ur truth, not trouble
♥ Don't be afraid; Don't ever be afraid
♥ Fear & guilt are ur only enemies
♥ Love & Unity are ur true friends
♥ Celebrate Life & Live Grandly!
~LOVE REPORTER ADEON~
~Being a Lightworker is both very easy and very hard. How hard is it to be the real you? Are you prepared to let go of everything? Think of who you will be when all form and material life is gone. That is the real you. Are you prepared to forgive and release all? There is nothing you must do, it's all about what you no longer need to do. To stop hiding, to face the true awesome reality of who and what you are, free from all illusions. Are you a thinking, breathing, centered person? Do you control your ego, or does your ego control you? Do you live in a state of awareness or reaction? Where are you looking for your answers? Within or without? These are all serious questions we must contemplate and come to accept for ourselves.. To "Know Thy Self" beyond mind, beyond ego, beyond words is the first and only step.~Adeon
~U can tell the size of ur God by the size of ur Worry list,
The longer ur list,
The smaller ur God~
~ Author unknown.
~Our true home is in the present moment.
To live in the present moment is a miracle~
-Thich Nhat Hanh
~Marie Madeline Lemos-doran: GREETINGS~  A LOVE LETTER ~
 Hello bright soul , I am honored to journey with u, I share what I think and perceive, yet I must admit , that I speak at times from my heart, others from my light, I will define who is speaking, for there are many messages of light I will share; and then there the times when I am just me, simple earthling pondering, questioning reasoning and reaching out for assistant and enlightenment from u, and your light.
Us together as one reflecting on our lives with it's problems, and caring enough to share different paths to inner peace. sharing our joys , blessings and such to help one another along. For the path is sometimes rocky, and we will need to love and stay focused, enpassioned to be of service to the light and our family of man.
I thank u and am honored , that you are one with us sister or brother, and have come to share, for this is a place dedicated to light, peace, love and our family of man. We share one thing in common we have all made a stand for the choice of peace , and our goal is to lead all nations to peace..We will achieve the goal we seek in compliance with the message of light at the birth of the anointed one , Peace on Earth Good Will towards man..
Blessed we are by this journey, blessed we are we found one another this was the divine plan and why we were enlightened with the blessing of internet..We are one, one voice, one choice, one love , one light, one universe , one earth, one vision, one command, one reason, one season of life. One message, one heaven, on earth. One legacy, for our family of man. We are one, we are change, we stand up for peace, for the man who never stands up for anything will fall for everything..
There is a need for us to hasten our step to reach everyone across every nation and let us direct and take back control of our government . For to war we did not agree , we harm no living thing, We are one we are change we will overcome.. If u would care to share in this I will gladly send it along, my journey is long , the path at times rocky, I work night and day and speak differently to everyone, as situations demand, to speak to my fellow man.
Use songs u may not want to hear that carry impact, use language at times u may not like and consider lack of tact. when I speak to those that lived and grew in ghettos, i speak in terms they understand, differently to the middle class, I am even capable of speaking well, to the elite,.leaders of nations, and corporations these are my blessings. That are blessing from the light , instructions, words. thoughts and sentiments to reach everyone. I write open letters to all and their family of friends, for I am compelled by the light to reach out to everyone I can .
I am directed enpassioned and journeying with light.. so if u like myour site, be welcome to share here, for each beam of light makes us stronger, and the beam of light I shine on u today is to let u know u r loved, I invite u to be a part, of a passion and a choice, critical it is, for time is of the essence, and we can and will overcome as one. and know this to be true I journey to make peace for u and our family of man.
Blessings all light peace and love NAMASTE
~Those that make peaceful revolution impossible will make forceful revolution inevitable ~ John Kennedy
LOVE REPORTER ELLION
Check this out
http://www.rumormillnews.com/cgi-bin/forum.cgi?read=190145
Love and Peace
Ellion
~True family rarely grows up under the same roof~ Richard Bach
LOVE REPORTER Felix C Lopez Wrote~
~Namaste~
~I honor the place where you are, when you're there and I AM WITHIN myself. WE ARE ONE. ONE GOD. ONE LOVE. ONE UNIVERSE.
AND ONLY ONE LANGUAGE, the heart really matters.
…
We will become one, but only if your EGO dies, WHICH IS THE ONLY WAY YOU CAN GIVE UNCONDITIONAL LOVE and you allow your spirit to soar into the infinite.
In this place there is no pride or prejudice, no racial differences, no discrimination, no hatred, no misunderstandings, no disagreements, no envy, just PERFECT LOVE, COMPASSION AND HARMONY.
ONCE U REACH THIS PLACE, YOU CAN ONLY IMAGINE THE WONDERS OF THE HUMAN ACHIEVEMENT as perfect sentient beings with unconditional love for everyone. Every society values improving the natural world: no aggression, no more war, no more financial problems, no more hunger, no poverty, no loneliness;equitable distribution of natural resources; and total respect for mother earth, animals and plants in PERFECT BALANCE.
This balance is not forced, it is just pure harmony. Our pure essence. What we have always been, but forgot, lost in the search for "economic progress"; ubiquitous senseless entertainment; and negative thoughts based images an alter EGO: the feeling of superiority or inferiority that divide us.
The human mind is poisoned with negative thought, or simply no thoughts, which works against communion with GOD, against yourself.
Meditation and prayer are the only door to that GOD'S IMMENSE LOVE, not churches or any other institution.
LOVE CAN NOT BE CONDITIONED ON ANY THEOLOGICAL AGREEMENT; INDIAN GURUS ABUSING THEIR KNOWLEDGE; ESTABLISHED INSTITUTIONS; EXPERTS IN ANCIENT TEXTS; SUPERSTITIONS; PSEUDO-SCIENCE OR ANY EGO-BASED DOCTRINE OR SET OF BELIEFS.
FAITH HOPE PEACE LOVE LIGHT
OH The ~PurestLove~Flowing to the World~
Pure*Love*Healing~♥~NOW**
So It IS……
~Our job is to love others without stopping to inquire whether or not they are worthy. That is not our business and, in fact, it is nobody's business. What we are asked to do is to love, and this love itself will render both ourselves and our neighbors worthy if anything can~
Thomas Merton (1915 – 1968)
~THE GREAT COSMIC JOKE~
BY LOVE REPORTER DARSHAN BABA
OHHHHHHHHHHH… this GREAT COSMIC JOKE…LOL tehehe hahohe haheha, the worst that can happen here is Death, and thats nothing, NOTHING at all… Theres nothing to Lose! Nothing to Gain! Only this Limitless Infinity! Oh the Great Cosmic Joke, it tickles IT TICKLES!!!! do you feel that natural joy? Natural Nectar of Being? Even in Sadness, Infinity remains the totality of BEING… oh PLEASE everyone drink the nectar that inspires these words… words which can not touch that immortal nectar of SIMPLY BEING! Thank You in all directions, all the ONE THANK US ALL!!!

M & Q`s Magical Love Potion Drinks ♥ Its About To Be Well Know Throughout The Local And Far Away Universes!!! Instant High Frequency Love Vibration Guarantee!! Come And Taste…First Round Is On The House!! lol ♥♥♥ D
~HIGHLY INFORMATIVE WEBSITE WITH VALUABLE INFORMATION TO SHARE WITH HUMANITY~
http://soundofheart.org/galacticfreepress/
~THE AWAKENIING SESSIONS~
BY Love REPORTER SHEILA KISTNER
Highly Recommended these awakening sessions!!!! If you feel you would like to Connect In with True Unconditional Love..please contact Mother Father God Amon Ra. I have received true and total unconditional love from my Mother and Father, for the last 3 years!! They truly desire all of their children Connect In so they can share their LOVE with YOU!! They want to guide you, so you can experience the Joy and Love you were created from….ONE
MALCOLM RANDAL [THE LOVE BUTTON GUY] about the Awakening Sessions
http://www.facebook.com/presslove?ref=mf
~The birth canal is the most strenuous phase for the infant. Don't give up the fight in the most difficult stages. Love causes you to be re-born. Just because life doesn't get immediately easier when you start thinking positive doesn't mean it ain't working. Hold fast, victory is at hand. We are called Love Warriors for… a reason. Thank you father and mother for your time this morning. We Love You!~
http://soundofheart.org/galacticfreepress/content/awakening-sessions-available-now-love-beings-connect
YOU CAN CONTACT US THROUGH FACEBOOK OR THE FOLLOWING EMAIL:
Email: mothergod1111111@gmail.com
Skype: father.mothergod.amon.ra
Facebook:FathermotherGod Amon Ra http://www.facebook.com/note.php?created&&note_id=158889937485893#!/profile.php?id=1776897761http://www.facebook.com/note.php?
web: http://soundofheart.org/galacticfreepress/
©Bev Stratton-Proemper 2008
Acrylic on canvas
spiritual paintings I hope they give you something beautiful and special Love and Light bev
♥♥♥ SHINE A LIGHT ♥♥♥ bev stratton-proemper, visionary artist
YOU CAN Now JOIN US NOW ON OUR NEW WEBSITE FULLY FUNCTIONAL WITH ADDED FEATURES
http://soundofheart.org/galacticfreepress/
~With ALL our Love Unconditionally~
Father~Mother God and The Entire Galactic Free Press Staff