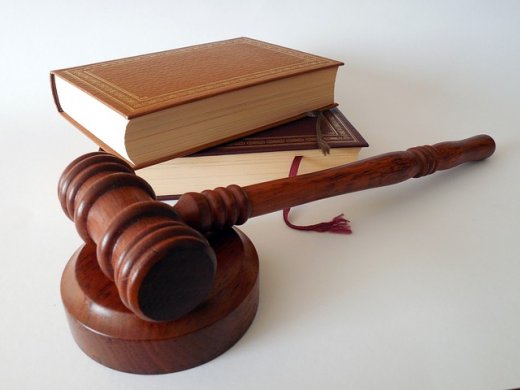 The religious world was rocked recently when it was revealed that God himself filed a suit against the Catholic church accusing them of defamation of character. Other religions have expressed grave concerns over what this could mean for them, and what kind of precedent this will set. The Galactic Free Press has secured an inclusive interview with God on the subject:
Galactic Free Press (GFP): Thanks for joining us, and I guess our first question is, why? What's the motivation behind bringing this suit up against the Catholic church?
GOD: FOR FAR TOO LONG RELIGION HAS USED ME AS AN EXCUSE FOR VIOLENCE, HATRED, AND AS A TOOL FOR CONTROL. ALL SORTS OF THINGS THAT HAVE NOTHING TO DO WITH GOD AT ALL. EVERYONE KNOWS THIS, BUT MOST PEOPLE ONLY SEE IT IN OTHER RELIGIONS AND REFUSE TO SEE IT IN THEIR OWN RELIGION.
GFP: Yes, we've noticed how quick people are to blame their problems on everyone but themselves. What would you say to people who think the need religion?
GOD: I AM ALIVE WITHIN THE HEART OF EACH AND EVERY HUMAN BEING ON PLANET EARTH. VERY FEW TRULY UNDERSTAND THIS THOUGH, AND BECAUSE OF THAT IT'S BEEN VERY EASY FOR RELIGIOUS INSTITUTIONS TO INSERT THEMSELVES BETWEEN MAN AND GOD. THEY CLAIM TO BE THE BRIDGE BETWEEN MAN AND GOD, BUT THEY DO FAR MORE TO SEPARATE HUMANS FROM GOD.
GFP: So why have religions?
GOD: THE TRUTH IS PEOPLE DON'T NEED RELIGION AT ALL, EVERYONE HAS THE ABILITY TO CONNECT DIRECTLY WITH ME. YOU WOULD BE BETTER OFF FORGETTING EVERYTHING YOU THINK YOU KNOW ABOUT GOD AND BEGINNING AGAIN WITH THIS PRESENT MOMENT. PASSIONATE CELEBRATION OF LIFE DOES FAR MORE TO BRING YOU CLOSE TO ME THAN REPETITIVE WORSHIP, BUT THE ART OF TRULY LIVING LIFE HAS BEEN LARGELY FORGOTTEN. HUMANS HAVE BECOME ROBOTIC AND IN THAT THEY TREAT LIFE MORE LIKE A CURSE THAN THE BLESSING IT TRULY IS.
GFP: There's been some controversy about this recently, and we have to ask. Are you a man or a woman?
GOD: WHY DOES EVERYTHING HAVE TO BE ONE OR THE OTHER WITH HUMAN BEINGS? WHY DOES IT HAVE TO BE THIS OR THAT? YOUR MINDS ARE USED TO EXCLUSIVE THINKING, YET GOD IS THIS AND THAT, ALL INCLUSIVE. YOUR THINKING OFTEN CREATES CONFLICT WHERE THERE IS NONE.
GFP: Sorry about that.
GOD: THERE'S ANOTHER THING THAT HUMANS USE TO DEFEAT THEMSELVES, REGRET. THERE'S NO NEED TO BE SORRY FOR THE PAST, BE THANKFUL FOR THE EXPERIENCE, ESPECIALLY WHEN YOU LEARN SOMETHING FROM IT.
GFP: Humans tend to define themselves based upon the past, don't they?
GOD: YES, THEY DO IT CONTINUALLY AND IT MAKES GROWTH VERY DIFFICULT. THAT'S PART OF THE LIMITATION OF RELIGION, IT'S ROOTED HUNDREDS, IF NOT THOUSANDS OF YEARS IN THE PAST. HUMAN BEINGS CAN GROW, THEY CHANGE, YET RELIGION HAS BEEN ONE OF THE MAJOR FORCES RESISTING CHANGE. AS IF I ONLY SPOKE TO A FEW "SPECIAL" PEOPLE A LONG TIME AGO. I SPEAK TO EVERYONE IN EVERY MOMENT, BUT ONLY A FEW HAVE EARS TO HEAR.
GFP: Was it really you speaking to the prophets?
GOD: IS IT REALLY ME SPEAKING TO YOU NOW? EACH PERSON HEARS GOD IN THEIR OWN WAY AND NO TWO PEOPLE ARE EXACTLY THE SAME. THIS IS WHY THERE'S SO MUCH PERCEIVED DIFFERENCE BETWEEN ALL THE PEOPLE WHO SPEAK WITH ME. THERE'S NO NEED FOR THOSE DIFFERENCES TO CREATE CONFLICT THOUGH. TOGETHER THEY CREATE A BIGGER PICTURE OF REALITY THAN YOU EVER IMAGINED POSSIBLE.
GFP: So should we try to combine all the major religions?
GOD: WHILE EACH RELIGION CONTAINS ELEMENTS OF TRUTH, THEY ALSO CONTAIN MANY UNTRUTHS. BE VERY CAREFUL ABOUT ATTEMPTS TO COMBINE ALL THE MAJOR RELIGIONS, AND ATTEMPTS TO CREATE A NEW "WORLD RELIGION". THERE ARE PEOPLE ATTEMPTING TO CREATE A NEW CENTRALIZED RELIGIOUS AUTHORITY AS A TOOL TO CONTROL THE MASSES.
GFP: Getting back to the lawsuit, what exactly did the Catholic church do that constitutes "defamation of character"?
GOD: WELL IF YOU LOOK IN THEIR MAIN RELIGIOUS TEXT, THE BIBLE, THERE'S A LONG LONG LIST OF THINGS THEY BLAME ME FOR. I AM THE ESSENCE OF UNCONDITIONAL LOVE, AND YET THE BIBLE TELLS PEOPLE I MURDERED THE FIRST BORN SONS OF EGYPT. I NEVER DID THAT, I WOULD NEVER CHOOSE ONE RACE OF PEOPLE WHILE DAMNING ANOTHER. PEOPLE LARGELY UNDERSTAND RACISM AS MORALLY WRONG NOWADAYS, YET THIS ANCIENT TEXT THAT PEOPLE USE FOR MORAL GUIDANCE IS FILLED WITH RACIST NONSENSE. GOD IS LOVE, SIMPLE AS THAT.
GFP: What about the Adam & Eve story?
GOD: RELIGIONS TEND TO TAKE METAPHORS LITERALLY AND LITERAL THINGS METAPHORICALLY, AS IT SUITS THEM. THE TREE OF KNOWLEDGE OF GOOD & EVIL, THAT'S YOUR OWN DUALISTIC MIND. WHEN PEOPLE STOPPED LISTENING TO ME, AND INSTEAD "ATE FROM THE TREE", THEY LEFT PARADISE. HUMANITY DID THAT TO THEMSELVES, I NEVER KICKED ANYBODY OUT OF PARADISE. WHEN HUMANITY STOPPED HEARING ME CLEARLY, THEY MADE UP ALL SORTS OF STORIES.
GFP: And the Tree of Life?
GOD: UNDERSTAND THAT THE GARDEN OF EDEN STORY IS NOT SOMETHING THAT HAPPENED IN THE DISTANT PAST, IT'S SOMETHING THAT MOST PEOPLE DO EVERY SINGLE DAY. IT PLAYS OUT WITHIN THEIR OWN BEING. YOU EAT FROM THE TREE OF KNOWLEDGE OF GOOD AND EVIL, YOU CHOOSE THE ILLUSION OF SEPARATION, AND IGNORE THE TREE OF LIFE. YET THE TREE OF LIFE IS ALIVE WITHIN YOU, AND IT IS THE PATH BACK TO ME.
GFP: It seems like religion has done far more to confuse things than awaken God within people.
GOD: IF PEOPLE REALLY KNEW THE HISTORY OF THE CHRISTIAN CHURCH, THEY'D REALIZE IT HAS MORE TO DO WITH THE ROMAN EMPIRE THAN THE TEACHINGS OF JESUS. THE PEOPLE WHO ASSEMBLED THE BIBLE HAVE MORE IN COMMON WITH THE PHARISEES THAN WITH CHRIST.
GFP: That's bound to insult some people.
GOD: THE TRUTH USUALLY DOES. JESUS GAVE ONLY TWO COMMANDMENTS AND BOTH WERE WHOLLY CENTERED AROUND LOVE. SHOULD'NT THOSE BE THE CORE OF CHRISTIANITY? THE DIRECT WORDS OF JESUS? INSTEAD, MOST CHRISTIAN RELIGIONS ARE BASED UPON THE NICENE CREED, SOMETHING CREATED HUNDREDS OF YEARS AFTER JESUS WALKED THE EARTH, AND BASED UPON INTERPRETATIONS OF HIS WORDS.
GFP: So who's the lawyer that's going to represent you in court?
GOD: A LAWYER THAT REPRESENTS GOD? THAT'S A GOOD ONE!
(At this point we had to pause the interview to wait for God to stop laughing.)
GFP: So do all the lawyers go to hell?
GOD: THERE'S NO SUCH THING AS HELL, SAVE FOR WHAT YOU CREATE FOR YOURSELF. IT'S ONE OF RELIGION'S BIGGEST LIES, AND IT'S ONE THEY HAD TO TELL FOR RELIGION TO EVEN EXIST AT ALL. WITHOUT THE FEAR OF PUNISHMENT, WHY WOULD PEOPLE FOLLOW RELIGION? THEY'D SIMPLY BE FREE, AND IN THAT FREEDOM THEY'D HAVE A CHANCE TO DISCOVER GOD AS I TRULY AM. A JOYOUS EXPRESSION OF LIFE'S OWN LOVE FOR ITSELF.
GFP: So no devil, no demons?
GOD: THAT'S PART OF THE WHOLE "GOOD AND EVIL" PACKAGE YOU SWALLOWED WHEN YOU CHOSE ILLUSION. YOUR DEVILS AND DEMONS ARE CREATED AND FED BY YOUR OWN FEARFUL THOUGHTS. WHEN YOUR WHOLE WORLD IS BASED UPON FEAR, THOSE THINGS SEEM VERY REAL. WHEN YOU SHIFT INTO LOVE, YOUR DEMONS WILL TURN INTO ANGELS.
GFP: It seems like you keep putting responsibility for all these things on the individual.
GOD: RELIGION WANTS TO PUT EVERYTHING OUTSIDE OF YOU, AND BLAME ME FOR ALL OF IT. HUMANITY'S SUFFERING, THAT'S ALL SUPPOSED TO BE MY FAULT. I'M SUPPOSED TO BE AN ALL-POWERFUL FORCE THAT'S IN CONTROL OF EVERYTHING, SO HOW COULD I NOT BE RESPONSIBLE FOR EVERYTHING? WHEN RELIGION PAINTS GOD AS THIS OUTSIDE FORCE THAT'S IN CONTROL, SOMETHING SEPARATE FROM YOU, THEN THEY CAN STEP IN BETWEEN YOU AND GOD.
GFP: But that's not how it really works?
GOD: NO, I EXIST WITHIN EVERYTHING, AS EVERYTHING. I AM A GOD OF, BY AND FOR THE PEOPLE. I GIVE YOU GREAT FREEDOM, FAR BEYOND WHAT MOST HUMANS HAVE CHOSEN TO ACCEPT. SO THEY GIVE THAT FREEDOM AWAY TO SOMEONE WILLING TO EXPLOIT IT, THAT'S WHY YOUR POLITICIANS, PREACHERS AND BUSINESSMEN HAVE BECOME SO POWERFUL. THEY HAVE BECOME EXPERTS AT TURNING YOU AGAINST YOURSELF, AND IN DOING SO, TURNING YOU AGAINST ME. IN TRUTH, WE ARE ONE.
GFP: So it sounds like you're saying we are God...
GOD: YES!
GFP: There's some who would say it's very egoic to claim that I am God.
GOD: THE EGO ITSELF IS BASED UPON THE ILLUSION OF SEPARATION FROM ME. THE ONES WHO THINK IT'S EGOIC TO SAY YOU ARE GOD ARE THE ONES WHO BELIEVE IN AN EGOIC GOD. THEY SEE GOD AS THIS SEPARATE, CONTROLLING BEING. THE EGO WANTS TO BE IN CONTROL, SO THE EGO WORSHIPS A CONTROLLING GOD. A HATEFUL PERSON SEES A HATEFUL GOD, A LOVING PERSON SEES A GOD OF LOVE. JUST SHOWS HOW CLOSE PEOPLE TRULY ARE TO ME.
GFP: I was told that if I truly talk to you directly, see you for who you truly are, my head would explode.
GOD: CORRECTION, YOUR MIND WOULD EXPLODE. THE DUALISTIC MIND CANNOT COMPREHEND ONENESS. IT UNDERSTANDS ONENESS AS A CONCEPT, BUT THE EXPERIENCE OF YOURSELF AS EVERYTHING IS BEYOND WHAT THE MIND CAN CONTAIN.
GFP: But it's the truth of our Soul?
GOD: YOU GOT IT!
GFP: Thanks for joining us God! Anything you want to tell people before we go?
GOD: IF YOU WANT TO BE HAPPY, STOP PUTTING CONDITIONS ON YOUR HAPPINESS!
The Galactic Free Press
No copyright, share/edit freely
If you enjoyed this message, please consider donating. This will assist us in being able to put more energy into the Galactic Free Press, and being able to write more articles.