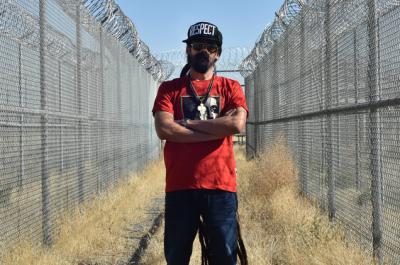 by Amanda Froelich, True Activist
You might know Damian Marley for his soulful reggae music and for the fact that he's Bob Marley's son, but recently, the artist has made headlines because of a new business venture. That's right, Marley has partnered with Ocean Grown Extracts and is converting a former 77,000 square foot California State prison into a cannabis grow space. Eventually, the farm will provide quality herb to
medical marijuana dispensaries
in the state.
Marley has not missed the irony of the new venture. He says,
"Many people sacrificed so much for the herb over the years who got locked up. If this [venture] helps people and it's used for medicinal purposes and inspires people, it's a success."
According to Billboard, Marley is excited about the potential economic boost that will result from the marijuana venture. Reportedly, the farm will generate about 100 jobs, as well as 100 million dollars in annual tax revenue for the Cali neighborhood of Coalinga.
When the venture takes off (it will begin producing oil extracts in sixty days and harvest its first crop in January), the artist anticipates cultivating a new proprietary strain of cannabis called Speak Life. The bud is a hybrid made of 70 percent indica and 30 percent sativa, and is hand-watered and trimmed. It will be released to the public in partnership with Ocean Grown. Damian said of the new strain:
"The OG has always been my favorite. When they introduced this strain of OG I really loved it and loved its consistency."
Marley and business partners are likely aware that in November, California's Proposition 64 – a petition which could legalize the herb for recreational use – is likely to pass. That means their business will boom even more than expected.
Marley commented:
"I didn't know it would happen this way. This was definitely something we were working towards for a long time, before I was even born. There was Peter Tosh's 'Legalize It' and songs like that — this is something our culture has been working towards. I was optimistic that it would one day be legal — and now it is here."
It's definitely poetic.
Furthermore,  Marley isn't limiting himself to California. Two weeks ago, he partnered with Colorado-based TruCannabis and launched Stoney Hill. The 3,000-square-foot dispensary is located in Denver, just across from Mile High Stadium, and has a 30,000-square-foot grow space. Undoubtedly, you'll hear more about this entrepreneur and music artist in the future.
---
This article (Damian Marley Is Converting A California Prison Into A Marijuana Farm) is free and open source. You have permission to republish this article under a Creative Commons license with attribution to the author and TrueActivist.com
---
http://www.trueactivist.com/damian-marley-is-converting-a-california-prison-into-a-marijuana-farm/