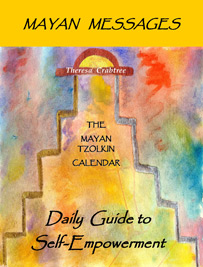 The true nature that most of you have at birth is pure joy and love. Each one of you comes from the same Source, beautiful and full of love and light. Know that you have within you the power to regain control of your life. It will take time and effort to undo the things that you have allowed, but it is well worth the effort to make the change if you truly want to experience peace and joy on a daily basis.
In ancient Mayan times, as well as many other cultures, each birth was celebrated. Every child upon entry into this world knew they were loved. Each knew they came to this earth for a purpose. Each was supported by the entire tribe. How much better this world would be if you returned to the simple act of loving your babies unconditionally. This cannot happen until you love yourselves unconditionally.
You can do it! Each and every one of you has the ability to go within and do some major housecleaning. Swipe away those cobwebs of disillusionment, sweep away those thoughts of low-self esteem and mop up all those memories of sadness and despair. It is time to wash your windows and let your light shine. Remove the walls and the moat full of alligators and let others in.
All it takes is the desire to clean up your mess. Roll up your sleeves and begin, knowing that once you get your life under control and clear out the mess, it will be easy to maintain. Once the major work is completed, you will find yourself energized and with time on your hands to enjoy more creative endeavors. Take responsibility for whatever situations you currently find yourself. Be grateful for every experience you have had. Learn from those experiences and make better choices for yourself and your life will unfold magnificently.
Set clear intentions, dream big and receive the gifts we place before you. Our hope is that you see yourselves as worthy to receive all we have to offer. You created much of the mess you are in and you have the full ability to clean up that mess and make it better than it ever was before. Take time to quiet your outer world and reflect on how to release your inner child. You are most deserving of a life filled with love and laughter. Reach out and grasp it!  Selamet!  Chuen 11
There is much more to this Message. Read it in its entirety by scrolling to Day 11 at: https://mayanmessages.wordpress.com/days-1-13/
Please include this web address when posting or sharing with others.
Many blessings, Theresa Crabtree
© 2010 Mayan Messages. All Rights Reserved.
https://mayanmessages.wordpress.com/2016/02/15/day-11-the-child-within/