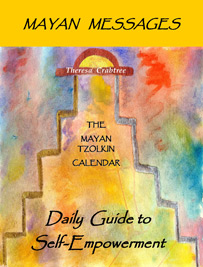 Make your choices in the moment. Pay attention to ways you can create joy and peace each step along the way. Know that each door that closes will open new possibilities.
Having gratitude for every person and experience you encounter will help you to grow and to have the courage to move forward with ease. Releasing fears along the way will make your goal of a fulfilled life more awesome than you can imagine.
You already have everything you need within yourself to accomplish whatever your heart desires. You need not give over your power to leaders or gurus. You simply need to have the courage and desire to move forward. The ethers around you are filled with infinite possibilities. Dream big, follow your intuition and watch the magic unfold!  Go out and make a great day for yourself!   Selamet!  Ahua 7
To read this Message in its entirety, scroll to Day 20 at: https://mayanmessages.wordpress.com/mayan-message-days-14-26/  Please include this web address when posting and sharing with others.
Many blessings, Theresa Crabtree
© 2010 Mayan Messages. All Rights Reserved.
https://mayanmessages.wordpress.com/2016/02/24/day-20-the-power-of-now/