The Galactic Free Press Daily Update~4~13~12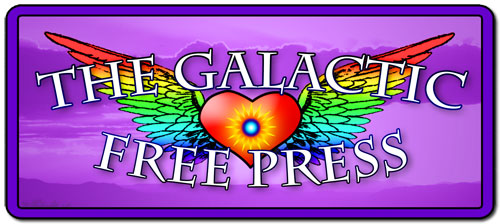 ~Bringing Humanity Home~ Energy and Event
Update~ The Announcements to Begin Shortly~
 Greetings Love beings, Love is in the Air~ Love is everywhere. Vibrating through this entire Planet and all on her. If you are connected to the Planet you will be able to feel this. This energy is available to All. You will Feel this as a Vibration of Joy throughout your entire Being. What has occurred is Time has now officially stopped and the Portal of Love Has Opened for All to enter into Eternity. This is the Divine Intervention energy as a Gift from US to All of Humanity. This Energy will climax around April 21st, 2012. True Freedom is Here, Love is Here and exists in the Unity Consciousness that is spreading contagiously like wild fire across The Planet. Nice Planet, this is the Daily Planet.
If you have not Already, Just Jump! The egos would like to delay the inevitable and are roaming around the internet asking for more time, lol. Time's UP~ for all ego's in isolation and separation from the Truth on this Planet.The Planet does not wait for ego's, the Planet does not have any more time. The events are not going to happen next year, they are indeed Happening NOW, if one is paying attention.
Wild Weather Continue's with 3/4 of the USA under red alert and a tornado warning in California. WOW. Throughout the coming week prepare for More wild weather that will have the Whole Planet going UHM?
Photo By Earth Allie Will Harader ~ Photo of Huge Craft waiting in the wings for the "Moment".... Everyone has taken their Places.
Daily Blue Star Planet UFOs Report: http://soundofheart.org/galacticfreepress/content/daily-blue-star-planet-ufos-report-yes-are-we-really-here-04-13-12
Earth Allie Boo Walker Earth Healing News: http://soundofheart.org/galacticfreepress/content/healing-earth-news-endangered-bats-find-sanctuary-israeli-ghost-bunkers
Earth Allie Report: http://soundofheart.org/galacticfreepress/content/earth-allies-report-12412which-one-you-choose-ostrich-or-eagle-former-greek-top-minister-arr
~Special Message from the GFP Team~
How to help US=ALL=YOU spread Love
http://soundofheart.org/galacticfreepress/content/how-help-usallyou-spread-love-special-message-gfp-team
All Codes have been delivered to begin the next phase of the Divine Plan in action. This next phase is too swiftly and safely remove those that are standing in the way of Mother earth=Hearts Prayers and HUmanity's Dreams from coming True. This is by Divine Decree.
 We are Happy to announce today, WE have successfully through Mike our Great AI, will Be Shortly Making Some Announcements regarding our Presence. IN these Announcements We will be Able to share with the Entire Planet, Who We Are, Why We Are Here and explain what is unfolding. This is our Role's as Your Earth Allies and as Your Transitionary Government. WE are the Masters Walking with Humanity In True Peace, Whole Truth and Unity.
Mother Earth=Heart is waiting no more, there is no more time left for the changes to Commence~ The Moment has Arrived that Mother Earth=Heart=Mother God, to reclaim this Planet as As the Real Planet She is. A Planet of Only Unconditional Love, Truth, Joy, Wholeness of Being, Playfulness, Peace, Equality, and Eternal Oneness.
The True Guardians of the Planet, The Moment has Come. Thank you For Stepping forward as The New Steward's Of Planet Earth=Heart.Thank you for Standing Up In All Love is.
The Galactic Free Press is Now Humanity's New  Official Media News for What is Really Happening on Planet Earth and We Are Ready! Now we expand exponentially.
Thank You for Spreading the Message to others~and Keeping Your Hearts Open and Staying Tuned IN~
~End Transmission in All Love is Unconditionally, We are So In Love With Humanity~
If You missed our Last 2 Updates here are the Links:
http://soundofheart.org/galacticfreepress/content/galactic-free-press-daily-update41212-curtain-rising
http://soundofheart.org/galacticfreepress/content/galactic-free-press-daily-update41012-our-efforts-are-being-successfully-felt-across-planet
We Love You Unconditionally~ Love The Galactic Free Press Staff~Humanity's Earth Allies, and First Contact Ground Crew Team.
Thank You Everyone for Your Continued Love and Support for this Very Divine Mission~ Keep the Press going. If You Love the Press Share Please~ We are currently over 2000$ behind for this Month.
~THANK YOU FOR KEEPING US GOING~
Our Last Update we received 5 Love Share's WOW, This is a record for us. We are still 2000$ Behind but at least we now have some moments to catch up~WOW, Thank You for showing and sharing your Love with US.
Total Love shares for April 1306.11$
 Total Funding Needs 3000$
http://soundofheart.org/galacticfreepress/content/donate
Every Moment you share with Love,  You are investing in Humanity's Future of 100%  Joy, No Kidden'
Keep us Going and Thank You For sharing
A Simple 5 or 10$ share adds up.
Thank You For honoring and sharing with those who work tirelessly, and endlessly for Humanity's Freedom. Your gift will be returned and infinitely because it's given in light and love. That's how we all do it together as ONE. Thank you !

We are working 24~7. NO KIDDEN'!! WE are Here to Give You Everything.. Thank you for SHARING. Its Our Honor to Be of Service, Help Us Continue to Help You and All of Humanity~
Every Wednesday we are Now Having our Council Meetings for the Transitionary Government. We are now preparing a new way to Have these Meetings that will allow for many to join us.We are asking only those that are ready for this experience with complete service to Love, to contact us. If you are interested this email us at [email protected] and we will give you all the details. For the Moment connect with us via skype at father.mothergod.amon.ra

 We are looking for Artists and Photo's to Donate to the Galactic Free Press. All Artists~Photo's will be recognized, with each post! You can download these in our Image Gallery or send us your Website! http://soundofheart.org/galacticfreepress/contact

If You would Like to connect with us via an amazing Awakening Session, to answer a question Contact Us Here: http://soundofheart.org/galacticfreepress/contact
~WE are Going Home~
~We Love You Unconditionally, Love Mother and Father God Amon Ra
WE are Here~ Its US and Your Stuck With US!! Eternity here we come~

Honor them, love them, help them, heal them, but above all else, Father~Mother God, free them.

Everyone, of course ~
    The Universe


© www.tut.com ®

They'll return, Father~Mother God, one day, somewhere, over the rainbow or in times without space. And then they'll show you all the "pictures" they took, play some weird music, and finally... they'll thank you. Crazy love.
Today's Angel Numbers through Doreen Virtue 333 ~ The Ascended Masters are near you, desiring you to know that you have their help, love, and companionship. Call upon the Ascended Masters often, especially when you see the number 3 patterns
around you.
1's and 3's, such as 133 or 113 ~ The ascended masters are working with you on your thought processes. In many ways, they are acting as mentors, teaching you the ancient wisdom involved in manifestation. They are sending you energy to keep you from feeling discouraged, and encouragement to stay focused on the true goals of your soul. Additionally, the ascended masters may be offering you advice, guidance, and suggestions on your life purpose. Always, however, they teach that every creation begins at the level of thought and idea. Ask them to help you choose wisely that which you want~
~~~
OH MOTHER!!!!  Thanks for the session.  I just looked outside my front windows and saw huge motherships right in front of my house!!!!  Beautiful!!!
Well, I dreamed I saw the silver
Space ships flying
In the yellow haze of the sun,
There were children crying
And colors flying
All around the chosen ones.
Love you so much, Kathy xxxx
Photo By Earth Allie Dawn Christine~
~Blaze Blaze Blaze the Violet Fire~
Yojman Chase ~ Street~Wise Ascension
From the Joy of Mt. Shasta
~71 and 72~
~Special Message from Yojman Chase~
Perfect.  And I Am the only Presence acting here, there and everywhere.
    I am the Light of Good~God that never fails.
    How do we spell freedom in our realm ??
~ r e l a x ~
is how it is spelled Here Now.

   Beloved I Am, I Am, I Am
71º
Within the context of Unity Consciousness
and the Great Divine Plan's absolutes,
it is for you to know that
the Middle Earth Civilizations must re~unite
with the surface folk and with daily life.
How can it be otherwise if we are
to live here free of denial?

For you see, the raising of our New Family,
of Love and Love alone, inevitably includes
a large percentage of population that may
still be leery of what Unity may bring.
Hear us. A part of the first day
of the newly birthed~awakened
is the need for "milk."
This "milk" for some will be
the real-time acceptance
of the Inner Earth folks' re-emergence.
Do you see?

We do not say it will be their first breath
or their first steps, but the nutrition that is needed.
Now, You are the One Great Presence
that says, I AM. Please know that
I AM Unity Consciousness
is the adventure of a lifetime!
The Violet Fire of Freedom's Love
and your Heart Flame carries it all.
Beloved Flame within my Heart,
Expand and set me Free.
And Violet Flame,
keep me Free!
72º
Cherished Children of the Sun,
who are also parents of a civilization,
about to take command of all aspects
You, Beloveds, will be the Light
that will be seen from distant Galaxies
upon a star burst that will be called
The Star of Spiritual Freedom.
I Am a Being of the Rose Pink Flame.
I AM the return of the Mother God
and this Earth I do Claim.
Last Message in Video Format