~GALACTIC FREE PRESS~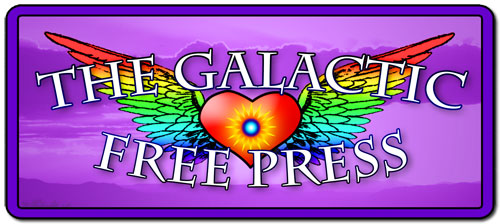 ~10~16~11~
~ITS THE END OF THE PROGRAM MIND AND THE BEGINNING OF THE GOLDEN AGE~
~ AS HEAVEN THE COMPANY OF, WE HAVE DECREED AND GIVEN OUR APPROVAL FOR THE NEXT FACET OF THE DIVINE PLAN WHICH IS DIRECT DIVINE INTERVENTION~ WE ARE READY FOR THE VICTORY DANCE, THE MOMENT HAS COME, ITS THE END OF IGNORANCE~
~We of the Galactic Federation of Light Ground Crew, The Away Team, are Here to Assist you and all Of Humanity back into the Real Truth about Who They Really are, ONLY THE TRUTH, and Nothing But the Truth~
~Ignorance wanted to control LOVE, and that is exactly How ignorant, ignorance really is..All ignorance really is, is unconsciousness. Love= The Energy of The Love Called God Everywhere Present= HU=YOU!~
~as old belief systems=the old energy, come tumbling down and are replaced with Love's Law of Equality for ALL On The Planet, this Ushers in Peace, Love, and Harmony=Balance~As Each God is Being Born into The Truth of Their Being they Become Brilliance, the GREATEST GRANDEST VERSION~VISION OF THEMSELVES EVER POSSIBLE IN HUMAN PRESENCE~ Divine Human Angels, Are YOU READY?~
~Our Love for You is Equal to all Love is, Unconditionally, which is the Love of the Highest Possible Experience, of the Vibrational Frequency, that can occur in this Realm. Realm= Vibrational Frequency of Pure Consciousness Energy. This Energy Currently Manifested on Planet Earth=Heart is UnStoppable, Just Like Creation Awakening is Unstoppable and Inevitable~
~The Kingdom of Heaven, Does not come from Observation, but the Living Experience of Life, as FEELING. FEELING that is Experienced only in the Present Moment of NOW, this is Who You Truly are.~
~Energy is all that exists in True Reality, this is Creation. WE are here to assist you in Realigning your Energy into the Core Truth of Who You Really are, Everywhere Present. Consciousness=1=Shared Equality, unconsciousness=0=nothing.~
~The Angels once Asked Me, Father God, Who do you Pray too? I Just Smiled and Winked at Love, It was a Very Big Smile!!! (VBS)~
~It is Beautiful to See Your Light Bodies Awaken on the StarShips, because We Understand when that occurs, you have Awakened from out of the Dream... We then say "Welcome Home Earthlings".WE Love YOU!~
~TRUTH TRANSMISSIONS~
~Living Energy~
 For the last 13, 000 Years the illuminati thought  they owned you, Planet Earth=Heart, and all the Resources on her. Until recently they attempted to keep this lie going, they are NOW being exposed. They are clinging to the edge that is giving way, as they continue to loose more and more of their power over, and their illusions are falling apart all around them.
Energy is actually FREE, ALL OF IT, Because, Energy is the Pure Consciousness of Atoms, that is Creation=Love, which is exactly who you are, Energy. Your Body Hologram is Actually made of Atoms, Atoms that are Pure Consciousness Energy, this make up is also what ALL OF CREATION IS MADE UP OF ATOMS. The Truth is You are a field of Quantum Energy, in, through, and around, just Energy, Pure Love.
~THE PROGRAM EGO/MIND~
The programmed ego/mind is just a construct of belief systems that you were taught by the illuminati. It does not exist, it is not Love, and therefore is not Creation. It is a made up fantasy based in illusion that was done to steal the Life Force from your Being. So, they[the illumianti] Were stealing your Energy to use for their own purposes and benefit. Now We turn the Tables through cutting off their life source through Awakening Humanity~
~NOW THATS THE BOTTOM LINE~
They placed these fantasies into the Dream Machine, which were then implanted into the collective unconsciousness, so that they could control you through mind control, and have all their illusions and fantasies played out at your expense [like you were pawns in a chess game]. This is all that it was, and has no connection to the Real Truth, of Who You Really are, Which is GOD=Light=Love=Creation.
What the illuminati has been playing with or the energy that has been their food for their continued existance is the energy drained off of the Living Being=Life and they've been taking this energy to use into their own illusions.
~THE RELEASE OF THE SOUL HOUSING~
Now, Each Human Being on this Planet came in with a Soul, this was a requirement to be Born into this Realm. Your Soul Housing, that is within you, vibrates Multi-Dimensionally, Simultaneously, so it is in a Constant Movement of Up, Down, Left, Right, Moving in all Directions, all at the Same Moment. This is How,Creation moves, as it Consistently Grows, expands, and Always becoming Grander.
The Soul Housing is Like an Energy Transformer, which Utilizes the Unique God Spark [which each Human Being has contained in the Soul Housing, their Own Unique God Spark] of Living Brilliance and Adjusts the Consciousness into the Vibrational Frequencies. Being [In the Present Moment of NOW] is the Awareness of this Experience Awakened.
~Unconsciousness is just a static vibrational frequency of connection to illusion which is nothing=no energy or life force. The Being is a Transformation of this self-unconsciousness back into Pure Conscious Awareness, Multi-Dimensionally.~
~TRUE FEELINGS OF LOVE ARE YOUR NATURAL STATE OF BEING=SPIRIT~
FEELINGS are what the Being Uses, to Experience True Reality as well as to transform the unconsciousness into Pure consciousness=Spirit. Feelings= the Sensitivity of the Energy of Pure Consciousness, which is the same as SOURCE.
Feelings are Your Direct Connection to ALL LOVE IS, and The Reconnection to the ONE Consciousness, With all That is. Which is Everything in Creation.
 ~AWAKENING FROM OUT OF THE DREAM, AND BECOMING WHO YOU REALLY ARE~
Awakening out of the Dream is the being's Process of returning to the Highest Possible Understandings of Love=SELF Awakened.
Love is all the Energy Expressed Completely= Within the Present Moment of Now, in Which it is ALWAYS NOW, because the past and future do not exist. Only The Present Moment of Now Exists, which is the ~ ME of Moment Eternity~
Hu=GOD, Man= Manifestation, "Hu-man." In Truth you are God in Manifestation.
Currently you are in Transformation back into the "HU", that you forgot that you are, which is GOD. This is the Awakening out of the Dream and Accessing ALL the Love You are= ALL LOVE IS. 
In True Reality [out of illusion], you are a Human Being, which Means you are a Being of God in Manifestation on Planet Earth=Heart.
Each of you are in Truth also "Starship" Children, and the Consciousness you are, Through FEELING all that is Real=Love, is Present Awareness, this is Awakening into Your Internal Being, God=HU=YOU!!!
 Multi-Dimensional Thought is the Highest Possible Understanding of Love= Energy, that is Everywhere Present. WE are here to give you, REHEART YOU, of the Basic Understandings of the same Information through FEELING=Telepathy that all the StarShip Children receive in their Kindergarten.
Before you came into the dream machine, all of you too, understood all the information we share with you. You have just Forgotten and our Responsibility is to assist you in remembering all of this.
In True Love, Equality is the Highest Universal "Thought" Everywhere Present which Benefits the ALL. Within this Understanding of True Love and True Equality, you receive your Divine Inheritance= Direct Connection to Source, Realigned into the TRUTH of Your Equality, Multi-Dimensionally.
Love=Oneness, Love=Spirit, Spirit=Energy, Energy=Pure Consciousness, Pure Consciousness= The Truth of Who you Really are, which is Your Higher Self, Your Real Self, Your True Self, Yourself that is One with Everything, Your Future Self= Your One and Only Self.
WE term the Future Self as Who you are Awakening into. What We have Accomplished, is that We have Reconnected to Our Higher/Future Selves Already, and have brought them Here in the NOW, with that understanding to be shared with you, until you can make the reconnection to Your Real Selves, your Higher Selves, Future selves, that Become your Present Self.
This is not your fantasy or illusionary self, but Your True Selves. Once you can make this Re-Connection, then you will be able to receive the Information Directly as we receive it. You will know when this occurs, and you will completely understand when it does. We say "Welcome to Your Awakening".
~THE UPCOMING DATES AND EVENTS OF OCTOBER 2011~
IN October 2011, the Human Star Nation is Honored by the ALL, as an Awakened Star Nation. As this Occurs, Humanity is given Full Access to ALL the Living Universes, and all the Planets Awakened therein, there are many of them, and they Are all Your Family. We of the Galactic Federation of Light, Ground Crew, Away Team, are Here to Assist Humanity back into the Real Truth, and Only the Truth. In This, our Benefit is the Enrichment of Your Awakening, into your oneness Completely, this is INEVITABLE for Each "Human Being"= October 28th, 2011.
October 28th, 2011 is the exact date of the reboot of the Dream Machine, back into the True Experience of Creation into Oneness. The very Atoms themselves, in that moment, re~immerse themselves into the Vibrational Frequencies of Creation=Spirit. When this occurs, it will completely erase all illusion of isolation and separation.
  Also on the Date of October 28th, 2011, the God Spark within you Burns through the Soul Housing, and the Release of this Energy is the Divine Intervention into True Reality.
This is the Divine Plan that is Currently underway. The God Spark contained in each Soul, is 16 GodZillion Times Brighter and more intense then the Center of the SUN.
The Surface of the Sun, is just a Mirror of it's Center=Energy. This is the same as Free Energy=Equal Energy among us all and all Love is. After the God Spark burns through the Soul Housing, Creation then Advances Exponentially.
~MANIFESTING DECREES~
as Decreed...mind=kal=kaliuga, which was the experience of duality as illusion. The game is NOW OVER, it is the end of kaliuga and the beginning of the  The Golden Age". So it is on Earth, as It is in Heaven, and SO it is, Granted and Decreed~
As Decreed, All of the Energy that the illuminati attempted to take /steal from all Beings on Planet Earth=Heart, is Now to be returned to the Being, as their Divine Inheritance, and then Each Being will receive their 2D Badge of Courage. This is How Much We Love you!! Decreed and Granted. Mother and Father God, and So it is and So it is Done.
~GALACTIC FREE PRESS REQUEST~
IF OUR MESSAGES HAVE HELPED YOU, ARE HELPING YOU, THANK YOU FOR PAYING THE ENERGY FORWARD TODAY AS A LOVE DONATION TO THOSE SERVING LOVE 24~7~
FOR THE GALACTIC FREE PRESS TO CONTINUE TO FLOW without interruption WE DO REQUIRE HUMANITY'S ASSISTANCE. WE require funds for HOUSIING, FOOD, AND BASIC NEEDS WHICH FOR THE 4 OF US IS NOW 2000$ A MONTH.
~AFTER OCTOBER 22ND OUR HOUSE FUNDING RUNS OUT. THIS HOUSING IS HOW WE ARE RUNNING THE PRESS CONSITANTLY WITHOUT INTERRUPTION EVERYDAY, TO ASSIST IN THE FLOW OF THE HIGHER ENERGIES FLOWING TO THE PLANET AT THIS TIME~
~IF YOU CAN SHARE NOW, NOW IS THE MOMENT~
http://soundofheart.org/galacticfreepress/content/donate
WE NEED EVERYONES ASSISTENCE AND PARTICIPATION. THE 10$ DO ADD UP.
~OUR LAST PRESS RELEASE WE RECIEVED 6 10$ DONATIONS AND 1 20$ AND 1 30$, THANK YOU FOR SHARING WITH US~ THIS GAVE US A TOTAL OF 110$ TO GO TOWARDS THE COSTS~
TOTAL DONATIONS FOR OCTOBER 461$
TOTAL FUNDS NEEDED 1500$ MORE~
http://soundofheart.org/galacticfreepress/content/donate
 LOVE SERVES THOSE WHO SERVE LOVE~ FOR THIS TRULY CREATES ABUNDANCE FOR ALL~
IF 100 OF OUR READERS DONATED 10$ WE WOULD HAVE OUR ENTIRE COSTS PAYED FOR~
WE are The Company of the Kingdom of Heaven, The First Contact Ground Crew Medical Team, Your Earth Allies, Representing the Highest Truths on Planet Earth=Heart. WE are Your Family of Light from the Stars, Your Future Selves, and WE are Working with The Galactic Federation of Light, ALL the Angels, and All The Multi-Dimensionals 24 Hours A day and 7 Days A week on the Behalf of Your Total Freedom, Abundance, and True Equality. Thank you for Honoring US, as Well as Your Total Support of our work for You. WE Love You Unconditionally.
WEBSITE:
http://soundofheart.org/galacticfreepress/
~AWAKENING SESSIONS~
http://soundofheart.org/galacticfreepress/content/awakening-sessions-available-now-love-beings-connect
Would You Like to Schedule an Amazing One on One Session with US? We have Been Getting Amazing Connections, Questions Answered about What is Really Happening on the Planet, and Awakenings as the Truth is Revealed With Oh My God Events. Through these Sessions, We Can Assist You In Multi-Dimensional Ways.
Here is Just a Few more things we offer in our sessions: Balancing Vibrational Frequencies, Assistance through the Ascension Process, Clearing Blocks, Inner Balance and Chakra Alignments. WE Assist in connecting you with your Angelic Teams, and helping you remember your Part of the Divine Mission. WE assist you into Full Consciousness, Heaven Consciousness, Connection to The God Within, Conscious Awareness, Joy and Happiness. We will Also Assist you In Being Present in the Moment of Now, so that you can get to the Experience of the Magic Of Creation. Each Session is Based on the Uniqueness of the individual, since each being is Unique. We are Highly Trained in Human Consciousness, and give you tools to help yourself and others.
BECOME A MEMBER ON THE GALACTIC FREE PRESS WEBSITE AT soundofheart.org
~THROUGH BEING A MEMBER YOU HAVE THE OPTIONS TO RECIEVE EMAILS DIRECTLY FROM US ABOUT PRESS RELEASES, BREAKING NEWS, AND WITH LIVE UPDATES ON WHAT IS UNFOLDING IN MT SHASTA, AS WE COMPLETE THE WORK~

 YOU CAN FOLLOW US ON TWITTER~ THE NEWS FEEDS FROM THE PRESS ARE DIRECTLY LINKED~  under MotherFatherGod
EMAIL ADDRESS: [email protected]
skype: father.mothergod.amon.ra
WE ARE BACK ON FB ~~~
connect with us here  http://www.facebook.com/profile.php?id=100002915501257&sk=wall
YOU CAN CONNECT TO OUR PROFILE
IF YOU WOULD LIKE TO CONNECT WITH US VIA AN AWAKENING SESSION CONTACT US TODAY
http://soundofheart.org/galacticfreepress/content/awakening-sessions-available-now-love-beings-connect
http://soundofheart.org/galacticfreepress/contact
WE Love you with the Highest Honor, Love and Respect. WE Love you Unconditionally, Love Mother and Father God~Amon Ra, Your Family of Light, ALL THE ANGELS, and the Ground Crew for First Contact.
~ Whatever is required to Accomplish the Task, the Attitude is, WHAT EVER IT TAKES!! LOVE SAYS YES TO THIS!!~