Juan Luis Sánchez ‏@juanlusanchez
FOTO aérea: el #25S llena Neptuno, a unos metros del Congreso de los Diputados pic.twitter.com/gOCIckJH
Here is what is Happening Live:
http://www.livestream.com/globalrevolution
http://www.rtve.es/noticias/directo2/
Spanish citizens rise up, surround congress, and demand the immediate resignation of the government.
This post will be updated if news come in.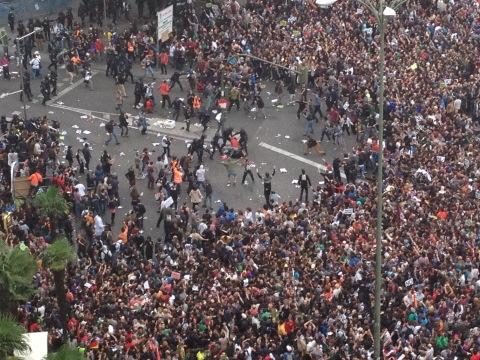 #Foto: This is What Democracy Looks Like! #25s
HU-man peaceful chain around the parliament
Tweet: 
En cuanto hay una carga la gente se sienta y se abraza para evitar que les muevan. Emociona y todo. / When a lot of people sit down and embrace to prevent from being moved. It's amazing.