FAST-GROWING SUNSPOT: Breaking the temporary monotony of a blank sun, a new sunspot is growing rapidly in near the southeastern limb of the solar disk. Readers with solar telescopes, this is your chance to observe sunspot genesis.
THE BUSY-NESS OVER YOUR HEAD: Earth orbit is crowded with nearly a thousand operating satellites and tens of thousands of spent rocket engines, splinters from satellite collisions, and other space debris. Space is a busy place. This picture taken by expert satellite watcher Marco Langbroek frames some of the madding crowd over Leiden, the Netherlands: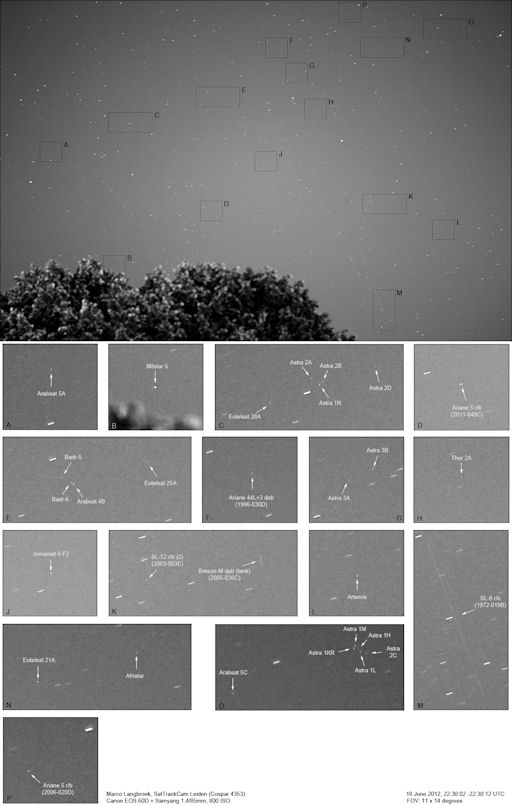 "This single image of a 10x14 degree-wide part of the geostationary belt was taken near midnight of June 18-19 and shows 30 satellites," says Langbroek. "Each black box contains one or more (mostly) geostationary satellites plus a few rocket bodies: 23 commercial geostationary satellites, one classified military geostationary satellite (Milstar 5), and 6 spent rocket boosters."
"The geostationary belt can be seen as a slanting line of objects diagonally over the larger image." he continues. "The geostationary belt (at declination -7.4 degrees for the Netherlands) never comes high in the sky for my country (which is at 52 N). All the objects on the picture have an elevation below 30 degrees. The image was taken from the center of Leiden--i.e. not an ideal dark sky. I did a slightly bad job in focussing, so the image is slightly less sharp (especially near the edges) than it could have been with this fine lens. Still, an amazing number of objects recorded in this small field of view!"
Realtime Space Weather Photo Gallery

 Near Earth Asteroids

Potentially Hazardous Asteroids (PHAs) are space rocks larger than approximately 100m that can come closer to Earth than 0.05 AU. None of the known PHAs is on a collision course with our planet, although astronomers are finding new ones all the time.

On June 25, 2012 there were

1319

potentially hazardous asteroids.

Recent & Upcoming Earth-asteroid encounters:
Asteroid

Date(UT)
Miss Distance
Mag.
Size
Jun 16
62.2 LD
--
1.2 km
Jun 16
68.8 LD
--
1.1 km
Jun 21
17.1 LD
--
2.2 km
Jun 23
5.8 LD
--
39 m
Jun 29
1.3 LD
--
23 m
Jul 15
40.2 LD
--
1.3 km
Jul 16
46.8 LD
--
2.1 km
Jul 22
13.7 LD
--
1.0 km
Aug 12
37 LD
--
1.2 km
Aug 21
58.5 LD
--
1.0 km
Aug 25
49.2 LD
--
4.9 km
Aug 26
62.8 LD
--
1.1 km

Notes: LD means "Lunar Distance." 1 LD = 384,401 km, the distance between Earth and the Moon. 1 LD also equals 0.00256 AU. MAG is the visual magnitude of the asteroid on the date of closest approach


Solar wind
speed: 398.2 km/sec
density: 9.5 protons/cm3
explanation | more data
Updated: Today at 1427 UT

X-ray Solar Flares
6-hr max: B3 1150 UT Jun25
24-hr: B3 1150 UT Jun25
explanation | more data
Updated: Today at: 1400 UT



Daily Sun: 25 Jun 12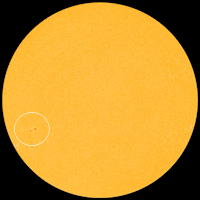 A new sunspot is growing at the circled location. Credit: SDO/HMI



Sunspot number: 24
What is the sunspot number?
Updated 25 Jun 2012

Spotless Days
Current Stretch: 0 days
2012 total: 0 days (0%)
2011 total: 2 days (<1%)
2010 total: 51 days (14%)
2009 total: 260 days (71%)
Since 2004: 821 days
Typical Solar Min: 486 days
Updated 25 Jun 2012

The Radio Sun
10.7 cm flux: 85 sfu
explanation | more data
Updated 25 Jun 2012



Current Auroral Oval:

Switch to: Europe, USA, New Zealand, Antarctica
Credit: NOAA/POES



Planetary K-index
Now: Kp= 2 quiet
24-hr max: Kp= 2 quiet
explanation | more data

Interplanetary Mag. Field
Btotal: 8.8 nT
Bz: 3.1 nT south
explanation | more data
Updated: Today at 1426 UT



Coronal Holes: 24 Jun 12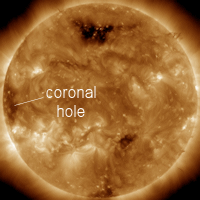 An equatorial coronal hole is emerging over the eastern limb. Solar wind ETA: July 1-2. Credit: SDO/AIA.