SOLAR STORM HEATS UP EARTH'S ATMOSPHERE: A flurry of solar activity in early March dumped enough heat in Earth's upper atmosphere to power every residence in New York City for two years. The heat has since dissipated, but there's more to come as the solar cycle intensifies. [full story] [video]
MIDNIGHT ROCKET PLUMES--POSTPONED: Friday morning's launch of five rockets from NASA's Wallops Flight Facility in Virginia has been postponed. New date: On Sunday, March 25th, between midnight and 3 am EDT, NASA plans a rapid-fire launch of five sounding rockets from Wallops. The rockets will deliver a chemical tracer to the upper reaches of Earth's atmosphere, forming milky white plumes that reveal high-speed winds at the edge of space. The display should be visible to the naked eye from coastal areas between South Carolina and New Jersey. [full story] [updates]
SPRING GREEN: Northern Lights continue to flicker around the Arctic Circle despite waning solar wind speeds. What's keeping them going? Answer: It's springtime. For reasons that are still not fully understood, equinoxes favor auroras. Nenne Åman photographed this splash of Spring-green over Arjeplog, Northern Sweden on March 22nd: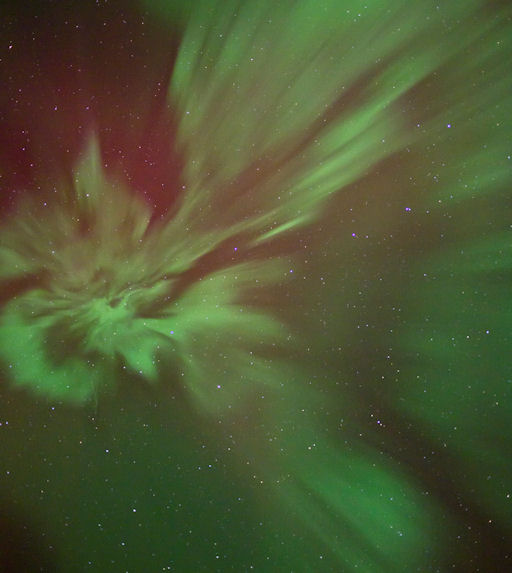 "The sky went all green for a few minutes," says Åman. "It was very beautiful and a nice goodbye gift for some friends who were visiting us from Italy!"
NOAA forecasters estimate a 15% chance of polar geomagnetic storms on March 23nd. Considering the season, however, a full-fledged storm might not be necessary. Stay tuned for auroras. Aurora alerts: text, phone.
more images: from B.Art Braafhart of Salla, Finnish Lapland; from Rob Stammes of Laukvik, Lofoten, Norway
SUNSET SKY SHOW, AGAIN: A month ago, Venus, Jupiter and the crescent Moon aligned beautifully for evening sky watchers around the world. It's about to happen again. On March 24th, 25th and 26th, the trio will appear side by side in the western sky at sunset. Observing tip: Catch them before the sky fades completely black. These bright objects are extra-beautiful when they are framed by twilight blue. Sky maps: March 24, 25, 26.
Looking for something to do while you're waiting for the Moon to arrive? Try juggling: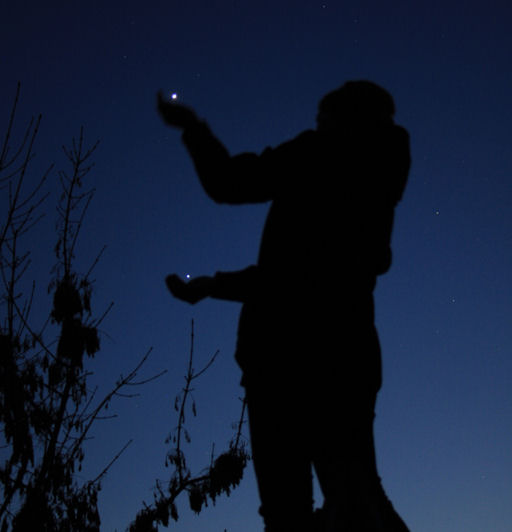 "Thanks to my girlfriend for helping me me create these planet action shots on March 22nd," says photographer Kiss Csongor of Derecske, Hungary.
more images: from Danny Ratcliffe of Scarborough, Queensland, Australia; from Johnathan A. Esper of Lake Durant, Adirondack Park, New York; from Petr Horálek of Ústupky, Seč reservoir, Czech republic; from Ahmed Al Ali of Sharjah Desert Park, United Arab Emirates; from Veerayen of Kulim, Kedah, Malaysia; from Jean-Baptiste Feldmann of France; from John Stetson of Sebago Lake, Maine


Solar wind
speed: 380.9 km/sec
density: 4.6 protons/cm3
explanation | more data
Updated: Today at 1646 UT

X-ray Solar Flares
6-hr max: B4 1542 UT Mar23
24-hr: B4 1542 UT Mar23
explanation | more data
Updated: Today at: 1600 UT



Daily Sun: 23 Mar 12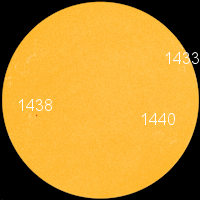 None of these sunspots are actively flaring. Solar activity is low. Credit: SDO/HMI



Sunspot number: 86
What is the sunspot number?
Updated 22 Mar 2012

Spotless Days
Current Stretch: 0 days
2012 total: 0 days (0%)
2011 total: 2 days (<1%)
2010 total: 51 days (14%)
2009 total: 260 days (71%)
Since 2004: 821 days
Typical Solar Min: 486 days
Updated 22 Mar 2012

The Radio Sun
10.7 cm flux: 102 sfu
explanation | more data
Updated 22 Mar 2012



Current Auroral Oval:

Switch to: Europe, USA, New Zealand, Antarctica
Credit: NOAA/POES



Planetary K-index
Now: Kp= 1 quiet
24-hr max: Kp= 3 quiet
explanation | more data

Interplanetary Mag. Field
Btotal: 5.2 nT
Bz: 1.3 nT north
explanation | more data
Updated: Today at 1648 UT



Coronal Holes: 23 Mar 12


There are no large coronal holes on the Earthside of the sun. Credit: SDO/AIA.