SUBSIDING SOLAR WIND: A fast stream of solar wind that has been buffeting Earth's magnetic field is beginning to subside. Nevertheless, NOAA forecasters estimate a 30% chance of geomagnetic storms around the poles on June 8th. Magnetic storm alerts: text, voice.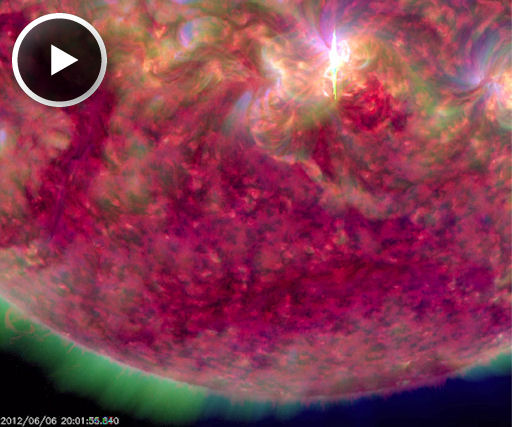 The impulsive flare hurled a coronal mass ejection into spacce, but not directly toward Earth. The cloud should sail mostly south of our planet on June 8-9.

Switch to: Europe, USA, New Zealand, Antarctica
Credit: NOAA/POES



Planetary K-index
Now: Kp= 1 quiet
24-hr max: Kp= 3 quiet
explanation | more data

Interplanetary Mag. Field
Btotal: 5.0 nT
Bz: 0.6 nT north
explanation | more data
Updated: Today at 1456 UT



Coronal Holes: 07 Jun 12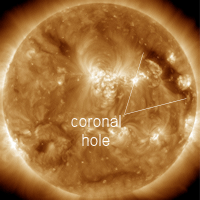 Earth is inside a high-speed stream of solar wind flowing from this coronal hole. Credit: SDO/AIA.