INTERPLANETARY SHOCK WAVE: An interpanetary shock wave possibly associated with the M5-class solar flare of May 17th swept past Earth on May 20th around 0200 UT. The shock's arrival caused geomagnetic activity around the poles, and several outbreaks of high-latitude auroras. Images: #1, #2.
SOLAR ECLIPSE--TODAY!! On Sunday, May 20th, the Moon will pass in front of the Sun, producing an annular solar eclipse visible across the Pacific side of Earth. The path of annularity, where the sun will appear to be a "ring of fire," stretches from China and Japan to the middle of North America: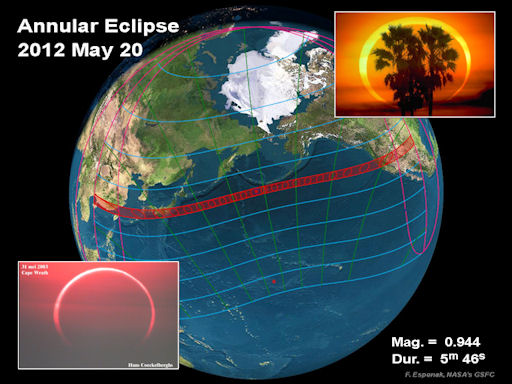 Image credits (left to right): Hans Coeckelberghs, Fred Espenak, Dennis Mammana
An animated eclipse map prepared by Larry Koehn of ShadowandSubstance.com shows the best times to look. In the United States, the eclipse begins at 5:30 pm PDT and lasts for two hours. Around 6:30 pm PDT, the afternoon sun will become a luminous ring in places such as Medford, Oregon; Chico, California; Reno, Nevada; St. George, Utah; Albuquerque, New Mexico, and Lubbock, Texas. Outside the narrow center line, the eclipse will be partial. Observers almost everywhere west of the Mississippi will see a crescent-shaped sun as the Moon passes by off-center.
Because this is not a total eclipse, some portion of the sun will always be exposed. To prevent eye damage, use eclipse glasses, a safely-filtered telescope, or a solar projector to observe the eclipse. You can make a handy solar projector by criss-crossing your fingers waffle-style. Rays of light beaming through the gaps will have the same shape as the eclipsed sun. Or look on the ground beneath leafy trees for crescent-shaped sunbeams and rings of light.
Solar eclipse resources:


Solar wind
speed: 392.1 km/sec
density: 2.0 protons/cm3
explanation | more data
Updated: Today at 1706 UT

X-ray Solar Flares
6-hr max: B5 1341 UT May20
24-hr: B7 1010 UT May20
explanation | more data
Updated: Today at: 1700 UT



Daily Sun: 20 May 12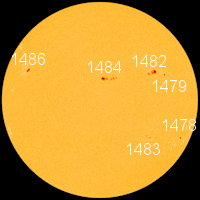 None of the sunspots on the Earthside of the sun is actively flaring. Credit: SDO/HMI



Sunspot number: 110
What is the sunspot number?
Updated 19 May 2012

Spotless Days
Current Stretch: 0 days
2012 total: 0 days (0%)
2011 total: 2 days (<1%)
2010 total: 51 days (14%)
2009 total: 260 days (71%)
Since 2004: 821 days
Typical Solar Min: 486 days
Updated 19 May 2012

The Radio Sun
10.7 cm flux: 131 sfu
explanation | more data
Updated 19 May 2012



Current Auroral Oval:

Switch to: Europe, USA, New Zealand, Antarctica
Credit: NOAA/POES



Planetary K-index
Now: Kp= 3 quiet
24-hr max: Kp= 4 unsettled
explanation | more data

Interplanetary Mag. Field
Btotal: 3.9 nT
Bz: 2.8 nT north
explanation | more data
Updated: Today at 1707 UT



Coronal Holes: 20 May 12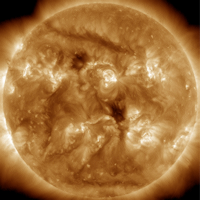 There are no large coronal holes on the Earthside of the sun. Credit: SDO/AIA.