The Huffington Post
Dean Praetorius
First Posted: 01/20/11 05:33 PM ET
Updated: 05/25/11 07:25 PM ET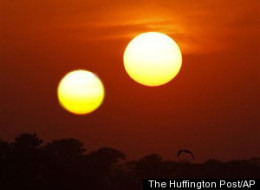 This is a photo illustration.
 
Earth could be getting a second sun, at least temporarily.
Dr. Brad Carter, Senior Lecturer of Physics at the University of Southern Queensland, outlined the scenario to news.com.au. Betelgeuse, one of the night sky's brightest stars, is losing mass, indicating it is collapsing. It could run out of fuel and go super-nova at any time.
To read the rest of this story, visit HuffingtonPost.com.