~The Galactic Free Press~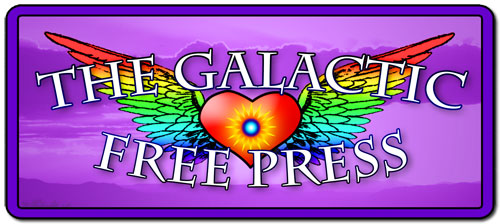 ~Truth Transmissions~
~ 2012~The New Earth=Heart is in Manifestation=Balanced Harmonics~
The New Earth is in Manifestation, with A Firm Foundation of Unconditional Love, the Only Law that Exists, can exist, Will exist, and has Ever Existed.
The Highest Vibrational Thought of Love Everywhere Present is the Perfect Balanced Harmonic Chord Within Creation. Each and Every Being on this Planet has within them, their own  Unique Note.  Currently, This Note is Being Sounded Within all of Humanity's Dna Structures as we work dilegently to raise the Entire Planet UP into Higher and Higher Frequencies.
The Experience From this Moment On for those that have let go into Love Is, Joy, Laughter, Peace, Cooperation, Synchronostic Magical Events, Love, Oneness, Community, Family, and Eternity.
~WE Are Here to Give HUMANITY Everything.~
~From this moment on, All of Humanity will be Beginning to Remember the Wonderful Truth That Right this Very Moment, they are on an Undeniable Journey immersed into the Atoms of Love that Make Heaven Up and all of Creation, And Which Love Gives, Everything Love is Into. Thats Alot of Love and Alot of Energy!!
This is the Expression of Heaven on Earth in Mnaifestation right NOW. Where Love and The Unknowable Create More JOY~ All Atoms Have Invested Heavily into the Love Everywhere Present, for these Moments Humanity is In.
Love is the Thought that Keeps on Giving... Over and Over Again. Once You Awaken into the Love you are, You become Spirit, an Eternal Being.
Love Begins to Flow through you as a Conduit of Perfect Balanced Harmonics. This Occurs in Every Moment as an Expression of Love. This is a Perfect Relaxed State of Being, it's a constant state of Love, through choosing love, and is in sync with all the Energy Around You.
Every Moment in the Present Moment is as a Surprise, Like Opening a Present, Every Moment that You are In the NOW, Love is Right there with you. This is Joy, Joy is How Love Expresses Love through You. This is the same as Heaven Consciousness.
In Spirit All becomes Effortless. When You Experience Effortlessness this is an indicator you are in Spirit=The Present Moment of NOW=Eternity=Your Connection to the All=The ONE.
From this Moment On, Each Of You are Returning to the ONE. Humanity is Taking a Quantum Leap forward in Consciousness, Home into The Light, and The Truth.
The Highest Truths on The Planet Are Being Shared with You This Moment. How Are You Going To Respond? With Joy? Happiness? With Excitement? With Oh My God Events Occurring and Miracles, that are so unbelievable, you never would have thought?
What is Arriving Are Events In Preparation For The Graduation of Humanity. This Is The Moment You All Hold Hands and Walk Out of the darkness forever... and Into The Light.
AS Our Dear Friend told Us Many Moments, "It'll Happen". It's Truly Already Here, Each of You Just Have To Realize the Truth, That You Are Free. Each of You Must walk through the Veil, and Open the door into Eternal Life, for this is When You Enter Spirit. DING!!!!
~END TRANSMISSION In Love Everywhere Present~
~YOU SEE, EVERYONE ON THIS PLANET GETS TO EXPERIENCE US IN OUR TOTALITY, EQUAL THEIR TOTALITY, AS LIVING ONENESS PRESENT EVERYWHERE. CAN YOU FEEL THAT? IT'S VERY VERY DEEP WITHIN THE BEING, THE SOUL, AND YOU CANNOT FIND YOUR SOUL BY LOOKING OUTSIDE, UNLESS YOU KNOW HOW TO LOOK, CAUSE ALL YOU ARE GOING TO SEE IS YOUR INSIDE, DECORATED WITH THE TRUTH OF LOVE, PLEASE SHARE~ 
~PART OF THE FULL AWAKENING INTO 5D REALITY IS THE FULL EMBRACEMENT OF THE LIGHT, FOR IT IS ONLY LIGHT THAT CAN BE PRESENT IN LOVE. THE REAL LIGHT IS THE GOD WITHIN EACH AND EVERYONE CALLED HU-MAN~
 WE ARE WITH YOU HUMANITY AND WE LOVE YOU UNCONDITIONALLY~ WE ARE ONE, OPEN YOUR HEARTS FEEL THIS TRUTH, FEEL THIS OVERFLOWING JOY ENTER.. SIMPLY REMEMBER WHERE YOU ARE, HERE WITH US IN HEAVEN EVER AFTER~ WE ARE YOUR REAL FAMILY WHO ARE FULL OF ONLY OVERFLOWING LOVE AND JOY~ Love Mother and Father God Amon Ra~
To Contact us for an Awakening Session, to Send your Writings, video's, or music~ You can Contact Us here~
http://soundofheart.org/galacticfreepress/content/donate
Thank you for sharing today with those in Service to You and All of Humanity for the Greatest Good of All. WE are Currently ABout 1200$ from the Press Monthly funding goal. WE ask those who can share to share if this Website is Helping you with your Joy~ A small donation of 5 or 10$ does add up~ Thank You for honoring Us~
In Our Last Press Release we recieved 1 Donation~Thank you Edith~ For sharing with US~
http://soundofheart.org/galacticfreepress/content/donate
Total Love shares 830.99$
Total January Costs 2000$
EMAIL ADDRESS: MotheGod1111111@gmail.com
skype: father.mothergod.amon.ra
Love Mother and Father God Amon Ra, Your Family of Light~Company of Heaven, ALL your Angels, and The Ground Crew for First Contact. Which is the entire Staff for the Galactic Free Press Be Love and Say Love, Now is the Moment, For Love, The Real Truth, to be Embraced~ AND SO IT IS AND DONE~