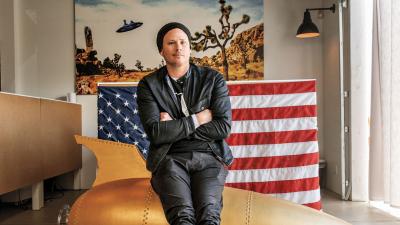 by Lance Schuttler , The Mind Unleashed
In the second batch of John Podesta emails leaked by Wikileaks, two more emails have been discovered that relate to the UFO Disclosure topic.
This time the emails come from Tom Delonge, former Blink 182 lead singer.
In the first email, which is from October 26th, 2015, Tom wrote to John Podesta in an email subjected as "Important things."
An excerpt from the first email said:
I would like to bring two very "important" people out to meet you in DC. I think you will find them very interesting, as they were principal leadership relating to our sensitive topic. Both were in charge of most fragile divisions, as it relates to Classified Science and DOD topics. Other words, these are A-Level officials. Worth our time, and as well the investment to bring all the way out to you. I just need 2 hours from you.
The second email in this batch is from January 25th, 2016 and is subjected "General McCasland" :
He mentioned he's a "skeptic", he's not. I've been working with him for four months. I just got done giving him a four hour presentation on the entire project a few weeks ago. Trust me, the advice is already been happening on how to do all this. He just has to say that out loud, but he is very, very aware- as he was in charge of all of the stuff. When Roswell crashed, they shipped it to the laboratory at Wright Patterson Air Force Base. General McCasland was in charge of that exact laboratory up to a couple years ago. He not only knows what I'm trying to achieve, he helped assemble my advisory team. He's a very important man.
Best, Tom DeLonge
What is important to note is that these emails are about 3 months apart and so far in the email leaks, we have yet to see any responses from Podesta back to Tom DeLonge, however, this second email appears as though the two of them were communicating. The email Mr. DeLonge wrote is worded in a way that appears as though some sort of communication has taken place.
This second leak from Wikileaks comes on the heels of their first leak, just a few days ago where there were also two emails in the batch that discussed UFO Disclosure and Free Energy technologies, which were sent from former NASA astronaut Edgar Mitchell.
For those who believe that there is life outside of our Earth and that certain government and military officials know it, these last two leaks suggest that the push for a formal governmental or military agency disclosure is picking up speed.
This news has even reach the mainstream media at the Wall Street Journal.
How soon will it be until the truth is revealed? This certainly could push pressure on Podesta and the Clinton campaign to come forth with more information.
Lance Schuttler graduated from the University of Iowa with a degree  in Health Science and does health coaching through his website  Orgonlight Health. You can follow the Orgonlight Health facebook  page or visit the website for more information and other inspiring  articles.
---
http://themindunleashed.com/2016/10/breaking-more-ufo-related-emails-in-2nd-wikileaks-podesta-batch.html