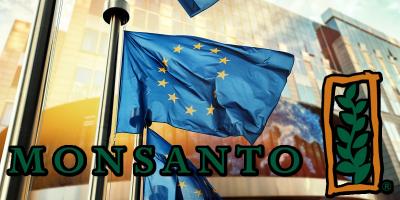 Monsanto, are a multinational corporation that was once known for manufacturing Agent Orange for use as a chemical weapon in the Vietnam War. In September 2016, the German chemical company Bayer merged with Monsanto and became one of the world's biggest agricultural conglomerates.
Monsanto are notoriously known for their super-corporation approach to nutrition. The company and its genetically modified organism (GMO) seeds have been the subject of global protests around the world. They have reaped huge profits from selling its popular weedkiller, glyphosate (known as "RoundUp") in tandem with crops genetically engineered to withstand glyphosate ("RoundUp Ready") crop. Last year, RoundUp brought in around £3.5bn.
The weedkiller has been linked to increased cancer rates, autism, Alzheimer's and Parkinson's disease. As a result, Monsanto are currently locked in battle over relicensing the brand RoundUp in the European Union. The final decision on its authorisation is expected in November. The decision to continue or discontinue the brand will be informed by the European food safety authority (Efsa). It was recently revealed that Efsa based a recommendation that glyphosate was safe for public use on a EU report that copied and pasted analyses from a Monsanto study.
An Efsa spokesperson said: "It is important to stress that these are extracts from and references to publicly available studies submitted by the applicant as part of their obligation under the pesticide legislation to carry out a literature search. In other words, these are not Glyphosate Task Force studies but rather studies available in the public scientific literature."
Franziska Achterberg, Greenpeace EU food policy director, said: "Whether this is a question of negligence or intent, it is completely unacceptable." He went on to say: "It calls into question the entire EU pesticide approval process. If regulators rely on the industry's evaluation of the science without doing their own assessment, the decision whether pesticides are deemed safe or not is effectively in the industry's hands."
The agrichemical giant were accused of exerting undue influence over studies about glyphosate and were invited to attend a hearing run by the environment and agriculture committees. Due to the fact that they refused to attend the parliamentary hearing into allegations of regulatory interference, their representatives have now been banned from entering the European parliament. The ban was backed by all major parliamentary blocks. "One has to assume it is effective immediately," said Antonio Tajani, spokesman for the parliament's president. This means that Monsanto officials will not be allowed to meet MEPs, attend committee meetings or use resources on parliament premises.
In a statement posted on the European Greens group website, president Philippe Lamberts said: "There remain many uncertainties in the assessment of the pesticide glyphosate. Monsanto has to face the questions of parliamentarians and should not hinder the clarification process." He went on to say: "Those who ignore the rules of democracy also lose their rights as a lobbyist in the European Parliament. US corporations must also accept the democratic control function of the parliament. Monsanto cannot escape this."
IMAGE CREDIT:paulgrecaud / 123RF Stock Photo
THIS ARTICLE IS OFFERED UNDER CREATIVE COMMONS LICENSE. IT'S OKAY TO REPUBLISH IT ANYWHERE AS LONG AS ATTRIBUTION BIO IS INCLUDED AND ALL LINKS REMAIN INTACT.
---
https://truththeory.com/2017/09/30/dozens-pages-analysis-monsanto-study-found-copy-pasted-european-food-safety-report/