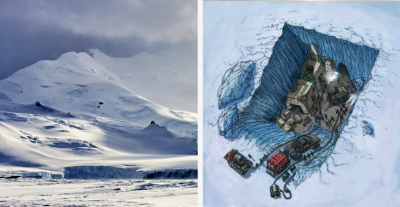 by Arjun Walia, Collective Evolution
Are there aliens in Antarctica? Were there ever? The idea of aliens or a lost civilization having once inhabited, or still inhabiting, Antarctica has been talked about for some time. This isn't all that far fetched when you consider that we have been, and are currently being visited by extraterrestrials.
It has been hypothesized for centuries, and within the past decade alone, we have seen an enormous amount of evidence showing that UFOs are real, and that some of them might be extraterrestrial in origin. In fact, at the end of 2017, the US Government released an official video of one of these objects for the first time ever. It was filmed travelling at speeds and performing maneuvers that no known air-craft can.  The Navy pilot, and another recently retired gentleman from the Department of Defense, Louis Elizondo, both shared their belief that these objects are extraterrestrial, as have many others before them.
The footage came via an "Ariel Threat Identification Program" that had been running, and claims say that it was shut down. Based on all of my research, these programs have been running for a long time, and they've never actually been shut down.
It's a type of secrecy that's commonly seen in the secret world of black budget and special access programs.
"There is a serious possibility that we are being visited and have been visited for many years by people from outer space, from other civilizations. That it behooves us, in case of these people in the future or now should turn hostile, to find out who they are, where they come from, and what they want. This should be the subject of rigorous scientific investigation and not the subject of 'rubishing' by tabloid newspapers." – Lord Admiral Hill-Norton, Former Chief of Defense Staff, 5 Star Admiral of the Royal Navy, Chairman of the NATO Military Committee
Corey Goode, author and alleged Secret Space Program whistleblower has talked about a process of revealing this UFO and ET information to the public slowly. A process referred to as 'drip disclosure' or 'slow disclosure.' This in itself raises a number of questions and concerns, one of them being the fact that the government and those who use their power to influence government policy have deceived us and provided the public with fake news on so many different topics. A few great examples would be the so-called war against drugs and terrorism. Why should we expect accuracy and truth when it comes to the topic of UFOs?
In a recent interview we did with Corey Goode, we spoke about some of the recent findings in Antarctica as it relates to warm environments beneath the ice that could harbour life. This immediately raises the question of "are we about to hear more drip disclosure about Antarctica?" Why is this question raised? Because many have claimed there are ET remnants and a lost civilization being covered-up in Antarctica.
Corey explains:
You can watch this full interview by becoming a CE Member.
UFO's have also been spotted many times in Antarctica. Here's one document from the CIA archives to use as an example, it states as follows:
"ANTARCTIC FLYING SAUCERS" – A group of red, green, and yellow flying saucers has been seen flying over Deception Island for two hours by Argentine, Chilean and British bases (military) in Antarctica. The flying saucers were also seen flying in formation over the South Orkney islands in quick circles."
You can read more about that, and find a link straight to that document in an article we published earlier about it, HERE.
What's Going On In Antarctica, Who Can We Trust? 
When it comes to the topic of UFOs and extraterrestrials, who can we really trust? The best sources to go off of are the documents that we have, the opinions of researchers from around the world, and the 'whistleblowers' that come forward. This is the best way to present information in a credible way and have it touch the masses, especially those who are still unaware of the subject. The positions these whistleblowers have held in their own is right is quite shocking, from ex-Directors to Lockheed martin, to four star generals and more.
That being said, UFO groups and movements also have a long history of infiltration by government connections. Whether they do this, and have done this to find out more information, or to simply litter the field with disinformation is completely separate topic.  Organizations like MUFON or initiatives like Project Bluebook are great examples.
This field is full of disinformation, and one must really do their research and learn to use their discernment.
A more modern-day example would be the To The Stars Academy, the group that the US Government went through to release their recent UFO video.
For the most part, the whistleblowers that have come forward are all sharing some very interesting information that corroborates with a lot of information others in the field are sharing as well.  To many of them, the reality of the extraterrestrial hypothesis isn't even a question, based on what they've experienced.
"I also learned about incidents involving nuclear weapons, and among these incidents were a couple of nuclear weapons sent into space were destroyed by the extraterrestrials. . . . At the very end of the 70s and the early 80s, we attempted to put a nuclear weapon on the moon and explode it for scientific measurements and other things, which was not acceptable to the extraterrestrials. They destroyed the weapon before it got to the moon." – Colonel Ross Dedrickson (source)
The next step, would be to examine those who claim to have contact with these beings, and many have.
"Yes, it's both. It's both literally, physically happening to a degree; and it's also some kind of psychological, spiritual experience occurring and originating perhaps in another dimension. And so the phenomenon stretches us, or it asks us to stretch to open to realities that are not simply the literal physical world, but to extend to the possibility that there are other unseen realities from which our consciousness, our, if you will, learning processes over the past several hundred years have closed us off." – John Mack(source)
Many of these people have some amazing stories that corroborate with the stories of others and the information that's already out there. This makes it easier for UFO researchers to put two and two together.
One great example would be Dr. George King, an ordinary citizen who claimed was contacted by an extraterrestrial intelligence in 1954, known to him as "Aetherius," whom he said was a highly evolved extraterrestrial from Mars, and part of an alliance of several intelligences from other planets. He spoke of anomalies on mars, and certain extraterrestrial groups  concerns about nuclear weapons.
This is where I became interested, because he was speaking about these topics in the 1950's, and now we have multiple insiders relaying the same type of information.
When it comes to UFOs and nuclear weapons, for example, the information George was relaying back then, has been confirmed now. You can go more in-depth in an article we published earlier about that topic linked below:
Strong Evidence Shows Extraterrestrials Have Been Shutting Down Nuclear Missiles Worldwide For Decades, But Why? 
Corey Goode Weighs In On Antarctica
Corey Goode claims to have been  part of the Secret Space Program, and to have numerous experiences with extraterrestrial beings. It is true that Goode's credentials in this program cannot be verified, thus some have had doubts about his credibility. But many of his experiences and much of his information has been corroborated by many other insiders and whistleblowers. This is why we also encourage the use of intuition when looking at this sort of information. 'How does it feel?' Is a question you may want to ask yourself.
Nonetheless, we wish to present this information with the utmost of credibility and thus state that to our knowledge Corey appears to be sharing real information although one cannot yet identify who he truly is within these programs. Giving attention to passionate individuals like Corey Goode can opens up the floodgates to criticism, and some would say to stay away due to lack of verifiable information at a credential level. However we choose to cover because based on all of our research, there clearly exists a clandestine black budget secret space operation. If anybody is claiming to come from this world, the least we can do is hear them out and then compare it with all the existing information we have today, to see if there are any similarities or corroboration.
Sometimes, being in this field, we have to venture into curious territory to learn more. That being said, anybody can simply say Corey is somebody who has done is research, and is making up stories. But then again, how do we know testimony from verified whistleblowers is true either? At some point we must use our intuition and other corroborating factors.
It's up to the you to decide what resonates with them and what doesn't.
---
http://www.collective-evolution.com/2018/01/22/evidence-of-an-alien-or-lost-civilization-in-antarctica/