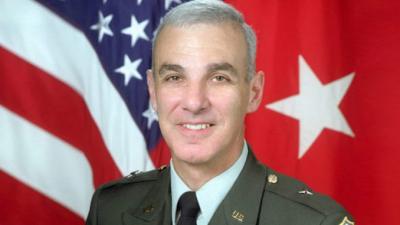 by Kalee Brown, Collective Evolution
High-level rape and pedophilia have been severe issues in the government and the U.S. army for many years. Governments and international organizations have been caught on numerous occasions trying to hide their involvement with sex rings, rape, and pedophilia, but despite their efforts, the public is starting to wake up to this type of high-level corruption.
It's not just pimps and escaped convicts involved like the media wants you to think; oftentimes, it's the people you'd least expect, or even respect the most: the politicians, the elite, the wealthy businessmen, and in some cases, even your friends and family.
Retired Army General James Grazioplene, who worked in the Pentagon and as the Vice President of DynCorp, is currently facing six rape charges. If the name DynCorp rings a bell, it's could be because we've reported on the private military contractor's international child sex scandals before.
Sexual Abuse Allegations Against DynCorp and Grazioplene
James Grazioplene joined the army in 1972 as an armour officer and he graduated from the US Military Academy in West Point, New York. Forty years later, on Friday, April 14th, the Military District of Washington announced that General Grazioplene (Ret.) was being charged with six cases of rape of a minor on numerous occasions between 1983 and 1989.
The U.S. Army is charging Grazioplene and, if convicted, he faces life imprisonment and loss of pension. Although Grazioplene retired from the military, he is still subject to the Uniform Code of Military Justice. The U.S. Army did not provide any further details on why he's only being charged now, only stating that the investigation remains open.
Grazioplene retired in 2005 after acting as the Director of Force Development in the Pentagon's Joint Warfighting Capabilities Assessment. Grazioplene's Linkedin page also states that he represented DynCorp as Vice President from 2012 to 2015.
He also served as the CEO for Mission Readiness LLC, a joint venture operated by private military groups including DynCorp International, which offered U.S. and Coalition forces vehicle maintenance services in Afghanistan, Iraq, and Kuwait.
Interestingly enough, this is not the first time DynCorp has been caught up in sexual misconduct and rape allegations. In 2009, Wikileaks exposed that foreign police trainers in Afghanistan working for DynCorp hired "dancing boys" to perform for them.
A 2009 email released by Wikileaks showed Cheryl Mills warning former Secretary of State Hillary Clinton of a potential Washington Post exposé on the topic. The email reads:
According to my reporting, the week of April 13th, the DynCorp regional commander from Konduz, Flint Chambers, allowed his men to hire a 15-year-old boy dancer to do tribal dances at a DynCorp party on the training site. Some 15 or so DynCorp employees in attendance pulled out a single chair and had the boy do mock lap dances. This was captured on video. The video shows DynCorp employees putting dollar bills in the boy's waistband, just as they would a stripper's garter. The revelry lasted about 45 minutes.
Although the email also states that "no sex took place," the tradition of bachabaze in Afghanistan, which literally translates to "playing with boys," often involves traditional dancing, rape, and then afterwards the boys are sold to the highest bidders.
DynCorp was also involved in a giant sex trafficking and slavery scandal in 1999 in Bosnia. Kathryn Bolkovac, a U.S. policewoman who worked with the International Police Task Force, which was arranged by DynCorp Aerospace, tried to expose this years ago. At the time, DynCorp was hired to perform police duties for the U.N. and aircraft maintenance for the U.S. Army.
Bolkovac discovered that U.N. peacekeepers and international police were visiting brothels and running sex trafficking rings by forging documents and transporting women into Bosnia. DynCorp employees were accused of rape and the buying and selling of girls as young as 12 years old and the DynCorp on-site supervisor actually filmed himself raping two women.
This wasn't the first time the U.N. was involved with child sexual abuse, either. You read more about that in our CE article here.
Instead of dealing with the issue head on, DynCorp simply fired Bolkovac in an attempt to blacklist her and cover up the scandal. Bolkovac retaliated by firing a wrongful termination case. This was actually one of two sex scandals DynCorp was involved with in Bosnia. The list goes on and on, as many more DynCorp employees and contract workers have been accused of sexual abuse all over the world (source).
It's not like the U.S. government and military were unaware of the allegations against DynCorp. Former U.S. representative Cynthia McKinney was well aware of the corruption that was going on within DynCorp, and she actually addressed it in 2005. She grilled former Secretary of Defense Donald Rumsfeld on the government's involvement and compliance with military contractor DynCorp's child trafficking business of selling women and children.
You can watch McKinney's full speech here:
Why Isn't the U.S. Government Getting Involved?
This isn't the first time high-level sexual abuse has taken place, and it probably won't be the last. Don't get me wrong — I'm not pessimistic and I do believe that we can change this reality by educating others, but the likelihood of the U.S. government getting too much more involved is low, as it's heavily involved with all of this.
There has been a lot of speculation lately on child sex rings being used by the U.S. government. You may be familiar with the PizzaGate scandal, which allegedly unearthed a very high-level elitist global pedophile ring the U.S. government was involved in.
It emerged when Wikileaks released tens of thousands of emails from the former White House Chief of Staff under Bill Clinton, Jon Podesta, who also served as Hillary Clinton's campaign manager. It's because of these emails that many claimed Jon Podesta was a part of these child trafficking rings as well. You can read more about there in our CE article here.
This isn't the first time people were concerned over sexual abuse by government officials. Ted Gunderson, former FBI special agent and head of their L.A. office, worked to uncover years' worth of information on high-level pedophilia, sexual abuse, and satanic rituals performed by the elite. You can read more about that in our CE article here.
Another individual involved in high-level trafficking was Jeffrey E. Epstein, who in 2009 pleaded guilty to charges of soliciting prostitution from girls as young as fourteen. He served just over a year in jail and became a registered high-risk sex offender. He was close to Bill Clinton, Prince Andrew, and many other elitists.
According to former U.S. State Department official Steve Pieczenik, the Clintons and many more "have been a major part and participant of what's called the Lolita Express, which is a plane owned by Mr. Jeff Epstein, a wealthy multi-millionaire who flies down to the Bahamas and allows Bill and Hillary Clinton to engage in sex with minors — that is called Pedophilia" (source).
Numerous victims involved in elite sex rings and occult sex rituals have come forward, exposing high-level corruption in regards to human sex trafficking and pedophilia. One of the more recent victims to come forward is a woman named Kendall, who was sold at birth into a powerful, high-level international sex ring. You can read more about her story in our CE article here.
A Conscious Note
It can be easy to let the darkness overpower the light when we first come into knowledge, especially when it's information that shatters our current belief systems. In times like these, it's important to remain neutral and not place blame or judgement on others. Of course, this is easier said than done, especially when society tends to take opposing sides on this issue. We either attempt to hide these actions, fail to take responsibility and then misplace the blame on the victims, or demonize and ostracize the perpetrators.
Dehumanizing pedophiles, child molesters, rapists, and abusers and calling them "monsters" and "inhumane" will not help to better society; it will only further perpetuate separatism and anger. If we fail to recognize the humanity in them, how can we ever understand why these violent acts occur? At the end of the day, a rapist is just as much of a human as you or I, so what causes an individual to commit such violent acts in the first place?
Perhaps these individuals don't deserve ridicule and judgement, but rather compassion. By choosing hate, we end up bottling up anger and resentment, which ultimately hurts no one but ourselves. Choosing compassion doesn't mean compliance, but rather it can help us to understand the perpetrator's perspective a little better. By shifting our consciousness and educating others, we can help put an end to these violent acts.
---
http://www.collective-evolution.com/2017/04/20/ex-us-general-vp-of-military-contractor-with-ties-to-child-sex-trafficking-charged-with-rape-of-a-child/