~ Galactic Earth Daily Truth Report 06-24-2012 ~Mother Earth=Heart is processing the Solstice energies~
Greetings Loved Beings,
After the Solstice Mother Earth=Heart seems to be resting a little bit. She has to process all the New Energies as we do too. Though there has been some severe weather and some EQs not as much as in the past weeks. England seems to be the most affected by water: rain, floods, wind... I guess there's quite a bit to clean up there! We all send All our Love to help you speed up the Process!
Keep Love in your Heart.
Volcanos keep helping release pressure and so do EQs, where even some interesting ones have caused no damage!
Thank You Mother Earth=Heart! We send You all our Love.
Thank You for BEingLove.
AndReA
Evacuations As Floods Hit Northern England
Sky News – Sat, Jun 23, 2012
Torrential rain has brought flooding to large swathes of northern England, forcing scores of people to leave their homes.
Water gushed through some towns in Lancashire and West Yorkshire as nearby rivers burst their banks, with heavy rain and high winds expected to last until Sunday.
A total of 98 flood warnings have been issued for the North East and North West, with another 53 flood alerts.
Environment Agency spokeswoman Kate Marks said: "A month's rain is predicted to fall in the North West in the next 24 hours.
"We would urge the public to remain vigilant and prepared for flooding, especially as river levels can rise very quickly."
The Environment Agency also said it had mobilised teams across the North West to check and operate flood defences, clear any river blockages and closely monitor river levels.
Tropical Storm Debby to bring torrential rain and flooding to U.S. Gulf coast
Posted on June 24, 2012
June 24, 2012 – GULF OF MEXICO – Tropical Storm Debby crept up the Gulf of Mexico early Sunday, threatening to bring flooding and tornadoes to parts of the Gulf coast. As of 4 a.m. (5 a.m. ET), Debby was about 165 miles southeast of the Mississippi River delta, according to the National Hurricane Center in Miami. The storm carried maximum sustained winds of 50 mph as it chugged north at 3 mph. A tropical storm warning was in effect for coastal Louisiana from the mouth of the Pearl River westward to Morgan City, the weather agency said. New Orleans is not included in the warning area. "The combination of a storm surge and the tide will cause normally dry areas near the coast to be flooded by rising waters," the hurricane center said. Floodwaters in parts of coastal Mississippi and Louisiana could reach 2 to 4 feet deep. Debby is also expected to dump 3 to 6 inches of rain from southern Louisiana to the Florida panhandle, with up 10 inches in isolated areas, the weather agency said. In addition, "isolated tornadoes are possible" over parts of west-central and southwestern Florida on Sunday.
http://theextinctionprotocol.wordpress.com/2012/06/24/tropical-storm-debby-to-bring-torrential-rain-and-flooding-to-u-s-gulf-coast/
Yellowstone geysers became active again
BY ADONAI – JUNE 24, 2012
According to article published in YellowstoneGate a handful of Yellowstone National Park geysers appear to be active again after periods of dormancy, including one geyser that last erupted almost two decades ago.
2.8 magnitude earthquake reported under Japan's Mt. Fuji volcano
Posted on June 24, 2012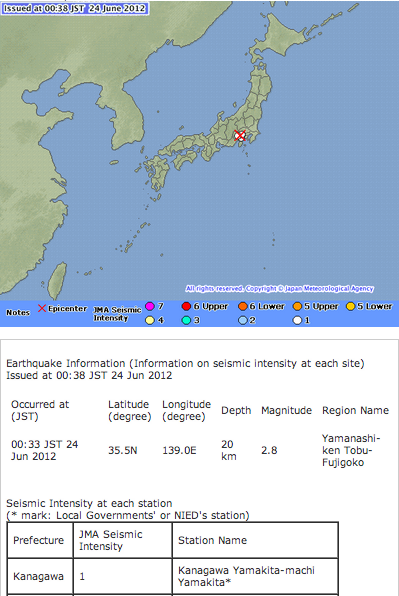 June 24, 2012 – Japan - A 2.8 magnitude earthquake was reported under the Mt. Fuji volcano on the 24th of June. Mt. Fuji last erupted in 1707, but the volcano began showing signs of growing unrest this year – indication it is waking up from its long slumber as we reported. On June 20, 2012, a rare anvil or hat-shaped cloud appeared near Mount Fuji after a strong typhoon swept through Japan. The cloud, called "tsurushi-gumo," or hanging cloud, was seen on Wednesday morning. The phenomenon occurs when winds around Mount Fuji become strong, or after tropical storms. But experts say such clouds rarely appear at this time of the year. The cloud disappeared after about 30 minutes when the sky became overcast. -Wish - Fukushima Diary
[video :http://www.youtube.com/watch?v=noe0BxB229Y&feature=player_embedded]
6.1 magnitude earthquake strikes sea-floor off the coast of Kamchatka
Posted on June 24, 2012
June 24, 2012 – KAMCHATKA – A shallow 6.1 magnitude earthquake rattled the sea-floor off the coast of the Kamchatka peninsula. The earthquake had a depth of 17.4 km (10.8 miles)). Kamchatka and the Aleutian peninsula are some of the most seismically-active regions on the planet. A 6.0 magnitude struck the Aleutian Islands five days ago. This continues to be a region of the globe to monitor for more seismic unrest. – The Extinction Protocol
Indonesia jolted with 5.9 quake
Online News
Sat, 23 Jun 2012 22:14 CDT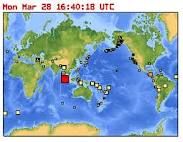 Jakarta - A 5.9-magnitude earthquake hit the north of Indonesia's Sumatra island on Saturday, the US Geological Survey (USGS) said, but there were no reports of damage or casualties.
The quake struck at 11.34am (0434 GMT), 66 kilometres west-southwest of Kabanjahe at a depth of 97 kilometres, the USGS said.
Indonesia's Meteorological and Geophysics Agency (MGA) put the magnitude at 6.6. "The quake's epicentre was on land. There are no reports of damage so far," MGA official Dedi Sugianto told AFP, adding the quake was felt moderately in a number of areas.
Indonesia sits on the Pacific "Ring of Fire" where continental plates collide, causing frequent seismic and volcanic activity.
Strange snake invasion in Kiev region leads to mass killing of cattle
Translated by SOTT
Oko Planety
Fri, 22 Jun 2012 12:58 CDT
Residents of the village Litky (located near Kiev) noted mass deaths of horses and cows from snake bites. Until now, vipers weren't seen in this area. Villagers claim that the snakes were thrown on the pasture from a helicopter. However, a local veterinarian, Dmitry Panchenko, calls this a mere legend.
All the corpses of the fallen animals were examined by a veterinary commission of Brovary. However, in the laboratory, it wasn't possible to determine the nature of the poison that killed the animals. Cattle was tested only for anthrax and salmonellosis.
Anti snake venom serum that could save the animals also wasn't found in the area. Veterinarians say it is no longer available in Ukraine.
The vet prescribed to graze the cattle in strictly limited areas only, but the villagers, though afraid of snakes, still drive the cows to pasture.
If you missed our last Energy Update:
http://soundofheart.org/galacticfreepress/content/galactic-free-press-daily-update62112-surrenderremoval-powers-were-imminent
Captains Log Stardate
http://soundofheart.org/galacticfreepress/content/captains-log-stardate-1124070504-rule-ten-thousand
All our Love, ANdReA
~And MotherFatherGod, The Galactic Free Press Staff, Earth Allies and GroundCrew Staff ~

~Thank You for Keeping the Press Going and Supporting Your Earth Allies~
~Are these Daily Updates and The Galactic Free Press Serving YOU? Thank you for Showing your Love and Support~ Share if You can!!~
http://soundofheart.org/galacticfreepress/content/message-earth-allie-questions-answers-about-donations

http://soundofheart.org/galacticfreepress/content/donate
If You would Like to connect with us via an amazing Awakening Session, to answer a question Contact Us Here:http://soundofheart.org/galacticfreepress/contact