~ Galactic Earth Daily Truth Report 07-20-2012 ~ No matter where you look... it's HOT~
The Sun's getting to It's solar maximum (not by chance of course in advance!) and is heating up our Solar System. Mother Earth=Heart is heating up and if it's not draught it's fire, HU-mans are heating up... why? EveryOne's Vibrations are increasing in order to adapt to the Higher Level of Love! Love Vibrations are High, Fast, Hot (at least from a lower perspective)!
All is heating up in God's Love embrace! Water wipes it away and heat transmutes. Nothing is by chance! 
One Heart, One Love.
Thank You for BEingLove.
AndReA
First images from High Resolution Coronal Imager or Hi-C launched last week just started coming in.
Hi-C telescope was launched on July 11, 2012 aboard a NASA sounding rocket and has captured the highest-resolution images ever taken of the sun's million-degree atmosphere called the corona. The clarity of the images can help scientists better understand the behavior of the solar atmosphere and its impacts on Earth's space environment.
"These revolutionary images of the sun demonstrate the key aspects of NASA's sounding rocket program, namely the training of the next generation of principal investigators, the development of new space technologies, and scientific advancements," said Barbara Giles, director for NASA's Heliophysics Division at NASA Headquarters in Washington.
On July 14 the sun unleashed a major X1.4 solar flare which was accompanied with a CME (Coronal Mass Ejection). InFocusImagery brings us amazing timelapse video.
http://thewatchers.adorraeli.com/2012/07/19/after-storm-timelapse/
On July 20, 2012 GeoNet raised the Volcano Alert Level at Mt. Tongariro, New Zealand after a series of quakes beneath the volcanic complex. The alert is now on Aviation Color Code: Yellow and Volcanic Alert Code: 1. Small volcanic earthquakes have been recorded beneath Mount Tongariro. The sequence started on July 13, but soon declined, restarting on July 18 and increased in numbers on July 19 and 20. The earthquakes cluster is in a zone between Emerald Crater and the Te Māri craters at 2-7km depth.
July 20th did not start so well for Kuril Islands. On July 15 we reported swarm of earthquakes on Kuril Island for seventh day in a row (link here), while it showed less activity for last couple of days today we had 5 strong ones again. The strongest one was reported at magnitude 6.3 on July 20, 2012 at 06:32 UTC. Recorded depth was 22.7 km (14.1 miles) by USGS. Epicenter location was 137 km (85 miles) S of Severo-Kuril'sk, Russia (49.418°N, 155.935°E). 20 minutes earlier, at 6:10 UTC we had magnitude 6.0 at depth of 22.7 km (14.1 miles).
The earthquakes moderate depth and the location of both epicenters, on the ocean, should have reduced the intensity making both of them "harmless". A tsunami is not possible because the magnitudes are not big enough to create one.
Terra Daily
Tue, 17 Jul 2012 00:00 CDT
Spanish authorities evacuated a town of 1,800 residents on the Canary Islands on Tuesday, after three days of firefighting efforts failed to prevent a raging wildfire from reaching it. 
Residents were evacuating from the town of Vilaflor, south of the Teide national park that spans the centre of the Spanish island of Tenerife, as flames reached parts of the town. 
Emergency services "are evacuating residents from Vilaflor due to the advance of the fire from the east," the regional government said in a statement Tuesday evening.
KTVB.com
Thu, 19 Jul 2012 06:02 CDT
Melba, Idaho - A sinkhole near Melba claimed the life of a woman who was driving to work early Saturday morning on Butte Road, just east of South Powerline Road. 
Kieran Donahue, a long-time deputy with the Canyon County Sheriff's Office, says this is a freak accident. He says there are rarely sinkholes in the county, let alone one that would appear on a road and kill someone. 
But investigators say 32-year-old Sonia Lopez was driving to work at about 4:15 a.m. Saturday on Butte Road, south of Melba, and apparently didn't see the 20-foot wide sinkhole right in front of her. 
"She's driving early in the morning hours, probably pitch black, and literally just drives right into this 2-3 foot deep hole," said Donahue. 
Miguel Llanos
NBC News
Thu, 19 Jul 2012 11:10 CDT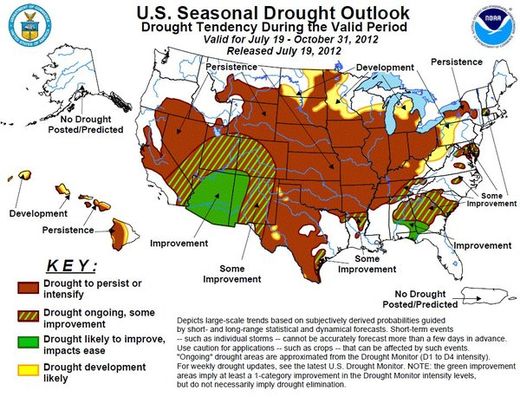 © The National Weather Service
The National Weather Service issued this map along with its Seasonal Drought Outlook on Thursday.
A double-barreled dose of bad news came out Thursday: Not only did the drought worsen over the last week, but it's likely to widen and intensify through the end of October, according to the seasonal outlook prepared by government forecasters. 
"Unfortunately, all indicators (short and medium-term, August, and August-October) favor above normal temperatures," the National Weather Service's Climate Prediction Center said in its Seasonal Drought Outlook released Thursday. 
"We don't see a reason to say it will improve," Kelly Helm Smith, a specialist at the National Drought Mitigation Center, told reporters. "I'm in the Midwest," she said, referring to her office at the University of Nebraska in Lincoln, "it's really unpleasant." 
Forest / Wild Fire in Portugal on Thursday, 19 July, 2012 at 03:23 (03:23 AM) UTC.
Base data
EDIS Number:
WF-20120719-35838-PRT
Event type:
Forest / Wild Fire
Date/Time:
Thursday, 19 July, 2012 at 03:23 (03:23 AM) UTC
 
 
Damage level:
Moderate 
Geographic information
Continent:
Europe
Country:
Portugal
County / State:
Municipality of Vila Franca de Xira
Area:
Povoa de Santa Iria
Forest / Wild Fire in Portugal on Thursday, 19 July, 2012 at 19:09 (07:09 PM) UTC.
EDIS Number:
WF-20120719-35844-PRT
Event type:
Forest / Wild Fire
Date/Time:
Thursday, 19 July, 2012 at 19:09 (07:09 PM) UTC
 
 
Damage level:
Moderate 
Geographic information
Continent:
Europe
Country:
Portugal
County / State:
Atlantic Ocean - North
Area:
Island of Madeira