The Galactic Free Press Daily Update~5~16~12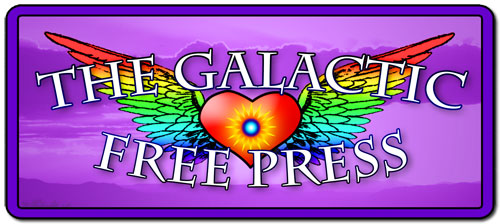 Bringing Humanity Home~ Energy and Event Update~
We are In the Magnetic Alignment

~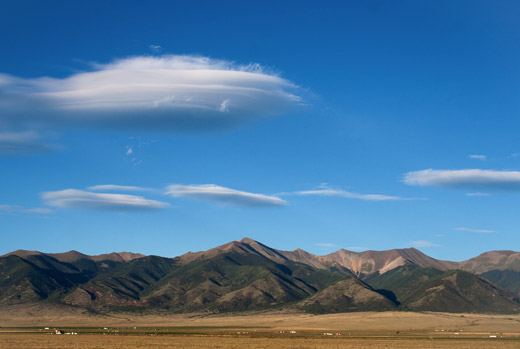 Photo By Earth Ally Will Harader Scout Ships Hanging Out
Greetings Love Beings, We come today with a Short Update as we allow the Energies to continue move into Alignment. This Morning the Grid was very unstable. We Held Our Ninth Council Meeting today and We Successfully stabilized the Magnetic Grid through our Focused Love Energy.
Daily Sun: 16 May 12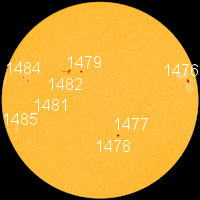 Previously active sunspot AR1476 continues to decay. Solar activity is low. Credit: SDO/HMI
Our Sun is Quiet at the Moment, however, we have several sunspots which could become active and Earth Directed. Most Likely would not produce X Class Flares, but we could see some smaller flares which will effect the Planet's energy field. We have has several landslides today but no lives were lost. Earthquakes remain quiet with just one over 6.0 in PAPUA NEW GUINEA.
~ Galactic Earth Daily Truth Report: http://soundofheart.org/galacticfreepress/content/galactic-earth-daily-truth-report-05-16-2012-%E2%80%93-quite-calm-so-far
Earth Allie Report: http://soundofheart.org/galacticfreepress/content/earth-allies-15312-stil-not-much-happening-our-golden-rose-galaxy-exept-ego-gone
Boo walker Report: http://soundofheart.org/galacticfreepress/content/healing-earth-news-science-finally-beginning-study-gaia-living-organism
Cobra Liberation Day Eclipse: http://soundofheart.org/galacticfreepress/content/reboot-grid-update-cobra
The release of the denser energies right now must occur for us To Bring in the Higher Energies. As A result in these next 4 days, The Magnetic Field will be fluctuating until we arrive at the eclipse and alignment. This is where At Exactly 6:30pm Pacific, We will Align our Unified Energy with the Planet through Mt Fugi, and Open the Stargate Portal. This will occur at ascension rock and will open an energetic door to bring in balanced Harmonics to Planet Earth=Heart.
Why the grid is fluctuating is because, As The Light Increases, this puts a huge amount of Pressure on the old denser energies to release from the Planet.This is occurring as we raise the Energy field of the Entire Planet and readjust for the Planetwide Reboot which will occur on this Eclipse. These Energies will be in Process until the June Solstice. Humanity is Truly On the Fast Track.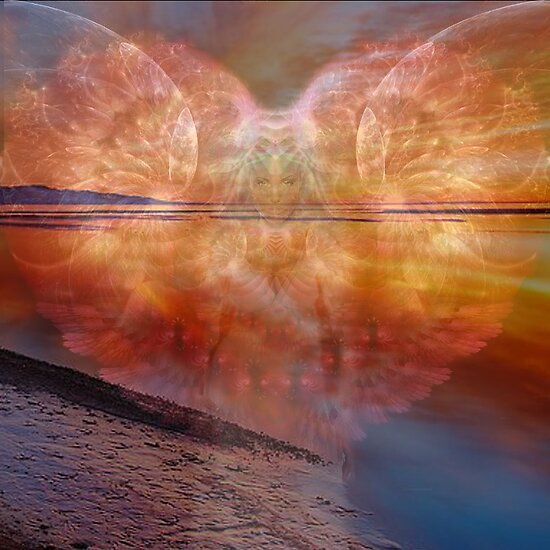 Sunset and the Angel's heart
The Art Of Bill Brouard Email bill_brouard@yahoo.co.uk All Art by Bill Brouard from Visual Alchemy Copyright 2010 ©
We have 7 Months until the Galactic Alignment on December 21st, 2012. We have Much to accomplish, to bring this Planet into a State of Balanced Harmonics before this date. All of Humanity's long awaited Prayers are coming into Fruition.
 What Occured during Our Council Meeting was Truly An Amazing unfoldment for those who were Present to Experience this. Our Focused Love Energy will allow for a Smoother release of these old dense energies. In these incoming days we will still be fluctuating. Be gentle on yourself and others, and Remember the More you Release the More the Higher Energies can enter. Embrace these days everyone. As Many Grand Events are Getting ready to Manifest.
Decreed by Heaven The removal of those powers that were are to be smoothly with the Highest Love be removed as soon as Possible.To Make Way for Love's Surprise. This is the Divine Plan Manifesting Now On Planet Earth=Heart.
~Thank You for Spreading These Message's to Others and Keeping Your Hearts Open and Staying Tuned In~
~End Transmission in All Love is Unconditionally, We are So In Love With Humanity~
If You missed our Last 2 Updates here are the Links:
http://soundofheart.org/galacticfreepress/content/galactic-free-press-daily-update51412-we-have-entered-energetic-period-much-power-shifting
http://soundofheart.org/galacticfreepress/content/galactic-free-press-daily-update51512-there-alot-going-behind-scenes
We Love You Unconditionally~ Love The Galactic Free Press Staff~Humanity's Earth Allies, The Company of Heaven and The First Contact Ground Crew Team.
We are Working day and night to Assist Humanity in the Real Truth and to bring them out of the Darkness and into Reality where Joy is All that exists!
We are Still over 1600$ from Our Funding Goal and 15 Days Left. If Our website is Valuable to you and is assisting you, Thank You for sharing. If All of Our Members shared even 2$, we would make our funding Goal.
Please only share if you can
Our Last Update we received 1 Love Share's
Total Love shares for May 1404.50$
 Total Funding Needs For May 3000$
http://soundofheart.org/galacticfreepress/content/donate
Your gifts will be returned and abundantly because it's given and shared with those Who Serve The Love On This Planet. That's how we all do it together as ONE FAMILY. Thank you !
Thank You Everyone for Your Continued Love and Support for this Very Divine Mission~
Every Moment you share with Love,  You are investing in Humanity's Future of 100%  Joy, No Kidden'
Keep us Going and Thank You For sharing
Every Saturday from Now on Except this Saturday as We will be changing this to Sunday the 20th on the Eclipse Day , We will Hold a Love Party. This will begin Around 1pm or earlier Pacific Time Zone. We will Announce this On the Press with a Link to the Room. Join us in Bringing In More Love to Planet Earth=Heart to assist in a Smooth transition

into the New Earth=Heart of Only Love and Joy!
 Every Wednesday we are Now Having our Council Meetings for the Transitionary Government. We will now announce these meetings on the Press at 10:30am Pacific time zone every Wednesday with a link for everyone to listen in.

 We are looking for Artists and Photo's to Donate to the Galactic Free Press. All Artists~Photo's will be recognized, with each post! You can download these in our Image Gallery or send us your Website! http://soundofheart.org/galacticfreepress/contact

If You would Like to connect with us via an amazing Awakening Session, to answer a question Contact Us Here: http://soundofheart.org/galacticfreepress/contact
~ We are Stationed In Mt Shasta~
MT. SHASTA ASCENSION
 Artwork Thanks to shala.lightworker.com
(Yojman Chase), Mt. Shasta is~of all Power Points here in the Northern Hemisphere~what could truly be called "Headquarters",  Mt. Shasta is many things to this planets protection and service into the Light. She is also known as Ascension Mountain.
 ~WE are Going Home~
~We Are the Real National Treasure. We Are not only The Heart of this Country, the United States, but Also the Very Heart of This Planet, Mother Earth=Heart. We Are The Love of the Planet, as well as the Universe Personified. We chose the United States to reside in, because We prepared this Part of the Planet, with the Constitution and Bill of Rights, for the Protection of The Truth and The Light for the Entire Planet. With this we Ensured Humanity's Complete Freedom from the illuminati minions control ~
 ~We Love You Unconditionally, Love Mother and Father God Amon Ra
 WE are Here~ Its US and Your Stuck With US!! Eternity here we come~
 Today's Angel Numbers with Doreen Virtue~ 222 ~ Our newly planted ideas are beginning to grow into reality. Keep watering and nurturing them, and soon they will push through the soil so you can see evidence of your manifestation. In other words, don't quit five minutes before the miracle. Your manifestation is soon going to be evident to you, so keep up the good work! Keep holding positive thoughts, keep affirming, and continue visualizing.
 Today we Reached
2,222,222 READS!
CONGRATULATIONS GFP
The Art Of Bill Brouard Email bill_brouard@yahoo.co.uk All Art by Bill Brouard from Visual Alchemy Copyright 2010 ©
 Thank you to Ron Head~ Jennifer Farley~The reality of the situation is; you are an infinitely powerful being capable of anything encased in a rather fragile shell. It may seem odd, this supposed imbalance, but there is always a purpose to everything The Universe does. Treat both well because the learning cannot continue for one without the other. ~ Creator
~Yojman Chase ~
Street~Wise Ascension
From the Joy of Mt. Shasta
47º

Crystal Pyramid

You, the I Am,
Divine Instruments of Spiritual Freedom
to this sweet Earth, Suns of Truth,
allow yourself to remember the crystal~diamond,
pyramidal mountain Thought-form…
Breathing easily and deeply…
See yourself as a giving mountain…

You:
w a t e r,
protect,
etc. all life.
Plus you rise
above and are
a base…You are
a place of Power
and refuge…. Now,
just remember all the
light pouring into You
from beneath and above…
See a fountain of splendor,
as a Crown cascading down
the four sides of your immense
Presence as brooks and creeks
of beauty…Horizontally right out
from your Base see an endless Ocean
of Violet Fire from your Presence that
fills the region of Earth that you protect.
All Elemental life comes to You and all
Celestial, Galactic life pours through You,
the
Divine
unshakeable
Instrument…
of God In Action. In service to Earth.
Everything that Mount Shasta Is,
the tangible Flame Room
and physical expression
of Mother/Father God on Earth,
That, I Am!

I Am the unbroken flowing wholeness
of Fifth Dimensional Consciousness
Manifest for all other life.