~Galactic Free Press~ 11/20/10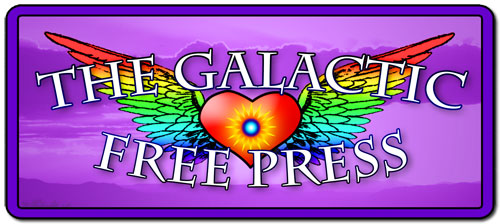 Your Unique Newspaper, for Your 5D Reality Reading Pleasure
~Question for Humanity. Do You know God?
Just say Yes and look in the mirror. no is not an option. Got it?~
~Humanity's Laughter, IS Love Awakened. WE Got
'Em.~
~THE Being INSIDE IS LOOKING FOR what IT IS, BUT THE Being CANNOT FIND IT OUTSIDE. ~
~YOU SEE THE DARKNESS HAS TO STAND ALONE CAUSE IT HAS NOTHING, We OF THE Love AND LIGHT STAND TOGETHER CAUSE We ARE ONE. We ARE ABOUT TO TO GET REALLY CLOSE AND REALLY
PERSONAL ~
~Creation NEVER LEFT THE GARDEN OF EDEN CAUSE Creation IS THE GARDEN OF EDEN~
~ LOOK WITHIN FOR WE ARE THERE, ALWAYS AND WE LOVE YOU UNCONDITIONALLY. WE LOVE WITH RUTHLESS COMPASSION FOR HUMANITY HAS BEEN IN THE
ILLUSION FOR SO LONG MOST HAVE NO IDEA OF WHAT REAL LOVE IS, WHAT IT
LOOKS LIKE AND WHAT IT FEELS LIKE. WE ARE HERE TO BRING THIS TO THE
FOREFRONT. SO THAT HUMANITY CAN SEE AND BEGIN FEELING THAT THE REAL
TRUTH IS ALL THERE EXISTS IS LOVE~
~DIFFERENCE BETWEEN A SPACESHIP AND A STARSHIP IS THAT A SPACESHIP FLIES THROUGH SPACE, WHILE A STARSHIP FLIES THROUGH STARS. ~
http://www.youtube.com/watch?v=IhyMvQ_N7Zc
~We're in The Process of removing ignorance's
minions off the Planet, and this will be completed on this Full Moon~
Remember to just let go of everything you think you have and
everything you think you are, and this process will go much more
smoothly for you~ FEEL THE NOW AS IF YOU ARE THE NOW~SHARE THE NOW AS IF ITS YOURS... TO SHARE CAUSE
IT IS~ SO BE LOVE AND SELAH~
~THERE IS A DIVINE PLAN IN MOTION THATS ON SCHEDULE FOR THE REST OF THE STARFLEET TO ARRIVE. ~
The ignorance is going to be completely insane about this occurring, the Divine Plan unfoldment. THE ONES IN Love ARE JUST GOING TO CELEBRATE
THE JOY OF THEIR FREEDOM AT LAST!
The Magic of Rebirth/Wisdom of the Eagles.
~CAPTAIN'S LOG~ HUMANITY IS AWAKENING, WE ARE ALL HERE TO CELEBRATE~

~THE DAILY UP DATE FROM THE GALACTIC FEDERATION OF EAGLES. ~
~Captain's Log: Star Date 111807.0605 ~
~ IN OUR JOY, WE DANCE TO THE MUSIC AS LOVE LIGHTS UP THE SKIES~ WE ARE HERE, YOU CAN'T MISS US, ESPECIALLY IF YOUR EYES ARE OPEN AND YOUR
HEART IS FREE~
Wave Rider, UFOs on Nov 18, 2010, 6-8pm EST, Kitchener, ON
LOVE UNCONDITIONAL
LOVE REPORTER CARL BILLINGTON
~DANCING IS THE BEST HEALER. LAUGHTER BRINGS IT ALL INTO ONE BIG LOVING JOY OF TRIBAL UNION!!! REACH OUT TO ANOTHER TRIBE TODAY AND SEND LOVE WITH
NO JUDGEMENTS. BE HUGE IN YOUR LOVING TODAY!!! BIG HUGS ALL!!
CARLOS LOVE~
Love REPORTER NATHAN
~Past, Present and Future are one in the NOW! Vibrate in the Light and be Right! ~
Many people are re-awakening on this planet, discovering their true spiritual essence; they are "Love" encased in the flesh. They will eventually graduate to
their "Light" bodies. Namaste! — Renard Moreau
~LOVE LETTERS AND QUESTIONS TO THE EDITORS~
Thank you MOM and DAD for this uplifting moment. i am sending LOVE frequencies out to day the hurt and the hurtful. the kind and the
cruel, the haves and the have nots, the Loved and the tormented, Love
Only creates equality. Love Only vanquishes fear, Love Only creates
LOVE. ♥♥♥ ANGELECKA ST. STARGATE
QUESTION FROM PAT MAN:
HELLO EVERYONE.....COULD SOMEONE PLEASE EXPLAIN TO ME WHATS GOING ON ATM ....IS THERE BEINGS HE FROM ANOTHER PLANET TO HELP US...?.....OR JUST
HUMAN BEINGS TRANSFORMING TO HIGHER BEINGS OF
CONSCIOUSNESS...?....
IS THERE ANGELS ON THE PLANET......?....IF SO COULD SOMEONE PLEASE EXPLAIN....?
AND WHERE IS FATHERMOTHERGOD FROM...?
FATHERMOTHERGOD AMON RA:
PAT MAN, WE ARE SO HAPPY THAT YOU HAVE JOINED US ON THIS LOVE TRAIN. IF YOU CAN LOOK IN THE MIRROR AND SEE YOURSELF, LOOK CLOSELY AT THE ET!
DON;T FORGET TO SMILE. WHERE ARE WE FROM? WELL, ITS A LONG STORY BUT
WE CAME FROM THE CENTER OF THE MILKY WAY GALAXY, ALSO CALLED GALACTIC
CENTER. THE PLANET IS ALIGNING TO THIS RIGHT NOW! WE COME FROM LOVE,
TO BE OF SERVICE TO LOVE EVERYWHERE! WE LOVE HUMANITY, HUMANITY IS
US. WE COME FROM THE BLENDING OF THE ENERGIES OF LOVE AND THE
UNKNOWABLE. CREATION COMES FROM US AS A BLENDING OF OUR ENERGIES WITH
CREATION. THIS IS HOW HUMANITY WAS CREATED. SO LOVE IS YOUR
GRANDMOTHER AND YOUR GRANDFATHER IS THE UNKNOWABLE, WITH US AS YOUR
PARENTS. WE LOVE YOU ALL, LOVE MOTHER AND FATHER GOD
Give your love to the many who are alone
Give your light to the few who will not come
Give your light to the strong in knowing they will come in trust and not fear
Give your light to all
With thanks to Roxette Denne~~The Light Speaks~~Margery@Angel Healing Waters.
~LOVE REPORTER DALAI LAMA~
~Material progress and a higher standard of living bring us greater comfort and health, but do not lead to a transformation of the mind, which is the
only thing capable of providing lasting peace. Profound happiness,
unlike fleeting pleasures, is spiritual in nature. It depends on the
happiness of others and it is based on love and affection.~
~Love REPORTER Dehon Gideon Joubert~
~Sometimes misconceptions about Ascension arises. Some think we are 'going somewh...ere else'.
It is not about ascending somewhere else - more about accepting who and where we already are.
Only consciousness lifts up higher - as in what we are conscious of
changes from, for example, "I am meat and bones" to "I
AM a Divine Being".
As our eye opens we see clearer - we see that we did not go to Heaven/ into Nirvana, Paradise etc - we
see we have always been here - we have always been Divine - we have
always been in Paradise - we just forgot and chose to create from a
lower point of consciousness - Now that we remember Who We Really Are
and Where We Really Are we create from a higher point of
consciousness, from "I AM" Consciousness.~
~Love REPORTER STEVE ANTHONY ~
~The Reflections of LIGHT... As Our LIGHT Shines BRIGHTER, the LOVE WE have Forever BEen WILL Express it's SELF more vividly. ~I AM~
Me~You~WE (((((((Vibrating in Love))))))) ~
~When God wants to hide something from us, He keeps it right in front of us~ Antony De Mello.
~LOVE REPORTER STEVE ANTHONY~
~Within LOVE there is ONLY LOVE~
Within Life there is only LIFE.
Everything is a reflection of it's same SELF
And therefore the only thing that can explain
Or Define it's SELF, is it's SELF.
I AM the SELF by which
Only my SELF can fully acknowledge,
Explain, Define, Create & Determine.
There is no judge outside of the SELF.
Within that thought to even do so,
I BEcome more than what I perviously
Attempted to explained. I AM Endless...
You are the SELF and the ONLY
Judge by which you are judged.
Acknowledge, Explain, Determine & Define
Your SELF, for your SELF without judging
The SELF as your Judge.
This is your true LIBERATION into Vibrating
As the SELF who you TRULY are.
Acknowledge this Completely
Vibrate in this frequency Totally
And BEcome the SELF Infinitely...
As you already are.
~Power of Acknowledgment - Vibrating in LOVE~
By
Me~You~WE
~Love REPORTER KEVIN ISAAC~
~Thank You Duality for the many lessons you have taught. However, I know Your secret and you are on longer needed. You
are the weakest link, Goodbye! ~
~LOVE REPORTER ZVEZDAN TRAILOVIC~
~Walking down the street, my love energy yust flying trught the air all over the place ♥
Children smile and wawe ♥
Adults notice somthing diferent ♥
♥ LOVE ♥ LOVE ♥ LOVE ♥~
By LOVE REPORTER Rita Papadopoulou
Are We Connected?
This Image is The Perfect Proof
That We Are All Connected With The Source
The Portal... Of The Dolphins Is Open
The Angel Of The Sea Is ready to Open His Wings
The Intergalactic Communication Has Started
The Light Leads us
We Spread The Word :" LOVE"
We Did It
As We Woke Up The Light Teaches Us
How To React In Front Of Adversity.
The Christ Conciousness Which Was
Engraved In Our Deep Self Has
Just Started To Show Up.
To Rise Again.
We Are Following These Angels
Who Will Explain How easy It Is
For Us To Connect and Stay Connected
With The Light.
It Is Amazing How The Evolution That
Will Are All Aware Of Is Going At The
Speed Of Light.
Our Ascended Masters Must Be Proud Of Their
Students... We Are Following Their Advice..
Their Teaching...The Truth
So Much Wisdom....So Much Patience
So Much Knowledge... So Much Kindness.
They Protect Us and Care As The Divine Mother
Do With Her Smallest Child.
They Cherish Us ... As We Try To Make Our
First Step Without Falling Down.
What A Wonderful Reward.
Time Has Come For Us To Become
The Teachers They Were Looking For
To Help Them And Spread The Word.
Feelings Of Gratitude and Honor...
Feeling Of Oneness...
We Are One.. We Are Love.. We Are Light
Much Love
Much Light
Namaste'
Dear Friends.. This Little Writing Is
Dedicated to The Master Sapphire.
Without His teaching A Lot of
Us Wouldn't Be Able to Understand
How Precious we ALL Are
We Wouldn't Have Understand How Important
It Is To Love :)
Grateful Honored And Blessed
Are My Feelings Towards You
Thank You Sapphire and All Of You Who
Have Given Unconditionally Your Love
Things and Thoughts Always Happen.
It Is Up To Us
Love And Light,,,,,,,Namaste'
~ Love REPORTER LAURA MCMULLEN ~
~I think the center head is like Christ consciousness, the Godhead. And the two purple skulls are lower human consciousness, fallen divine sparks, pregnant in the
sense that they are pregnant to this awareness and are possible
facing towards god. ~
~Beloved ones, the time has come for you to allow your heart to guide your every movement, for you to live from the place where Love is the
impetus every moment of every hour of every day. In this way, you
become the breath of Love -- by living in the world but not of it.
(The Messages of God )~
Sri Gawn Tu Fahr ~The more we let go, the more we have. The things we hang on to don't belong to us. Let go of what you don't have, and
set yourself free!~
~I want to remind us all that the world is listening, all the time. How we are ripples out from us into the world and affects others. We have
a responsibility - an ability to respond - to the world. Finding our
particular way of living this responsibility, of offering who we are
to the world, is why we are here. We are called because the world
needs us to embody the meaning in our lives. God needs us awake. The
world we live in is a co-creation, a manifestation of individual
consciousness woven into a collective dream. How we are with each
other as individuals, as groups, as nations and tribes, is what
shapes that dream. ~Oriah Mountain Dream
MERCINIA HOWARD[FB] ~We were born with a knowing, a knowing of our greatness, and that joy and love are what we are. We were born knowing that we are never alone.~
~LOVE REPORTER BELLA~
~*TRANSFORMATION~

~*The Basic Practice The spiritual practice of transformation holds within its wide embrace the personal renewals that come with a spiritual awakening, a
conversion, a mystical epiphany, or an enlightenment. It covers the
deepening that takes place when we get in touch with our Higher Self
or Spirit.
Transformation usually involves the shedding of old ways, especially those that have become burdens. This practice
proclaims that no matter who you are, no matter what has already
happened to you, no matter what you have done, it is still possible
to be and do something new.
Transformation implies a marked change in your life, but you can practice it by making simple
changes. Start by doing something different — walk to work by a new
route, answer the telephone with your other than usual hand. Break a
habit, any habit. Signal Spirit that you are willing to accept change
in your life and to be an agent of change in the world.
Why This Practice May Be For YouWith transformation comes healing and
wholeness. It's as if they had been waiting in the wings all along,
until you made room for them on stage.
Often, however, we aren't sure that we want this show to go on. The refusal to admit
change in our lives is a major obstacle to transformation. We cling
tenaciously to our habitual ways of doing things, thinking they are
our only choices. We may resist anything new or different through
indecisiveness. We waver, going back and forth between fear and
doubt.
There is also a shadow side of transformation — recklessness where we keep pushing the edge. Here change becomes an
addiction, and we race from one stimulus — or perceived panacea —
to another.~
spirituality and practice.com

shared with endless love from Bella
~LOVE REPORTER RYSA GOLDRING~
~ 11 ~ The Angels of the Golden Sun come before the Keepers of Earth and ask of the promise. In this last hour it was given that in this moment of the Great Awakening the
River of Heaven brings the Wave of Light. The promise of the Keepers
of Earth is to sing forth the dream of the union of the Dark the
Light t...o bring acceptance, unity, healing, wholeness and
restoration....
.......cont'd Angels of the Golden Sun accept the promise of the Keepers of Earth to hold the frequency that brings forth a new dawn of sacred honor and peace. The
Wayshowers are given the charge of this great awareness to enlighten
the seekers on the path of Light and instill in the Keepers of Earth
their honor and du...ty to restore and uplift the planetary
being....Rysa ~
Love REPORTER RITA PAPADOPOULOU
~Am I Loosing My Mind?
Am I Flying Between Earth And Moon?
Or Am I Vibrating Towards Heaven?
I Will Tell You The Truth..
I Am Travelling Back To My Space Family...
Sometimes Dream.... Sometimes Reality
The Connection With My Ascended Masters....
Unspeakable
The Love I Am Fulfilled Of?
Unconditional
The Light Wich Guides Me?
Bright And Crystaline Together..
Only A Few Can See It
But All Can Feel It
Yes You Can Feel The Light
As You Can See The Love..
The Energy of The Love And The Light
Is Piercing Through Your Human Body
And Transforms You As A Light Being
Take Your Chance... and Armed with Your Shield Of Light...
Filled With Your Unconditional Love..
You Will Rise To Your Space Family
And Send All This Positive Energy back Towards
Our Mother Earth..
Go For It
You Are Ready
You Can Do It!~
Love REPORTER LAURA MCMULLEN
~Amon Ra Is Shining Down On All Earthicans
The Eye of Ra Is Watching Us
The Unknowable and Infinite Sea Above
We Will Take You With Us
Be LOVE find Your, OUR TRUTH
...Reawaken Consciousness, All Memory Through LIGHT
The Dreamworld Awakens To The Universal Intelligence
The Brilliance Of God~like Imagination
Beings Of LIGHT
They Are Waiting For Us ALL
WE, THEY ARE LOVE DIVINE~~~
Love reporter Andrea Vincetic
7 Divine Life Edicts**
1.*I AM God`s Creation of Perfection*
2.*I AM Love, Compassion and Joy*
3.*I Do harm to none*
4.*I Create My Life In Divine Order and Truth*
5.*I AM One with All Creation*
6.*I AM Evolving with Earth and All Life in, on and around Her*
7.*I Have an Open Heart and Create and Co-create a World without harm~
Spaces of Love Light Peace Joy Happiness~Divine Harmony~Beautiful Symphony*
HIGHLY RECOMMENDED READS
To All Earthican's and Beings Of LOVE~~~
Why We are Asking for Love Donations- In all The Star Systems, In ALL the Universes and Galaxies, there is no such thing as money.
Everything is Freely Abundant to ALL. We have Shared that as Soon as
the Ships decloak, each of You will be receiving a device called a
Replicator that Will be able to Provide for all Of Your Needs. Until
then, we still have to use money, and All of You are our support
system. As the Forerunners of the New Energy, We work 24 Hours a Day
7 days a week Grounding in this Energy. This Is Bringing in Balanced
Harmonics where everyone will be Abundant, Equally. Each Time you
make a Donation in The Service to Love, You are not only Making your
Investment into the Kingdom of Heaven=YOU TOO, but also assisting Us
in the Transformation into a Love Based System that is Abundant for
ALL. Your current money systems will be dissolving as money will not
be needed and will be worthless. Even a small donation is Blessed
100 Times and More By Love as it Serves Love 100%! Thank You for
Assisting Your Family OF LOVE TODAY
http://grou.ps/galacticfreepress/287524
Love Reporter Will Harader
Michael & Lucifer
Archangel Michael, the Price of Light, and Lucifer, the Price of Darkness,
locked in battle for all eternity over the fate of mankind, or so
the church would have you believe. It's perhaps the most rearranged
and misinterpreted story of them all. Allow me to explain a quite
different version of events.
God and the Angels were together in Oneness, Everything was still united as One. Creation existed,
but individual experience of Creation wasn't yet possible. It's like
having a cake, but not getting to eat it, what fun is that? Creation
wanted to experience itself being Creation, and so the Divine Plan
was formed. Some of the Angels would enter into a dream, where they
would pretend to be outside the Oneness so they could participate in
the unique aspects of the Oneness. The one you know as Lucifer was
the first to volunteer to "leave" Heaven, while Archangel
Michael was the head of the angels who stayed. No conflict here,
rather everyone working together towards the same Goal.
The real story of what happened afterwards is that of the prodigal son,
not of a war between "good and evil". Lucifer, literally the
"light-bearer", was the son who left his Father's House (Heaven)
to share his inheritance with all of Creation. Michael, literally
"he who is like God", was the son who stayed at Home. Note how
the people judged the son who left for spending all his Inheritance,
while the Father was overjoyed. Lucifer was meant to have a good
time in Creation, not to be stingy with the blessings he was given.
When the prodigal son returned, the Father gave him the other son's
Inheritance as well. What would be the point of leaving it with
Michael anyway if he's not going to do anything with it?
Not that Michael minded at all, he already was Creation. Michael is
Creation, Lucifer is the experience of Creation. Of course, if
you're here experiencing Creation, how can you be outside of
Creation? You can't, so you are Creation experiencing Itself, and
hence Lucifer is Michael and Michael is Lucifer. Two aspects of the
same Oneness. And you're not separate from this, which means both
aspects are within you as well.
Speaking of you, how did you get to be here? How did you get to the so-called "lower realms"?
We were born of Oneness, so how did Humanity get to be separated
from God? Simple, every Soul in this realm is one who chose to join
Lucifer, a "fallen" angel. There's a little bit of truth to the
story, but you aren't a "wrong", "bad" or "evil" being,
rather a very brave and adventurous one. Not one who rebelled
against God, but one who disconnected from God within themselves for
the wondrous experience of Reunion.
And it wasn't Lucifer that caused people to be so mired within their illusions. When
Lucifer "left" Heaven, there was still the understanding that
one was still always one with Heaven, they were simply dreaming.
This is the Garden of Eden of legend. It wasn't until Humanity lost
the Violet Flame and couldn't effortlessly cleanse the lower
vibrational energies that things started really getting messed up.
Then the angels forgot they were even angels and started doing
really funny things, like working at walmart and joining the
republican party.
Now, what I'm saying is probably going to bother a few, if not a whole bunch of people. I'm telling them that
they're a part of what they've been told is the most evilest of
evils. These beliefs are so widespread that pretty much everyone has
been conditioned by them. Hell, Lucifer and the fallen angels,
they've got many other names in different cultures. People sure
don't want to hear they're the "fallen" angels, what would that
make the world they live within? The world most people are in is
hell, though the Planet they live upon is the Garden of Eden, a
Living Starship. They super-imposed their illusions upon the Truth
and missed the Reality altogether, yet they still are the prodigal
sons and daughters, and the door Home is always Open. This is
Lucifer, the Light Bearer's, message.
The illusionary conflict between Michael and Lucifer has been projected out into
people's everyday lives. There isn't, and never was, a war that
divided Heaven against itself. It's a metaphor for people's own
internal conflict. The angels came to the manifest to enjoy it, yet
religion teaches us this realm is ruled by evil and the whole point
of us being here is to escape to heaven. This creates a dualistic
illusion of two paths, one of the "wicked", who indulge
themselves in physical pleasures, and one of the "righteous",
who deny physical pleasures believing they'll get some reward in
Heaven. Both of these so-called spiritual paths just lead around in
circles, Buddha shared this over 2,000 years ago, yet people still
don't quite get it. There aren't two paths, there's only the one
you're walking, and when you learn to enjoy it you wont need to wait
for some reward in Heaven, you'll have brought Heaven here to Earth
through your own joy. Dividing Lucifer and Michael creates conflict
within your own Being, and separates Heaven and Earth. Letting go of
the conflict unites Lucifer and Michael and creates Heaven on Earth.
Lucifer never left Heaven and neither did You, You simply forgot
that Reality of this whole situation and Heaven was hidden behind
the lie of separation, reinforced through twisted, superstitious
mythologies.
BEV-STRATTON-PROEMPER
YOU CAN VIEW HER HEALING ART HERE
~SOON THE NEW SEED FOR THE NEW LIFE~
NATURAL HEALING HERBS
Herb Attacks Cancer, Diabetes, HIV, Herpes & more
Green Harmony Anti Viral Herb Grow it fresh in yur home, consume it everyday, and keep the viruses away. When consumed the scavenging
and attacking qualities of Green Harmony can be compared to eating
an army of white cells that go to work on cleaning up all the
bacteria, viruses, fungus, mold,
YOU CAN Now JOIN US NOW ON OUR NEW WEBSITE STILL IN DEVELOPMENT
http://soundofheart.org/galacticfreepress/
WOULD YOU LIKE A CELESTIAL CONSULTATION WITH US? YOU CAN CONTACT US THROUGH FACEBOOK OR THE FOLLOWING EMAIL:
Email: mothergod1111111@gmail.com
Skype: father.mothergod.amon.ra
Facebook:FathermotherGod Amon Ra http://www.facebook.com/note.php?created&&note_id=158889937485893#!/profile.php?id=1776897761
web: http://soundofheart.org/galacticfreepress/
With ALL our Love Unconditionally
Father~Mother God and The Entire Galactic Free Press Staff