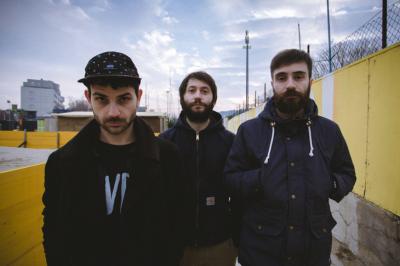 by Brianna Acuesta, True Activist
The band did not pose a threat, but they were jailed and deported like criminals.
Popular Italian trio Soviet Soviet was detained by U.S. Customs and Border Protection late last week after arriving in Seattle to perform in one of their first scheduled shows in the U.S. this week. Though the band was told by their American label, Felte Records, that their shows in the U.S. would be strictly promotional and they wouldn't be receiving any monetary compensation for their performances, Customs and Border Protection did not agree with their use of ESTA.
ESTA, which is also referred to as the Visa Waiver Program, is typically used by foreign bands entering the U.S. only when their performances are going to be unpaid. If the band will be receiving compensation for their shows, they are usually required to obtain a regular work visa. Felte Records provided a letter to confirm that Soviet Soviet would not be receiving any money, but this was not accepted by Customs and Border Protection.
Instead, the three were detained by agents and questioned separately for several hours. The agents involved were notified that two of the venues that the band would be performing at were charging entrance fees, leaving the agents to believe that the band would, in fact, be paid. This was enough to cause the agents to detain the men. Their cell phones and other personal belongings were confiscated, preventing them from notifying anyone of what was going on.
"We accepted this situation even if we tried to no end to explain the situation and that we were not receiving any form of payment, but there was simply no way of convincing the officials we spoke to. From that moment onwards, we became three illegal immigrants and were treated like criminals," the band said in a statement.
Credit: Soviet Soviet
The three were frisked, handcuffed, and taken into custody, where they took mug shots and were kept in jail overnight. They were escorted back to the airport by two agents and given back their personal belongings just before the flight that had been booked to send them back to Italy, where they were also escorted onto the plane.
Jeff Owens, who runs Felte, said that their plans for entry into the U.S. may not have been void of flaws, but that the travel regulations for bands such as Soviet Soviet have always been questionable. Additionally, the way that the band was treated was likely too harsh for the "crimes" they were accused of.
Owens clarified that "they were not a threat and genuinely thought they had the proper paperwork."

Despite wishing they could have performed in the U.S., the band said, "We were relieved to fly back home and distance ourselves from that violent, stressful and humiliating situation."
Under Trump's stricter travel laws, it's difficult to say what bands will face in the future when arriving in the U.S., but it's likely that this incident will encourage groups to secure work visas just in case.
---
This article (Italian Band Jailed And Deported After Trying To Enter The U.S. To Play Free Shows) is free and open source. You have permission to republish this article under a Creative Commons license with attribution to the author and TrueActivist.com
---
http://www.trueactivist.com/italian-band-jailed-and-deported-after-trying-to-enter-the-u-s-to-play-free-shows/