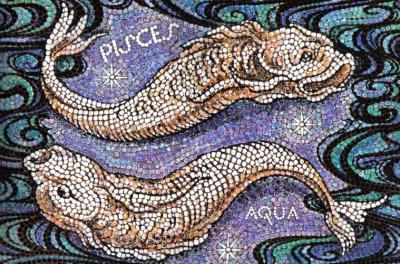 by Carmen Di Luccio, Collective Evolution
We are having a New Moon in Pisces which will occur on March 17th or 18th, depending on where you are located in the world. New Moon's are the start of a new 29.5 day Lunar Cycle which ushers in a new wave of energy for the coming month. The themes of this New Moon are strongest over the following 10 days until we start to transition into the energies of the next Full Moon.
In the backdrop of the New Moon themes mentioned below, we will be having our next edition of Mercury Retrograde starting on March 22nd-23rd and that will last until the next New Moon on April 15th. The pre-shadow period began on March 8th, and since then, some of the things in which we have been applying ourselves towards will go through a sorting out process during the retrograde. We will also be shown things in a different light helping us to make changes and adjustments.
If you can, it would be wise not to  make any big purchases at this time of products that can be affected, which includes communication technology like computers and phones as well as vehicles or anything with moving parts. If you make any of these purchases now, or perhaps if they were made since March 8th, there is a higher probability of experiencing unanticipated complications over the next month or perhaps even after the retrograde period itself.
I will be writing a separate article on this retrograde, so if you want to make sure that you receive it, you can do so my making sure you are on my mailing list here.
New Moon In Pisces Conjunct Chiron and Square Mars In Sagittarius
We have been in Pisces season since February 18th, a period which helps to heighten our sensitivities, creative expression, compassion, forgiveness, dreams, fantasies, and spirituality. Negatively, this energy could have also stimulated confusion, deception, escapism, lack of detail, and flakiness. This previous lunar cycle began with a Solar Eclipse in Aquarius which has generally been about shifts in friendships and our social networks, which may have played out in a Piscean way for some people throughout the last month.
This New Moon continues to carry some of these Pisces themes into the upcoming Lunar cycle. It is aligned with Chiron while in a square with Mars in Sagittarius. Chiron rules our wounds, blockages, negative patterns, trauma, and could be associated with self-sabotage or perhaps any of the Pisces themes mentioned.
With Mars involved, this can be a period of taking action towards our wounds, and challenges may come up that push us to do so. For many people, the issues that surface at this time may be Mars related which could be connected to the way we assert ourselves: anger, aggressiveness, desires, and sex. Alternatively in some cases, this can be a time for healers and teachers to step things up in their own practice.
Jupiter In Scorpio Is Now Retrograde
Jupiter, the traditional ruler of Pisces and solo ruler of Sagittarius, also began its retrograde on March 8th which will last until July 10th. As it has been changing motion in recent weeks, we may have been pondering on themes related to this planet and sign. Jupiter rules exploration, education, growth, optimism, travel, beliefs, luck, and perspectives. Business wise, it rules publishing, teaching, sales, and marketing. Negatively, it is associated with excess, overdoing, overindulgence, blind optimism, and judgemental behaviour.⠀
It is in the sign of Scorpio while in aspect with Pluto which can ultimately bring a transformational and even empowering theme. It can also be a period of considering how we use our power. We may discover or rediscover secrets, or hidden/forgotten aspects of ourselves or other areas of our lives. Some people may revisit things to do with fears, shared/others resources, investments, intimacy and sexuality.
Jupiter is also in aspect with Neptune in Pisces which can bring deep inner spiritual growth during this retrograde period. Things related to any of these themes mentioned that were conceived or brought into our awareness since December 12th may be revisited.⠀
In July, as the retrograde ends, we will have a more clearer idea on how to proceed forward with the Jupiter related lessons, skills, growth, and perspectives we have acquired. Certain people will experience something that triggers or continues a process of deep transformation, as it is a great time to do inner work. This can be connected to things that have transpired in January. When the retrograde is over, there will be even more momentum for growth, both personally and outwardly, in any of the themes or areas mentioned.
Mercury Travelling With Venus In Aries, Venus Square Pluto
As Mercury has been slowing down to go retrograde, it has been travelling through the sky with Venus over the last few weeks, which started in Pisces, but are now both currently in Aries. They will have an exact alignment on March 19th/20th. This can be a period which emphasizes communication, thinking, and contemplation revolved around Venus ruled areas of love, relationships/friendships, values, money, aesthetics and pleasures.
In Aries, this energy may push us to take a new type of action or perhaps there may be themes around independence and leadership connected to Venus. However, this energy can also be impulsive and may stimulate competition or combativeness in the areas mentioned above.
Venus is moving towards a square with Pluto which will be exact on March 23rd/24th just after Mercury begins its retrograde. At worst, this can trigger intensity, obsessiveness, power struggles, and conflict around anything connected to Venus. It may also be related to hidden matters or secrets.
Alternatively, this can also stimulate positive changes, transformations, and empowerment. However, considering that Mercury will have just begun its retrograde, it is possible that it could be connected to things that will be contemplated over the following weeks. There may be miscommunications or challenges related to past actions.
Making Intentions and Thing To Consider
In what ways can you take action towards any needed healing? Do you have any wounds around aggression, anger, desires, sexuality, or the way that you assert yourself which needs to be addressed? What is getting in the way of you being a more active and assertive person? What negative patterns are getting in the way of you living your life at a higher potential? Perhaps you may need to go deep to figure out and heal the root of your blockages that are inhibiting you or creating problems in your life?
These are just some examples of what to contemplate when making any intentions, however, it is good to consider whatever else has been written in this article or has been coming up in your life recently. It is best to make any intention within the first 24 hours following this New Moon. It can be as early as 30 minutes prior to the exact moment, however if you plan on doing it shortly afterwards, it might be best to wait until 6 hours later for this specific New Moon. The exact moment will be at 1:12pm Universal Time on March 17th. You can click here to see that in your time zone.
—
Looking for more insight on how this period is affecting you? Or perhaps looking to better understand your life and its potentials? Get a personalized astrology reading with Carmen (author of this article) specific to you based on your exact birth date, time, and location. Click here for more information or to order. You can also follow me on INSTAGRAM and FACEBOOK for more astrology related content.
---
http://www.collective-evolution.com/2018/03/16/new-moon-in-pisces-taking-action-towards-our-wounds/