UK Floods: 153 lightning strikes a minute and hailstones the size of golf balls as superstorm hits the Midlands and sweeps north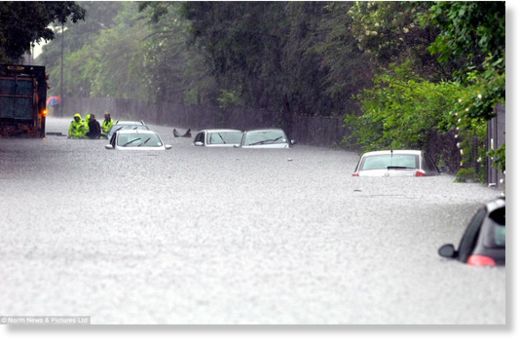 © North News and Pictures Ltd
Rob Cooper and Jaya Narain
Daily Mail
Thu, 28 Jun 2012 15:15 CDT
A huge clean-up operation was being carried out in parts of Britain today after yesterday's downpours brought flooding chaos to parts of the country. Hailstones as big as golf balls pummelled parts of Leicestershire after black thunderclouds descended. Residents reported cars being dented and damaged by the ice, some even smashing windows. 

Torrential storms also left hundreds of homes flooded and motorists having to be rescued from their vehicles. At the storm's peak, 153 lightning strikes were being recorded every minute. The Environment Agency has 10 flood warnings in place in the Midlands, North East and North West, but the worst of the weather looks to be over. 


Forecaster Nick Prebble, said: "Today there will be a mixture of sunshine and showers across the UK with temperatures cooling off. "Most parts of Britain could experience the odd passing shower during the day, but the focus of the heavy downpours will be across Scotland. "Northern parts could also have a few thunder storms but the weather doesn't appear to be as severe as yesterday."