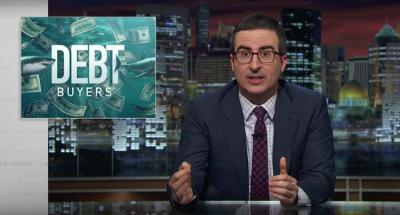 by Amanda Froelich, True Activist
The host of Last Week Tonight and his team set out to expose the shady practices of debt collectors and ended up forgiving 9,000 peoples' medical expenses in the process.
Recently, on a segment of Last Week Tonight with John Oliver, the host and his team exposed the shady practices of debt collectors and, in the process, ended up protecting 9,000 people from annoying, harassing - and even illegal - agency calls and letters.
Oliver first began by explaining that companies are willing to sell old, uncollected debts for next to nothing. This is because the debt is actually expired and, in effect, people are no longer required by law to pay it. Debt collectors know that and pursue it anyways, because when a debtor makes a payment, all their debt is back on the table.
It's a dirty business, which is why the television host did what he does best: he exposed it in humorous - and mind-blowing - fashion.
First, the team paid just $50 to register themselves as a debt collection company - Central Asset Recovery Professionals (CARP). Then, they started purchasing debt for as little as four-tenths of a penny for every dollar.
Following the loophole mentioned above, CARP was able to acquire almost $15 million worth of medical debt for just $60,000. Then, the agency transferred the debt to RIP Medical Debt - a group that specializes in retiring medical bills without tax issues for the debtors.
According to HBO's staff, this is the biggest giveaway prior to when Oprah Winfrey gave every person in her studio audience a new car.
To celebrate the stupendous act, Oliver hit a red button, resulting in money raining down on the stage.
"I am the new queen of daytime talk [shows]," Oliver declared.
---
This article ([Watch] John Oliver Purchases $15 Million In Medical Debt And Forgives It On TV) is free and open source. You have permission to republish this article under a Creative Commons license with attribution to the author and TrueActivist.com
---
http://www.trueactivist.com/watch-john-oliver-purchases-15-million-in-medical-debt-and-forgives-it-on-tv/