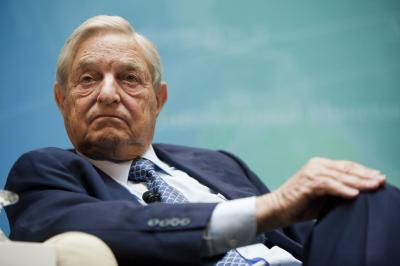 by Kalee Brown, Collective Evolution
For decades, George Soros has been funding different sides of conflicts and profiting off of division and separatism. Though his donations may seem heartfelt and sincere to some, if you look a little closer, you'll find that many of the donations he makes have ulterior motives behind them, helping to secure his control over various political landscapes and in turn profit from them.
Soros has profited off of chaos all over the world, particularly in Europe, but now he's doing it here in North America. However, his actions have not gone unnoticed. A recent petition launched on August 20, 2017 by "E.B." on the White House petitions website is asking that the U.S. government declare George Soros a "terrorist" and seize all of his assets. What's more, the petition is doing extremely well, which speaks to the level of awareness amongst U.S. citizens!
Details of the Petition to Declare George Soros a "Terrorist"
In a matter of two weeks, this petition had already reached its goal of 100,000 signatures. That means that 100,000 people believe that George Soros should be labelled a "terrorist" and all of his assets seized. It's not just Soros implicated in the petition either, it's all of his staff members at his companies. This means that, if successful, all of his associates would be declared "domestic terrorists" as well.
The petition, titled "Declare George Soros a terrorist and seize all of his related organizations' assets under RICO and NDAA law," claims that "Soros has willfully and on an ongoing basis attempted to destabilize and otherwise commit acts of sedition against the United States and its citizens" and that he "has developed unhealthy and undue influence over the entire Democrat Party and a large portion of the US Federal government."
The petition requests that the Department of Justice "immediately declare George Soros and all of his organizations and staff members to be domestic terrorists, and have all of his personal an organizational wealth and assets seized under Civil Asset Forfeiture law."
Since the petition has reached 100,000 signatures prior to its September 19 deadline, the White House theoretically needs to provide a formal response. However, since Trump became President, almost a dozen petitions have yet to be responded to, so who knows whether or not this petition will even be addressed, especially because the White House is considering halting this service altogether.
I believe that this petition speaks to how many Americans want change, and how many of them are aware of who controls the political landscape. Soros has certainly been involved in creating more division in the U.S. and is associated with the Democratic National Committee (DNC), so the very idea of this petition isn't necessarily surprising.
Who Is George Soros?
If you're unfamiliar with George Soros, he's basically a member of the elite, or the shadow government, disguised as a philanthropic billionaire. Soros started making strategic political donations to essentially fund revolutions in different European countries and made a fortune amidst the chaos. He also made a killing off European forced migration and other colour revolutions.
Soros also profited from the Ukraine conflict, which resulted in over 10,000 casualties, the displacement of over 1.4 million people, and even a plane crash that killed 298 passengers. In 2014, a CNN interview revealed that Soros was responsible for creating a foundation that led to the overthrow of the Ukraine's elected leader.
CNN host Fareed Zakaria asked Soros, "First on Ukraine, one of the things that many people recognized about you was that you during the revolutions of 1989 funded a lot of dissident activities, civil society groups in eastern Europe and Poland, the Czech Republic. Are you doing similar things in Ukraine?"
Soros responded, "Well, I set up a foundation in Ukraine before Ukraine became independent of Russia. And the foundation has been functioning ever since and played an important part in events now."
Since selling his company, Soros Fund Management, in 2000, he's been focusing on his "humanitarian efforts" through his philanthropic Open Society Foundations (OSF). Russia Today reported that OSF has "been accused of fomenting color revolutions to install governments friendly to the US – from Serbia in 2000 to Ukraine in 2014."
Soros has donated money to a number of "left" groups such as the Tides Foundation, Center for American Progress, and the Democracy Alliance to influence campaign finance laws. As a result, any democratic politicians that don't support or express "progressive narrative" either receive cuts to their funding or are targeted by the media. This would be easy for Soros to influence, as he uses OSF to funnel money into Media Matters, which directly contributes to mainstream media outlets such as NBC and the New York Times.
Soros also heavily funded many of the "Black Lives Matters" movements. According to the most recent tax filings of OSF, Soros donated at least $33 million to support the activists in Ferguson in one year alone. According to the Washington Post, these donations ultimately resulted in a nationwide movement, social media campaigns, more protestors, and stirred crime in Missouri. Other Soros-funded groups were instructed to create "academic research and editorials to disseminate to the news media to keep the story alive."
In addition to funding these movements, Soros is actually tied to the creation of the term "Black Lives Matter." Kassandra Frederique, Policy Manager at the Drug Policy Alliance founded by Soros, works directly with Opal Tometi, who runs the Black Alliance for Just Immigration and is the co-creator of #BlackLivesMatter. According to those same tax filings, Soros donated $100,000 to Black Alliance for Just Immigration in 2011.
The #BlackLivesMatters groups Soros donated to actually attacked Bernie Sanders and supported Hillary Clinton. This isn't surprising, as Soros is good friends with the Clintons, taking on a senior role in the "Ready for Hillary" group and donating more than $15 million since 2013 to pro-Clinton groups and Super PACs.
Soros was also tied to this year's Women's March, which was less about achieving women's rights and more a political stunt that was pro-Clinton and anti-Trump.
As it turns out, Soros, one of Clinton's greatest supporters and largest donors, has funded or holds close relationships with at least 56 of the march's "partners," including "key partners" Planned Parenthood and the National Resource Defense Council, both of which are anti-Trump. Other "Women's March" organizations Soros is tied to include MoveOn.org, which is pro-Clinton, the National Action Network, which has ties to the DNC, American Civil Liberties Union, Center for Constitutional Rights, Amnesty International, and Human Rights Watch.
Prior to the march, at least 33% of the "women of colour" who originally protested the Trump election in the streets worked at organizations funded by Soros. To reiterate, I strongly support equal rights for all people and consider any physical differences an illusory distraction from the true essence of our being. However, it is clear to me that some of these gender and racial inspired protests are less about achieving equal rights and more about drawing lines in the sand to create division.
Final Thoughts
To me, the attention this petition received clearly means that people are taking notice of how the elite affects society and holds a certain level of control over the political landscape.
My only concern would be that it seems they're hoping that all of his employees be declared "domestic terrorists" as well. Are they all responsible for his actions and all of the actions of his companies? Who knows, but that seems unlikely.
Even if this petition isn't successful, it still speaks volumes to the increasing level of awareness among the American public!
---
http://www.collective-evolution.com/2017/09/07/white-house-petition-to-declare-elitist-george-soros-a-terrorist-seize-his-assets-is-gaining-momentum/