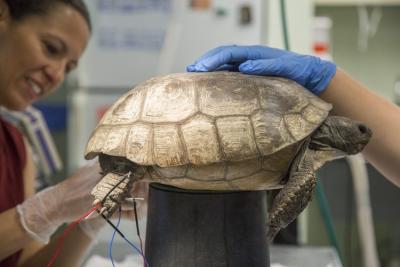 by Amanda Froelich, True Activist
This turtle had no motor control and her back legs due to an injury. After one week of electro-acupuncture, she was able to walk again.
Never underestimate the power of alternative medicine modalities. When a 10-year-old gopher tortoise was found along the side of the road in Florida, she had a deep crack in her shell that left her with no motor control in her back legs. To some, she seemed like a lost case. To the staff of the South Florida Wildlife Center (SFWC), however, she was a prime candidate for an innovative treatment: acupuncture.
Reportedly, this is the first time the wildlife center has used acupuncture to help an animal. However, it ended up working! GoodNewsNetwork reports that the staff used "electro-acupuncture" – a therapy that connects electrical leads to acupuncture needles – with the goal of improving the stimulation of damaged nerves. Incredibly, within just a week, the tortoise regained movement in her back legs. One month later, she was wandering around her outdoor enclosure, happily munching on grass shoots.
SFWC believes every individual species is linked to the survival of every other and exemplified this attitude by going to great lengths to assist the tortoise.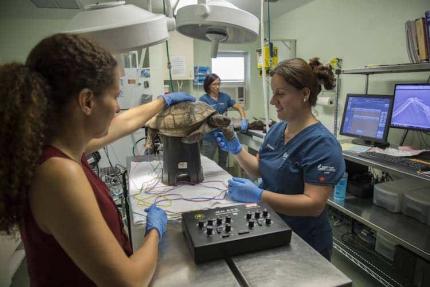 Credit: South Florida Wildlife Center
Gopher tortoises are a threatened species in Florida and make their homes by burrowing in the dirt. To ensure the rescued tortoise survives when she leaves the rehabilitation center, SFWC is waiting until she regains her digging abilities before she is released into the wild.
Said Humane Society of the United State's senior director, Debra Parsons-Drake,
"Gopher tortoises are a keystone species. The burrows they dig are essential to the survival of hundreds of other species who use them for safety and shelter. By saving this one animal, we are not only benefitting her, but positively affecting the environment in which we all co-exist."
What are your thoughts? Please comment below and share this news!
---
http://www.trueactivist.com/wildlife-center-helps-turtle-walk-again-by-using-electro-acupuncture/