~ Galactic Earth Daily Truth Report 04-28-2012 – Walking barefoot~
WOW... for the first time for a long long time I lookd up the EQs and found only 12 >4.0 Mag, and though we did have a 6.7 in Tonga nothing was damaged. Amazing isn't it?
Weather keeps riding the rollercoaster... only to tell you where I live, northen hemisphere, Europe, we had snow 48 hours ago, we have 26°C (80°F) today, and as far as I see and read and watch it's like this all over our Wonderful Planet.
This wonderful Sun today gave us the chance to get our entire body re-charged and to walk on Mother Earth=Heart bearfoot, to ground and release, talking to birds and butterflies. And getting ready for more wilde weather as our Beloved Planet gets through Her most wonderful Path of Ascension.
Thank you for keeping focused and Present
Love you
ANdReA
‪2MIN News Apr28: Earth News, Spaceweather
‪Solar Update/6.7 Quake in Tonga
4.1 magnitude earthquake jolts Southern California
Posted on April 28, 2012
April 28, 2012 – CALIFORNIA – A magnitude 4.1 earthquake rattled Southern California on Saturday morning, but there were no reports of damage or injuries. The temblor struck at 8:07 a.m. near Devore, about 60 miles east of downtown Los Angeles. The quake was felt across the region, in San Bernardino County, the San Gabriel Valley and the city of Los Angeles. Residents around Devore reported a sharp jolt, though there were no reports of problems. –LA Times
East and West coast of Canada hit with earthquake swarms
Posted on April 28, 2012
April 28, 2012 – CANADA - A magnitude 4.7 earthquake struck about 200 kilometres west of Vancouver Island on Friday morning but there were no reports of it being felt by island residents. This was the largest quake in a small swarm of earthquakes off the coast of Vancouver. The quake struck around 1:36 a.m. PT, according to the Natural Resources Canada. Earthquakes of that size are common in the area and experts say they do not indicate a large earthquake is more likely. The U.S. Geological Service reported three quakes of similar magnitude in the area over the past five days, and there have been several more reported in recent months. –CBC News
Colorado Tornadoes Cause Widespread Damage
9 News
Fri, 27 Apr 2012 10:11 CDT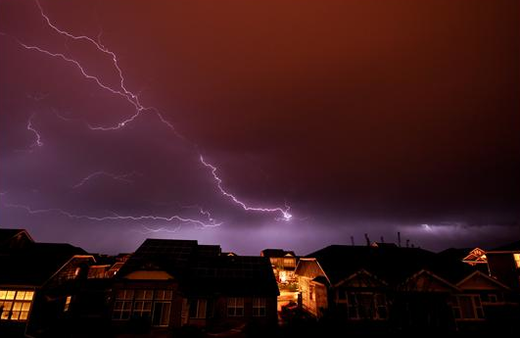 © Josh Myers
Finger Lightning near the Aurora Reservoir
People in southeast Colorado are cleaning up damage after up to five tornadoes struck early Friday morning.
All of the tornadoes were southeast of Lamar. The National Weather Service says preliminary findings indicate five tornadoes touched down. Two were in Prowers County, two in Kiowa County and one in Bent County.
Flash Floods Wreak Havoc in Kenya
Monicah Mwangi
The Star
Fri, 27 Apr 2012 16:54 CDT
© KIPLANG'AT KIRUI
A man in Narok town tries save his chair from floods.
Weeks after the long rains season started, Kenyans are feeling its effect as floods wreak havoc in most parts of the country. A church retreat turned tragic when seven youths drowned because of flooding at Hell's Gate National Park in Naivasha.
Already the floods-prone area of Budalangi has received floods alert after River Nzoia broke its banks. In Kisumu, heavy rains rendered hundreds homeless and destroyed a key road linking the city to Kisii town.
Baseball Sized Hail Reported in Gatlinburg, Tennessee
WBIR.com
Thu, 26 Apr 2012 16:39 CDT
Viewers in Sevier County are reporting large hail stones, some as big as golf balls and baseballs, pounded the area Thursday afternoon.
to watch the video go to: http://www.sott.net/signs/list_by_category/4-Earth-Changes
Dispatchers reported they had received reports of vehicles being damaged in the Gatlinburg area. The area hardest hit was near the Food City, where firefighters said some of the hail was as large as baseballs. There were several reports of broken windows.
Golf ball-sized Hail Storm in South Carolina
Mike Ellis
Anderson Independent Mail
Thu, 26 Apr 2012 16:12 CDT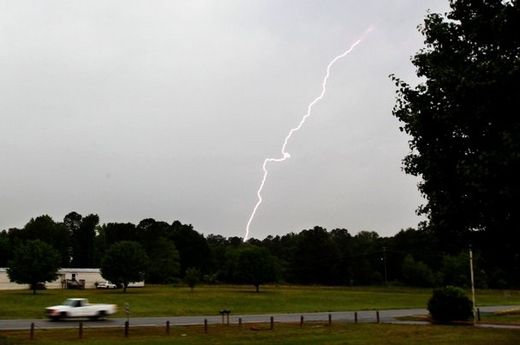 © Nathan Gray, Anderson Independent Mail
Lightning strikes near New Prospect Church Road and West Whitner Street during a thunderstorm Thursday morning.
Lightning and hail were reported in several parts of Anderson, Oconee and Pickens counties on Thursday and forecasters expect a few scattered storms today.
Hail as big as golf balls was reported in the Townville area, along with smaller hail in Powdersville and Williamston, among other parts of the three counties.
"There's been some reports of Ping-Pong ball-sized hail and half-dollar-sized hail across the area," said National Weather Service meteorologist Doug Outlaw, based at the Greenville-Spartanburg airport.
If you missed our last Energy Update:
http://soundofheart.org/galacticfreepress/content/galactic-free-press-daily-update42712-everyones-assuming-their-divine-rolesget-ready
All my Love, ANdReA
~And MotherFatherGod, The Galactic Free Press Staff, Earth Allies, GroundCrew Staff ans Earth's Transitory Government~

~Thank You for Keeping the Press Going and Supporting Your Earth Allies~
~Are these Daily Updates and The Galactic Free Press Serving YOU? Thank you for Showing your Love and Support~ Share if You can!!~ If you don't know what we mean by this... here's the link: http://soundofheart.org/galacticfreepress/content/how-help-usallyou-spread-love-special-message-gfp-team as no, we're not ashamed of asking those who can to share, as we see all as One and Know that Onness is the only answer.

http://soundofheart.org/galacticfreepress/content/donate
Way to Go and way to Show Your Love Humanity! We ask you to share if you can for this very divine mission.
If You would Like to connect with us via an amazing Awakening Session, to answer a question Contact Us Here:http://soundofheart.org/galacticfreepress/contact