~ Galactic Earth Daily Truth Report 05-31-2012 – Sun's quiet, volcanos on the watch~
Greetings Loved Beings,
Some volcanos are waking up these days, as we all should by the way ;-)
We're waiting to see how the Huge Coronal Hole will affect Mother Earth=Heart into the next days when it becomes Erth facing, as for sure it will affect solar wind and Global Consiousness, especially combined with the Venus transit on the 5/6... Woooo... what an energy week ahead we have!
Thank You for BEingLove.
AndReA
Three Costa Rican volcanoes on preventive green alert due to seismic activity
BY ADONAI – MAY 31, 2012
The National Emergency Commission (CNE)  declared a preventive "green alert" on Wednesday, May 30, due to recent seismic activity at three volcanoes.
 "The CNE's alert is supported by reports from technical and scientific agencies that note the volcanoes are in constant activity," the commission stated.
Emissions of gas at Poás Volcano are expected to increase.  In the case of Turrialba volcano – it maintains the levels of volcanic and seismic activity that has shown in recent months.
The Rincon de la Vieja volcano experienced fluid movements and volcanic activity at significant levels, the CNE announced.
Despite the warning, access to the volcanoes will remain open to the public, but visitors must follow guidelines issued at each national park's entrance.
500 evacuated from vicinity of Colombia's Nevado del Ruiz volcano
Posted on May 31, 2012
May 31. 2012 – COLOMBIA – A light spewing of ash amid renewed rumblings in the Nevado del Ruiz volcano prompted Colombian authorities to evacuate 500 people from beneath its flanks and briefly suspend flights at four airports. The volcano's seismic activity was more intense than episodes in April and early May, when it emitted columns of steam, said the government geological agency Ingeominas. The 17,160ft volcano spouted ash that fell on population centers including the western city of Manizales. –Herald
Montreal Floods: Heavy Rain Causes Power Failures, Shut Down Parts Of Metro
Andy Blatchford and Ross Marowits
The Huffington Post / The Canadian Press
Wed, 30 May 2012 16:08 CDT
A wall of rain collapsed onto Montreal in one torrential instant that flooded city streets, closed subway stations, caused power failures, damaged private property and forced evacuations from public buildings Tuesday.
It took only a few minutes to transform downtown streets into miniature canals. The foul odour of overflowing sewage floated over the area near the port.
Whatever Happened to that Warning About Summer Arctic Sea Ice Disappearing by 2012?
Robert Felix
Ice Age Now
Wed, 30 May 2012 15:10 CDT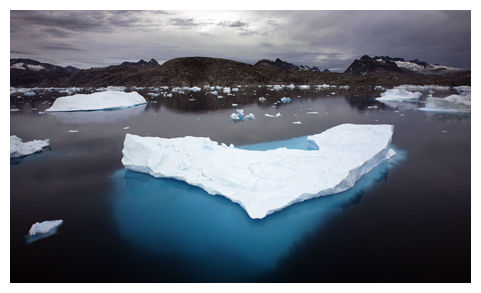 © John McConnico/AP
Icebergs float in a bay off Ammassalik Island, Greenland, on July 19, 2007.
New satellite images from NASA reveal that Arctic Ocean ice is melting much faster than anyone had predicted. One scientist fears that 2012 may mark the end of summer ice in the Arctic Sea.
http://www.sott.net/articles/show/246103-Whatever-Happened-to-that-Warning-About-Summer-Arctic-Sea-Ice-Disappearing-by-2012-
Strong dangerous M5.7 earthquake in Lake Issyk Kul Region, eastern Kazakhstan
BY CHILLYMANJARO – MAY 31, 2012
Strong magnitude 5.7 earthquake hit eastern Kazakhstan on Wednesday, May 30, 2012 at 21:20:57 UTC. The seismological agencies are reporting a magnitude of M5.7 at a depth in between 10 and 25 km. These parameters are making this earthquake moderately dangerous. The epicenter was 105 km (65 miles) NNE of Karakol (Przhevalsk), Kyrgyzstan, 148 km (91 miles) E of Almaty, Kazakhstan, 183 km (113 miles) S of Taldyqorghan, Kazakhstan, 1028 km (638 miles) SE of Astana (Tselinograd), Kazakhstan (43.388°N, 78.773°E).
Smoky haze stretching over China, Korea and Japan
BY CHILLYMANJARO – MAY 30, 2012
A smoky haze stretches from Russia to China, over the Bohai Sea, the Korean Peninsula and the Tsushima Strait, and towards Japan. The haze is just reaching Kyushu, the third largest island in Japan, visible in the lower right quadrant. Although haze is a common phenomenon in this region due to several variables, including smog and agricultural fires, the smoky veil here may be the result of fires that have been burning in Russia since mid-May.
If you missed our last Energy Update:
http://soundofheart.org/galacticfreepress/content/galactic-free-press-daily-update52912-release-golden-energy
All our Love, ANdReA
~And MotherFatherGod, The Galactic Free Press Staff, Earth Allies, GroundCrew Staff ans Earth's Transitory Government~

~Thank You for Keeping the Press Going and Supporting Your Earth Allies~
~
~Are these Daily Updates and The Galactic Free Press Serving YOU? Thank you for Showing your Love and Support~ Share if You can!!~ If you don't know what we mean by this... here's the link: http://soundofheart.org/galacticfreepress/content/how-help-usallyou-spread-love-special-message-gfp-team as no, we're not ashamed of asking those who can to share, as we see all as One and Know that Onness is the only answer.

http://soundofheart.org/galacticfreepress/content/donate
Way to Go and way to Show Your Love Humanity! We ask you to share if you can for this very divine mission.
If You would Like to connect with us via an amazing Awakening Session, to answer a question Contact Us Here:http://soundofheart.org/galacticfreepress/contact