~ Galactic Earth Daily Truth Report 07-31-2012 ~Transition to a Blue Star Nation has begun~
---

~ Galactic Earth Daily Truth Report 07-31-2012 ~Transition to a Blue Star Nation has begun~
It's happening, the process is no more a far away thought, it's no more a slow motion activity, it's in Full Action. Our Loved Mother Earth=Heart is already in Full Transition, helped by you, me, all Creation to Ascend to a Higher state of Consciousness.
And as our body hologram gets hotter as it vibrates at higher rates so does Hers.
It's Love in action.
And Love's here to help all remember we're Home.
One Heart, One Love.
Thank You for BEingLove.
AndReA
New Active Region 1536 erupted with moderate solar flare today. The event peaked at 15:48 UTC onJuly 30, 2012 measuring M1.1. This is first M-class solar flare from Region 1536.
At 14:03 UTC today Region 1532 (S19E14) erupted with C8.8 flare. Analysis with magnetogram and white light imagery determined that Region 1532 was actually two separate regions. Region 1536 now encompasses the two larger spots trailing Region 1532. Another new spot group rotated onto the northeast limb and was numbered Region 1535 (N18E64). No Earth-directed coronal mass ejections were observed in last 24 hours.
There is possibilty of more M-class flares. Regions 1532 and 1536 are the most likely Regions to produce M-class activity.
– JULY 31, 2012
A tornado that formed in Colorado's high-country on Saturday, July 28, 2012 was estimated by National Weather Service as the second-highest tornado ever recorded in the U.S.
There were four different reported sightings of the high-altitude hit the northeast side of Mount Evans – a prominent mountain located about 96 km west of Denver. The NWS estimates the tornado's touched down at about 3.62 km (11,900 feet) in elevation.
On July 29, 2012, a magnitude 6.0 earthquake struck off Mexico's Pacific coast close to the Guatemalan border, but there were no immediate reports of damage or casualties.
The quake occurred at 6:22 am (12:22 GMT) at a depth of 35 kilometers (21 miles), and was located 28 kilometers (17 miles) south-southwest of Suchiate, Mexico, the USGS said.
We have seen a number of earthquakes around the indian-Australian plate recently with strong patterns of Mag 6 earthquakes.
Australian and American researchers investigating forces exerted on the Indo-Australian tectonic plate have discovered that the considerable stresses being exerted on the plate could be leading to its breaking up.

July 31, 2012 – PAKISTAN - Prolonged and widespread power outage in most of Pakistan's cities during scorching summer heat has triggered protests in most areas of the country. Coupled with hot and humid summer weather, the prolonged blackout has forced outraged citizens to take to the streets to protest the tough living conditions. No loss of life was reported, but the roads were blocked till late night. Reports indicate that in some areas people face 12 to 14 hours of rolling blackouts, while the rural residents suffer up to 18 hours of power outage. On Friday, a powerful storm hit some of the country's power plants, including one of Chashma Nuclear Power Plants and three other plants in Muzaffargarh, causing them to go fully or partly offline. In the meantime, Information Minister Zamar Kaira deflected the blame for the angry protests, saying they have been caused by "political maneuvering of the PML-N (Pakistan Muslim League (N))" rather than the prolonged outages. Pakistan's lack of around 5,000 megawatts of electrical power has forced the government to implement a rolling blackout policy in a bid to prevent a total blackout. –Press TV

July 31, 2012 – NEW DELHI - India suffered its second huge, crippling power failure in two days on Tuesday, depriving as much as half of the vast and populous country of electricity and disrupting transport networks. The first power grid collapse, on Monday, was the country's worst blackout in a decade. It affected seven states in northern India that are home to more than 350 million people. But Tuesday's failure was even larger, hitting eastern and northeastern areas as well. Both blackouts cut power in the Indian capital, New Delhi. The power companies that operate the affected electricity grids reported the collapse Tuesday on their websites. With about 1.2 billion people, India has the second-highest population of any country, behind China. At least 300 trains have been held up in the affected regions, said Anil Kumar Saxena, a spokesman for Indian Railways. The two consecutive days of disruption are embarrassing for India, a nation growing in international stature and the third largest Asian economy. The power companies said they were working to restore the power supply. It was not immediately clear whether the blackouts were partial or total in the different regions. The grid failure on Monday struck in the early morning hours. Residents spent the rest of the night drenched in sweat amid humid weather, and many backup power systems had run out by daybreak. Power was partially restored after about six hours, authorities said. That blackout left passengers stranded at train stations, and signal failures caused traffic snarls that choked the Indian capital's already congested roads during office hours. Indians, however, have been no stranger to power cuts, which become more common during the summer when demand shoots up. -CNN

July 31, 2012 – MOSCOW – Russia is currently in the grips of an extremely strong heat wave. City and town residents are suffocating from the sweltering heat. For example, it is about 30 degrees in Moscow with prospects of the thermometer going up in the next few days. The heat wave situation is aggravated by wild fires producing clods of poisonous smoke. The wood rich Siberian taiga near Krasnoyarsk is fighting 83 fires on the territory of 12.130 hectares. As for rural Russia, that only last year was the world's third-biggest grain producer, it suffers colossal damages. It threats to destroy a significant part of the crops. –VOR

July 31, 2012 – FINLAND – The mercury rose to over 30 degrees Celsius for the first time this summer in eastern Finland as meteorologists warned of severe thunderstorms later in the day. The temperature exceeded the 30-degree mark in Tohmajärvi, Lieksa and Juuka in North Karelia, close to the Russian border. But the Finnish Meteorological Institute (FMI) says that a cooler weather front has already arrived in western Finland and will start moving eastwards soon, making the current heatwave quite short-lived. Severe thunderstorms are expected to whip up very strong wind gusts on Monday, warns the FMI. Winds may reach speeds of 25 meters per second in North Ostrobothnia and western Finland, and elsewhere in the country gusts of some 15 m/s are expected. Additionally, heavy rainfall is forecast for various parts of Finland on Monday. Thunderstorms left thousands without electricity in different parts of Finland on Sunday. Most of them had been fixed by Monday afternoon. At 1pm, some 200 Fortum customers were still without power. Elenia (formerly known as Vattenfall) had about 1,200 customers without service at that time. -YLE
Italy battles heat wave: The heat wave affecting much of Italy has resulted in an average 10% reduction in national milk output, according to the Italian agricultural union Coldiretti. In some regions, more severely affected, this is as high as 50% down. Dairy farmers are taking steps to cool their cows, including the use of fans in barns and sprinkling the animals with light jets of water, it said. Corn, tomato, beet and sunflower crops have been damaged across the country and some areas have received no rain for months, the Rome-based agricultural union said in an e-mailed statement today. –Agra Net, Bloomberg
Romania: The National Weather Forecaster has extended a Code Yellow warning of heat till Monday for southern and eastern Romania, Bucharest included, while downpours and thunderstorms are expected in the country's West, Centre and North starting Sunday night. According to a weather warning issued by the Forecaster on Sunday, the high temperatures at between 35 and 37 degrees Celsius will keep on in southern and eastern Romania and will even hit 38 C in some cities. –Act Media

July 31, 2012 – LITTLE ROCK, Ark. — Little Rock has reached its third-highest temperature ever recorded, hitting 111 at mid-afternoon. Throughout the state Monday, temperatures exceeded 100, and low humidity increased the threat for wildfires. Temperatures are expected to reach triple digits at least through the middle of the week. The 111-degree mark reached Monday at Little Rock broke the previous record for the day of 108, set in 1986. Last Aug. 3, Little Rock reached 114, the city's hottest day in 132 years of records. On July 31, 1986, the temperature at Little Rock hit 112. Forecasters warned that wildfires can start easily and spread rapidly on winds expected to be 15 mph to 25 mph. Outdoor burning of any type is strongly discouraged. Arkansas' all-time high is 120 degrees, set Aug. 10, 1936, in Ozark. –The Republic
EurekAlert
Mon, 30 Jul 2012
Typhoon Saola looks like a monster tropical cyclone in infrared imagery from NASA's Aqua satellite today, July 30. Although Saola's center is over 300 nautical miles (368 miles/592 km) south-southeast of Taiwan, it stretches over the north and central Philippines and has triggered a number of warnings throughout the country.
Djenane Villanueva
CNN
Mon, 30 Jul 2012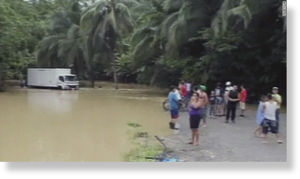 © Teletoa
Flooding in Costa Rica has forced evacuations and may be responsible for at least one death, relief workers said Sunday.
Heavy rains in central and eastern Costa Rica have triggered floods that have forced evacuations and may be responsible for at least one death, relief workers said Sunday. Four people are missing, down from eight earlier, according to Freddy Roman, a spokesman for the local Red Cross.
The government has declared a "yellow alert" in various parts of Cartago, a central province where one person was reported dead, said Roman. The person was rescued after a landslide, but died on the way to the hospital from injuries and heart failure, he said. A yellow alert is also in effect for parts of Limon, an eastern province. More than 1,500 people have taken refuge at shelters and others are waiting to be rescued, according to the Red Cross.
"We have reports of people trapped in their houses that have been flooded by overflow from the Chirripo River, also of several communities that are isolated in other parts of Limon," said Guillermo Arroyo, director of operations of the Costa Rican Red Cross.
James Nye and Snejana Farberov
Daily Mail
Mon, 30 Jul 2012 12:02 CDT
A second cloud of yellow in less than a week overwhelmed suburban Phoenix on Sunday, mixing with torrential rains and gusty winds that wreaked havoc on midday traffic in the area. The thick wall of dust, known as a haboob, which is Arabic for 'strong wind,' was seen making its way through the town of Laveen about eight miles southwest of downtown Phoenix. The greater Phoenix area and northwest and north central Pinal County were under a dust storm warning that expired at 7pm on Sunday.

Additional photos
If you missed our last Energy Update:
http://soundofheart.org/galacticfreepress/content/galactic-free-press-daily-update73012-moment-moment-we-arrive-closer-our-divine-events
Message from the Earth Allies
http://soundofheart.org/galacticfreepress/content/liberation-and-freedom-soul
Where are we going and why
http://soundofheart.org/galacticfreepress/content/where-are-we-going-and-why
Earth Allies Report
http://soundofheart.org/galacticfreepress/content/its-ok-if-you-feel-confused
All our Love, ANdReA
~And MotherFatherGod, The Galactic Free Press Staff, Earth Allies and GroundCrew Staff ~

~Thank You for Keeping the Press Going and Supporting Your Earth Allies~
~Are these Daily Updates and The Galactic Free Press Serving YOU? Thank you for Showing your Love and Support~ Share if You can!! Keep us going, we're in Service for you~
http://soundofheart.org/galacticfreepress/content/message-earth-allie-questions-answers-about-donations

http://soundofheart.org/galacticfreepress/content/donate
If You would Like to connect with us via an amazing Awakening Session, to answer a question Contact Us Here:http://soundofheart.org/galacticfreepress/contact